Wigan Athletic ace targets top of the (mini) table
Funso Ojo has challenged Wigan Athletic to top their own mini-division in League One – which would secure their safety in the process.
1st Mar 2021, 3:25pm
- 3 min read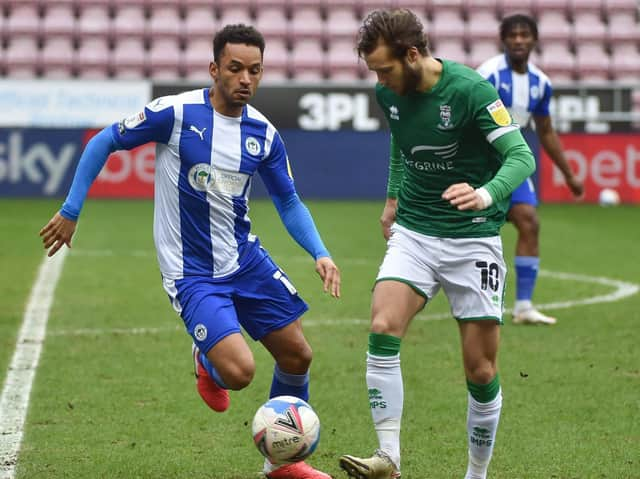 Funso Ojo
Latics entertain Charlton on Tuesday night looking for a win which could move them out of the relegation zone after four months below the dreaded dotted line.
The situation is desperately tight at the foot of the table, with rock-bottom Northampton only five points behind seventh-bottom Swindon – who they could have overtaken on Saturday, had they not seen a 1-0 lead turn into a 2-1 defeat.
And Ojo – a January loan arrival from Aberdeen – is adamant Latics have it in them to keep their head above water over the last third of the campaign.
"There's still definitely a lot of belief from the players we can stay up," he said.
"We're having loads of meetings...in fact I've had more meetings in my three weeks here than I had in the last six or seven months at Aberdeen.
"And in every one of those meetings there is a firm belief we are capable of easily staying up.
"Obviously we need to reward ourselves for playing well by picking up the points tally we deserve.
"Whether that's winning the game or even settling for a draw if we can't win, every single point is so important at this stage.
"We certainly believe we have the quality in the squad - and a good mix of experience and youth – to stay up.
"We've made our own little league with maybe seven or eight clubs, and we certainly feel we're in the top three or four of those clubs in the same situation as us."
Ojo was one of several arrivals last month, as Leam Richardson tried to add a bit of experience and steel to his fledgling group.
The Belgian-born midfielder, however, says the group is already as tight-knit and together as any in the division.
And he's already looking ahead to the possibility of staying put if - and hopefully when – the long-awaited takeover finally happens.
"Sometimes you look at clubs who have a lot of loan players and it can look like they're a bunch of mercenaries, coming in to just pick up the pay cheque, doing the work and getting out," he added.
"But I think everyone can see what every goal and every win means to us as players.
"Everyone in the group - including the loan players - desperately want this club to stay up.
"A lot of us are looking for the next contract, we know there will be new owners here soon, so we're all playing for something.
"If Wigan are doing well, then it means you as players are doing well.
"If this club manages to stay in the division, it will look better on our resumes than if we were to get relegated.
"All we can do is play our games, play as well as we can, and then see where we are at the end of the season.
"I loved my life up at Aberdeen, and I was enjoying it – maybe not so much from a playing perspective as I do down here, because I'm playing every week.
"At the end of the day, we're footballers and all we want to do is play football.
"We'll see what happens in the summer."
Get 20% off our sports subscription package and stay up to date with all the latest Wigan Athletic news with a year's subscription to WiganToday for less than 9p a day. Use promo code TRANSFER20