Wigan Athletic admin delivers takeover update
Administrator Paul Stanley has reported continued slow going regarding the sale of Latics – partly because interested parties are in 'no rush' because of the lack of exclusivity.
Published 24th Feb 2021, 18:33 BST

- 2 min read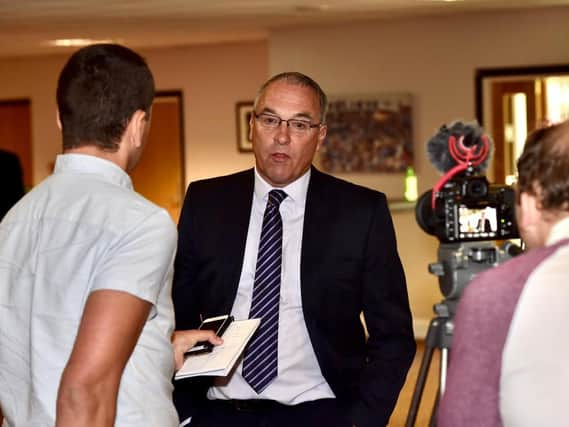 The Bahrain-based consortium are still understood to be frontrunners, having been first to be sent through to the EFL for 'preliminary checks'.
But Stanley says they are nowhere near as far down the line as the Spanish bidders were, before they sensationally pulled out at the beginning of last month.
"A lot of people kicked off last time because we went with exclusivity, and said it was the wrong way to do it," he told Wigan Today.
"So this time we've done it without exclusivity, which has allowed the EFL to do preliminary checks on a few people.
"And they've not found anything negative in those preliminary checks.
"But of course what we haven't got is anyone with exclusivity, or anyone with any skin in the game, because we haven't had a deposit off anybody.
"So from their point of view, where's the fire, where's the rush?
"The EFL haven't given them a red light – but they're not prepared to go beyond that. I know people probably don't want to hear that, but that's where it is."
Stanley also acknowledged the number of further hoops a successful bidder would have to jump through before a successful resolution.
"It's not with the EFL at the moment, it was with them last week," he said.
"The only thing they've said to us is they've not found anything negative, in their quick look through.
"That's not to say that when you make the formal application, it would be the same.
"What they're saying is, if you put these people forward, we're not aware at the moment of anything that would be disqualifying.
"They're not going to say anything official to me, because they can't before they've gone through a full board process.
"That full board process would have to agree not just the people and the money, but also the contracts, which we have to agree with, as well as their own membership agreement, which they have to sign.
"They've also got to have security of tenure, as well as a lease signed over by the council.
"They can't agree anything with the council before they've agreed the contacts with us, and they can't agree the contracts with us until we start seeing some money off people.
"And it's all still with lawyers at the moment...so there's nothing really moved since last week.
"Where we are is sort of the same position - we've sort of shaken hands on a deal, and there's a load of paperwork needs doing.
"The truth is there isn't much of an update to give at the moment."
Get 20% off our sports subscription package and stay up to date with all the latest Wigan Athletic news with a year's subscription to WiganToday for less than 9p a day. Use promo code TRANSFER20