Wigan Athletic bidder drops out of the race
Norman Smurthwaite has 'categorically' pulled out of the race to take over at Wigan Athletic - citing three major stumbling blocks.
Thursday, 3rd September 2020, 8:15 am
Updated
Thursday, 3rd September 2020, 8:26 am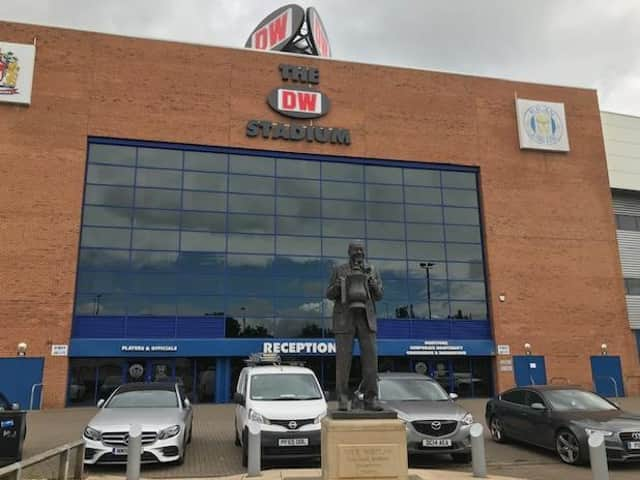 The DW Stadium
The 60-year-old former Port Vale owner had been one of the frontrunners to buy the stricken club, which has been in administration since July 1.
He met with Gerald Krasner last week, and visited the DW Stadium and the training ground at Christopher Park.
Initially, Smurthwaite had wanted Latics' training centre at Euxton to be part of the deal, but that was sold by the administrators to Preston North End earlier this week.
And the 'harsh sale of assets' - as well as 'certain aspects of the stadium agreements' and the negative response from some Latics fans - has led him to withdraw his interest.
"I am not buying Wigan Athletic," Smurthwaite told Wigan Today. "All parties know that.
"I do want to get back into football, but I don't want to be swimming uphill like a salmon.
"I understand I'm one of the only four who has passed the fit and proper test, and the only one who has had dialogue with the EFL - which is concerning.
"Once I had an understanding of what Gerald Krasner wanted and the financial requirement to buy and fund the club, to between £7.5million and £10million in 18 months, I was concerned that was a big risk.
"Another reason is over the weekend I had a flavour of the abuse I might get, from some fans.
"To use an analogy, you have got a very sick individual who due to religious beliefs won't take interventions to save him.
"That person can't be brought back but what's left behind are the people who cared for him.
"It would be a massive loss to lose Wigan Athletic, and I genuinely mean that. It's an integral part of the community.
"I believe the administrators have been too harsh on the sale of assets.
"And there are certain aspects of the stadium agreements I wouldn't be happy with, there are wrinkles that need ironing out."
Smurthwaite brought Port Vale out of administration back in 2012/13 in a deal involving Krasner's firm.
However, it soon turned sour for Smurthwaite at Vale Park, leading him to sell up last year.
Indeed, a number of Vale supporters took to social media to paint Smurthwaite's time in charge in a not-too-pleasant fashion - leading to their Wigan counterparts sending him messages of an unsavoury nature on hearing of his interest in Wigan.
Krasner even took the unusual step of distancing himself from Smurthwaite via a fans' Q&A released through the Latics Supporters Club.
"I want to make two things clear...I never met the guy until recently, and I did not do the sale of Port Vale to him," Krasner said.
"I handled a completely different aspect of that administration.
"He's made himself public, which is a very silly thing to do."
Smurthwaite refutes the suggestion he 'made himself public' - as well as the notion he'd done previous business with Krasner - and insists his bid represented the best possible chance of saving the club.
He also says he'd received assurances that a £3.5million interest-free loan he gave to the current Port Vale owners would not have precluded him from taking over at Wigan.
Krasner, meanwhile, insists he has no preferences as to who will eventually take over.
"To be honest, I don't mind who buys it," added Krasner, speaking before Smurthwaite stepped back from the process. "But they have to pay the right price.
"I'm still talking to the Americans, they were emailed yesterday.
"But the problem is they're on a different time-zone, and we can't answer their emails a minute after we get them, we've got to think and dig out what they want.
"We're talking to a lot of people - we're not just concentrating on one.
"So no matter what the fans keep telling me...that I've got to give it away...that will not happen.
"And why won't it happen? Because on top of the football creditors, we have to pay £1.3million to the other creditors (HMRC accounts for more than 50 per cent) or it's a 15-point penalty.
"We have to pay the losses in the administration, which by the end of September will be £3million.
"And we have to pay the costs - the EFL costs, our costs, our legal costs - and that is a figure just over £2million."