Wigan Athletic boss: Every sale upsets me as much as the fans
Leam Richardson admits every single Wigan Athletic departure this summer has hit him as hard as it has any of the club's supporters.
Published 5th Sep 2020, 11:04 BST

- 2 min read
Updated 5th Sep 2020, 11:08 BST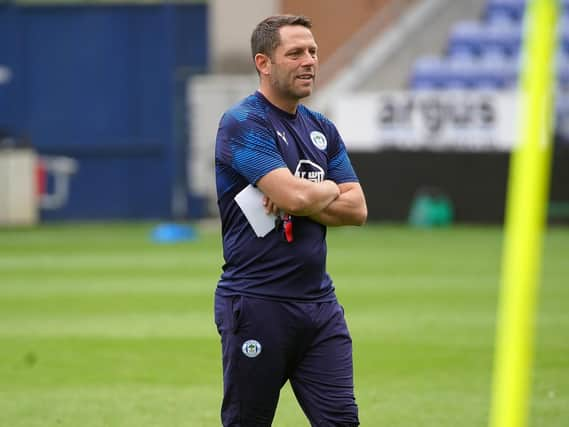 Cedric Kipre on Friday became the latest big name to be sold off by the administrators, with West Brom paying just £1million to sign one of the best centre-backs in the Championship last term.
While the move had been widely expected, the news still came as a crushing blow to a fanbase that's been put through the emotional ringer in recent weeks.
And having watched a talented squad – which held its own with the best in the division in the second half of last term – ripped apart and sold off at bargain-basement rates, Richardson admits he too has found it tough to take.
"I would suggest my feelings are very, very similar to the supporters," he said.
"A lot of these lads we've watched from afar for a long time, and we then had the opportunity to bring them into the football club.
"The previous manager and myself have a very good record of improving players we work with and selling them on, and we felt like we could again do that with this group.
"Obviously they've been sold for different reasons, but we did feel that they would either help bring the club success or be sold for a lot of money.
"My opinion on that hasn't changed because of the situation we've been put in, because it is what it is.
"And I've probably taken each sale as personally as any fan, and every single staff member related to Wigan.
"But at the same time, there's also a part of me that shakes hands with the lads and wishes them well.
"Because I've worked with them every single day for three years, and you wouldn't want any of them to be part of this going forward, when they could be experiencing a more solid place for themselves and their families."
However, while the mood among the fanbase is still one of anger, bitterness, upset and injustice, Richardson says he has to try and detach himself from that – for the sake of the club moving forwards.
"I've been here for three years, and I've only ever seen enjoyable times until recent weeks," he added.
"I could only see even better things coming with what the manager and I were trying to build.
"You can forever be looking at it and wondering 'why' and 'what if'.
"But sooner or later you've got to take stock of the situation, get your head down, stay focused and look forward and affect what you can affect.
"Even in situations like this, there are situations you can affect, and we've got to do that in the most positive and professional way we can.
"I've reiterated that to the players, and if there's a collective body of people who can do that, we'll come out the other end in a better shape than you would if you stayed on the floor getting repeatedly kicked in the teeth."