Wigan Athletic boss hails 'magnificent' result at Portsmouth
John Sheridan hailed a 'magnificent' achievement from his fledgling Wigan Athletic side after winning at Portsmouth to record their maiden League One victory.
By Paul Kendrick
Published 26th Sep 2020, 17:45 BST- 2 min read
Updated 26th Sep 2020, 17:54 BST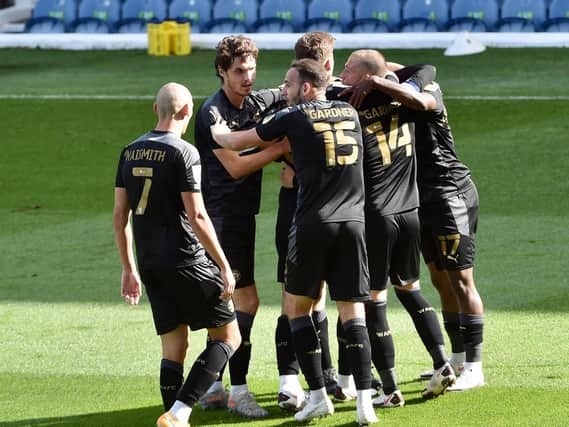 Goals from Welsh wonders Lee Evans (39) and Tom James (59) gave Latics a firm grip on the game, with Pompey substitute Ellis Harrison's last-minute goal scant consolation.
With everything going on at the DW Stadium at the moment, it was another huge step in the right direction after the midweek EFL Trophy spanking of Liverpool Under-21s.
"It was a good performance, and obviously great to bring up our first league win of the season," enthused Sheridan.
"To come to such a difficult place - they've got such a great record here - and perform is pleasing.
"To come away with the three points is obviously the most important thing, it's magnificent for the boys.
"If you look at the front four, we've got some very good attacking threats.
"If I have got a bit of a downer, I thought we allowed them to get a bit of belief to get back in the game in the second half."
Sheridan also deflected any praise for the upturn in fortunes onto his colleagues in the technical area.
"It's still early days for me coming in," he acknowledged. "A lot of good things were going on last year, and a lot of the staff has remained, so I haven't really changed a lot.
"It's just a different face, a different voice, and adding a little bit here and there with my experience.
"The existing staff are working their socks off in very difficult circumstances, so full credit to them.
"And to the players obviously, you can see we're getting better as a team and getting to know the system.
"And I do believe if we can stick together and stay positive, we've got half a chance of doing something this year."
If Evans' opening strike was a tad fortunate - the midfielder's volley into the ground looping over the Pompey goalkeeper - James' 30-yard free-kick into the top corner on the hour was right out of the top drawer.
"I don't think you'll see a better goal than that all season," added Sheridan.
"We were actually shouting at him to get back into his full-back position, because it looked like he was too wide!
"But we know he can do that, he's got great quality in set-pieces and delivery, and he's started very well here."