Wigan Athletic boss opens up on fans' summit - and owner's face-to-face meet
Shaun Maloney not only welcomed this week's meeting between Wigan Athletic senior management and fans' representatives - he believes they should be a regular occurrence in future.
Published 31st Mar 2023, 10:01 BST

- 2 min read
The Latics boss - along with chairman Talal Al Hammad, chief operating officer Tom Markham and non-executive director Oliver Gottmann - chatted with supporters in midweek for more than two hours at the DW Stadium.
Nothing was off-limits, and the discussions have been relayed to the rest of the fanbase, with largely positive feedback.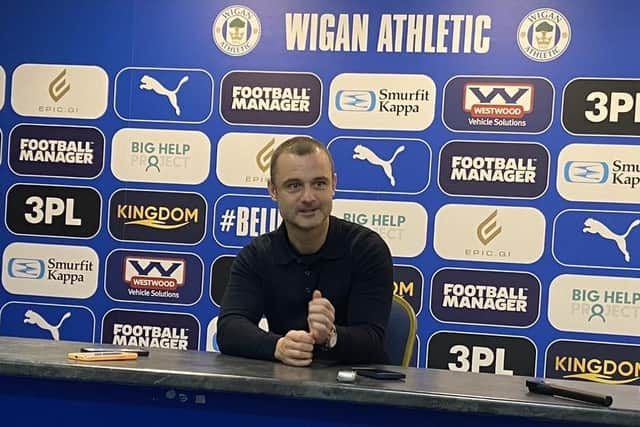 "It was actually a very positive thing all round," acknowledged Maloney, who'd only recently returned from a trip to Bahrain, where he'd presented his vision of the future for the club to the chairman and club owner Abdulrahman Al Jasmi.
"I think you have to give credit to the chairman for sitting with the supporters' groups and being as honest as he could be.
"Everything he said to me in Bahrain he said to the supporters' groups.
"They asked a lot of questions of the vision of the club moving forward, and I think it's my job to give them an idea of that.
"But I think it was also important to stress to them how important the current group has been, and will continue to be.
"Of course we're building for the longer term, but the priority has to be the players we have in the building, and getting the best out of them.
"And I don't think we can ever forget what they have given us - on and off the pitch - over the last few weeks.
"Under these circumstances, it's been absolutely brilliant.
"But I think it's great to get the supporters together at regular intervals, and I hope we do more of them.
"I know there's been talk of maybe getting a supporters' representative on the board, and I think the closer we can get to that model, the better."
Maloney also revealed his first face-to-face meeting with chairman and owner - in which he'd sought to gain 'clarity' over the recent problems with paying wages on time - had gone very well.
"In terms of how the meetings went, it was definitely two-way," he said. "I needed the clarity of how it (the wages delay) had happened and why, and how we were going to solve it as a club.
"Of course I also have a big role to play in that, with the future of the club, and the owners wanted to see what my vision was, over the next 12 months, three years, five years.
"That had to align with their ideas, and the meetings were positive, and for me, I'd love it for the club to be really quiet and stable on and off the pitch.
"That's what we're all looking for now, stability, and hopefully we can all move forward together.
"They gave me assurances, but I guess we'll only see that over a period of time.
"I'm fully appreciative of what they're going through themselves, but I did get that confidence, and that reassurance, from Mr Al Jasmi.
"We know we have to fight hard over the next four or five weeks on the field.
"But beyond that, we know we have to rebuild certain structures and live within our means."