Wigan Athletic boss reflects on 'impossible' feat achieved
Leam Richardson has hailed Wigan Athletic's achievement in achieving the greatest of Great Escapes - what 'so many people felt was impossible'.
Saturday, 1st May 2021, 7:33 pm
Updated
Saturday, 1st May 2021, 7:34 pm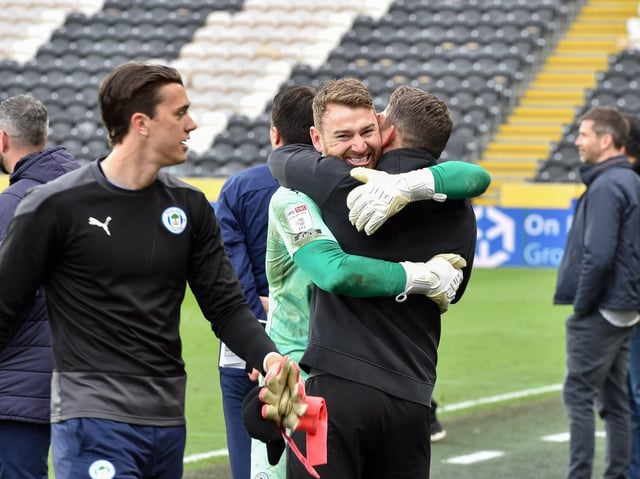 The celebrations at full-time
Despite losing 3-1 at Hull, who secured the League One title in the process, results elsewhere mean Latics remain four points clear of the drop zone with only one game now to play.
And after the most eventful - and car-crash- campaign in the club's 89-year history, Richardson has been left to reflect on a feat that arguably matches the FA Cup win of 2013 in terms of significance.
"I've got to give great credit to every single person involved in helping us achieve what we've achieved," he said.
"I can't name every single one because there's so many, and I'm scared of missing someone.
"But the players especially...they've rolled up their sleeves and accepted the challenge put in front of them.
"One thing I have to stress...they genuinely have cared as well.
"Most of the players aren't contacted to the club beyond this summer, and they didn't have a massive affiliation to the club or the area.
"But it quickly became apparent that as a group of men they really cared what happened to this club, and to make sure we managed to stay in this division.
"Everyone - right through to the groundsmen, the chef, the cleaners - have stayed positive and believed we could pull this off.
"Everyone has pulled in the same direction, and we can all reflect now on a job well done."
Richardson stepped up from assistant manager last summer after Paul Cook departed, and his remarkable job in steering the ship through the choppiest waters imaginable saw him handed the permanent position last week
"Somebody said to me at the beginning that it would be a good experience for me as a manager," he said.
"Has it been a good experience? I think now I can say that it absolutely has.
"Everybody outside this club and this town wrote us off 10 months ago.
"But as long as you've got that fighting spirit in you, and the desire to lead and to meet the challenge, and retain that belief, it's worth fighting for.
"Certainly for Wigan Athletic - and everything that's gone before during the proud history of this club - it's worth fighting for.
"Believe me, nothing has gone unnoticed...from all the well-wishes on social media to the donations that kept the club going, to the support...and you reflect now and realise how enormous every single one of them was in teaching this point here.
"All I've tried to do, and all we've tried to do, is represent this football club the way it should be.
"We've worked as hard as we could and tried as best as we could to meet the challenge so many people felt was impossible...but we've proved it wasn't."