Wigan Athletic boss: 'We've got character and energy to finish the job'
Paul Cook is adamant his Wigan Athletic heroes have two more big efforts in them to pull off the greatest escape in football history.
Published 18th Jul 2020, 10:39 BST

- 2 min read
Updated 18th Jul 2020, 11:00 BST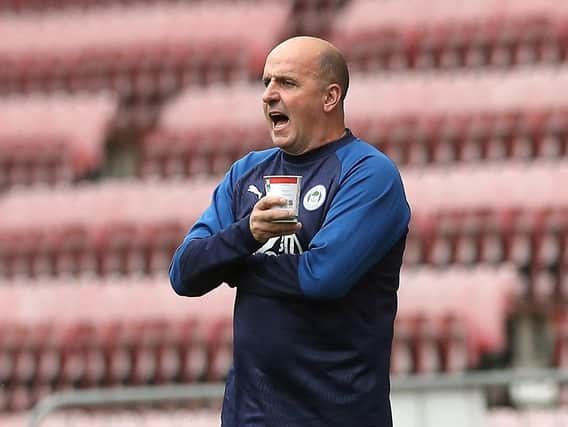 While the administrators continue their off-the-field work to secure new owners, the players have been doing their bit – and more – on the field.
Having already secured an unlikely survival once – after being bottom of the Championship in late January – Latics have had to do it all over again
with a 12-point deduction looming.
But an incredible sequence of results sees them head into the last two matches of the season above the drop zone on goal difference – and with their fate in their own hands.
When asked whether his players had it in them to finish the job, Cook replied: "Absolutely they have – because they've got character.
"Whether it's training, playing, working, resting...they're all speaking the same language.
"They all want to do well, and when you've got a group of lads who are not thinking of dipping out until the job's done, you've half a chance of doing something.
"It doesn't necessarily mean that we'll be successful. But it means we'll have a right good go, and we won't give up until someone tells us it's over."
While there were signs of fatigue last weekend at Barnsley, in midweek it was the complete opposite as Latics wiped the floor with a Hull side who were fortunate to only concede eight goals.
"These lads are there, they're in the zone, they're in a really good place at the minute," acknowledged Cook.
"They only need managing in terms of fine-tuning their preparation and recovery.
"These lads have stayed very humble throughout everything that's gone on.
"Even with the pay stuff, there's never been one word of complaint.
"We've got too much respect for the 75 people who have lost their jobs through no fault of their own.
"And they'll be doing everything they can to make them all proud of us in the next two games.
"No matter what happens, we'll be able to look back on thi season with a great deal of pride in how things have been handled.
"We sit 13th in the table now with 57 points, but we want more...and we'll do everything we can to get more."