Wigan Athletic chief enjoying away comforts!
Leam Richardson insists Wigan Athletic's run of three away games in a row will hold absolutely no fear for them.
Monday, 8th March 2021, 5:27 pm
Updated
Monday, 8th March 2021, 5:30 pm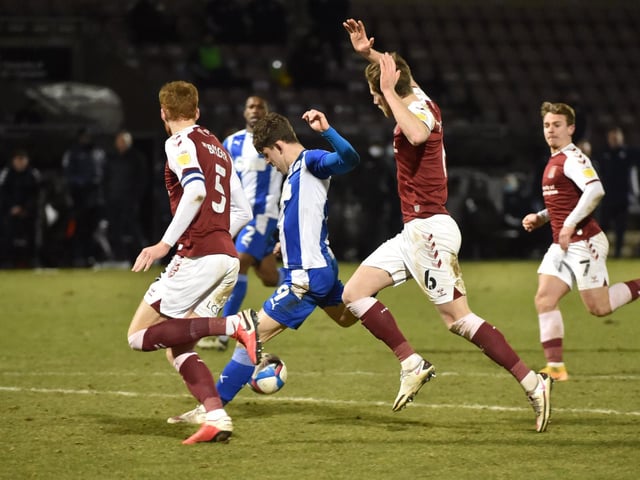 Callum Lang secured Latics an away win at Northampton recently
Latics' form on the road is better than their record at the DW, with 17 out of their total of 30 points picked up, from one game less played.
That follows a general trend up and down the country since football became a behind-closed-doors event, with away teams enjoying far more success than they have previously.
"It's strange isn't it," acknowledged Richards. "You look around the game as a whole at the moment, and it seems to be the case everywhere.
"Obviously you've got the unique situation with no fans in grounds, and all the changes that are going on over the last nine months.
"I'm normally someone who's very stringent in certain statistics etc, but it's become almost pointless looking at that sort of thing.
"Obviously looking at the results you can see the away form's been very good of late, and we'll continue to tackle each game on its own individual merit.
"It's one of those where you need to find your energy reserves and go again.
"Somebody's got to keep pushing the situation forward, as it were, and giving it the energy it needs."
Saturday's win over MK Dons was only Wigan's third all season at the DW – where they've lost the same amount of games by five clear goals (against Rochdale, Blackpool and Hull).
Richardson feels it was good to break the three-month hoodoo, especially after putting in several performances of late that didn't return the points they deserved.
"Sometimes you can either feel sorry for yourself with the way things are going, with everyone complimenting you about how it's going, apart from the results...or you can do something about it," recognised Richardson.
"I'd sooner get the result no matter what, and I have to compliment the lads for getting what they deserved at the weekend.
"We did our jobs at both ends of the park – and I think the clean sheet and the goals go hand in hand.
"Everyone deserves a share of the credit...from the lads at the back doing a thorough job and keeping care of their forward-thinking players, to the lads at the other end who have made everyone's afternoon easier by finishing it off.
"And probably the way we put the game to bed was the most pleasing thing, after what's happened so often in recent weeks.
"A few times we've taken the lead and not been able to go on and win the game, we've missed a few chances and it's come back to bite us.
"And that in turns puts the pressure on at the other end, which adds to what everyone's been going through.
"This group's only been together for a short time, and you can see them growing in performance and character with every game."
Get 20% off our sports subscription package and stay up to date with all the latest Wigan Athletic news with a year's subscription to WiganToday for less than 9p a day. Use promo code TRANSFER20