Wigan Athletic chief on imminent takeover - and not wanting any 'pats on the back'
Leam Richardson is hoping 'actions speak louder than words' as Wigan Athletic's new Bahrain owners prepare to formally take control at the DW Stadium.
Published 29th Mar 2021, 15:05 BST

- 2 min read
Updated 29th Mar 2021, 15:08 BST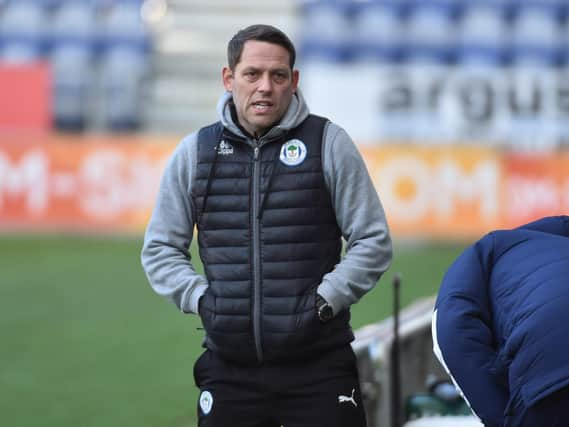 The Phoenix 2021 Limited group are expected to get the green light in the next 24 hours, to end nine months of pain and agony – on and off the field – for the club and indeed the town.
One of the very few sources of continuity has been Richardson, Paul Cook's long-time No.2 who stayed on when his former colleague moved on last summer.
And the 41-year-old is as aware as anyone just how significant the takeover will be for a club desperate to get back on its feet.
"Hopefully it's just a matter of time now," said Richardson.
"As I've been led to believe, these are good people who are coming in who want what's best for the club.
"We know more than anyone that actions speak louder than words, and hopefully what's on the way will provide a really solid footing for Wigan Athletic
"There was a point not too long ago where we weren't even sure we'd have a football club moving forward.
"To be still in the fight, with nine games to go, competing in the league with a takeover hopefully in the offing...we're in a much better place than we could have been."
The role of Richardson in steering the ship through the choppiest waters imaginable cannot be overstated.
Not that the man himself wants any of the credit.
"I genuinely never want any pats on the back for anything I've done," he said.
"A lot of people have remained at Wigan Athletic and continue to do a fantastic job.
"It's been a skeleton staff around the place with a forever changing group of players – some wanting to be here, some not wanting to be here – in a fragile situation.
"It's something you see so often happening at other clubs, and you don't really give it a second thought, or the empathy it deserves.
"It's been challenging, very challenging. But you find out very early in this business no-one is going to feel sorry for you.
"If you start to feel sorry for yourself, you might as well give up...turn off the lights and just go home.
"All we can do is roll up our sleeves and try and give as good an account of ourselves as we possibly can.
"We'll fight as hard as we can, and we'll see where that leaves us at the end of the season."
Get 20% off our sports subscription package and stay up to date with all the latest Wigan Athletic news with a year's subscription to WiganToday for less than 9p a day. Use promo code TRANSFER20