Wigan Athletic fans outline plans for demonstration
A section of the Wigan Athletic fanbase will be taking part in a peaceful demonstration at Begbies Traynor HQ in Manchester on Friday.
Published 10th Sep 2020, 11:34 BST

- 3 min read
Updated 10th Sep 2020, 11:38 BST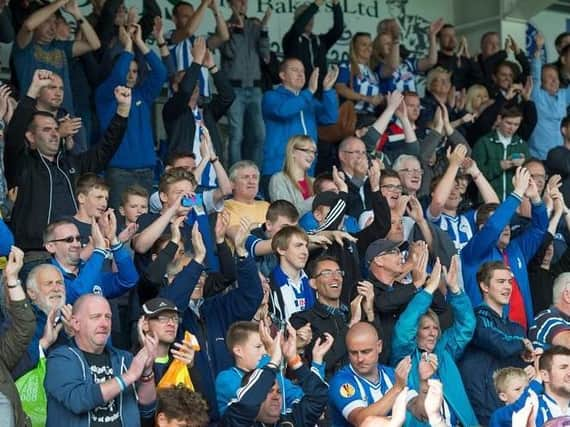 The group of supporters - calling themselves the 'Wigan Athletic Grievance Society' - want to show the depth of feeling generated by the administration process over the last couple of months.
A statement read: "The Wigan Athletic Grievance Society has become increasingly alarmed and dismayed at the ongoing situation related to our football club.
"From the minute the administrators entered the club on 1st July, we have had nothing but false promises, contradictory statements, a fire-sale of players, and what appear to be worrying signs of growing mistrust between Begbies Traynor and everyone else involved.
"We would like to praise the Official Supporters Club for their superb efforts in raising over £800k since the club went into administration.
"These efforts have hopefully secured some sort of short-term future for our beloved club; for that, we thank them wholeheartedly.
"The working-class town and fans of Wigan (along with football fans from around the country) have dug deep in the middle of a pandemic, when many people's financial futures appear to be insecure.
"There have been at least 75 redundancies at the football club – including many Wiganers devoted to Latics.
"At the same time, the administration, legal, and agent fees negotiated by Begbies Traynor for this whole debacle currently stand at approximately £3million.
"Who is benefitting from the crisis that has hit Wigan Athletic and who are the ones suffering?
"Alongside the false promises, contradictory statements, the sale of players and assets well below their value, and growing mistrust, we have also witnessed the unprofessional behaviour of administrators Gerald Krasner and Paul Stanley.
"They repeatedly contradict each other and make misleading comments while attacking those in the media who have the temerity to place a spotlight on their activities – calling ex-Crystal Palace owner Simon Jordan a "halfwit", for example, and walking out of an interview with Channel 4 News.
"Is this how they should be behaving? Is this what Wigan Athletic fans should expect from those in charge of our club? We have been treated disgracefully by the previous owners IEC and Au Yeung Wai Kay and repeatedly let down by the EFL and now Begbies Traynor.
"Enough is enough. We believe a more direct form of action from Latics fans is now needed. League One starts this weekend and the administrators have still not received confirmation from the EFL that we can start the season.
"Therefore, on the eve of the new season, this Friday 11th September, we – as a broad collective of Wigan Athletic fans – will picket Begbies Traynor HQ in Central Manchester.
"The aim of the demonstration is to put a spotlight on the actions of Gerald Krasner, Paul Stanley, and Dean Watson, to get clear answers explaining why agreements haven't been reached with what appear to be serious bidders, and to raise more awareness of the plight of our club.
"Wigan Athletic is dying, we cannot sit back and let that happen.
"We will assemble in St Peter's Square, Manchester, M2 5PD (outside the library) at 11.30am this Friday before a demonstration outside Begbies Traynor HQ at 340 Deansgate, Manchester, M3 4LY (opposite the entrance to Beetham Tower/Hilton Hotel).
"Please remember to be mindful of social distancing guidance. The demonstration will be peaceful, but we will seek direct answers to direct questions."