Wigan Athletic legend Emmerson Boyce signs for Ashton Town
Wigan Athletic legend Emmerson Boyce is lacing up the boots again - to play for Ashton Town.
Saturday, 29th August 2020, 9:01 am
Updated
Saturday, 29th August 2020, 9:14 am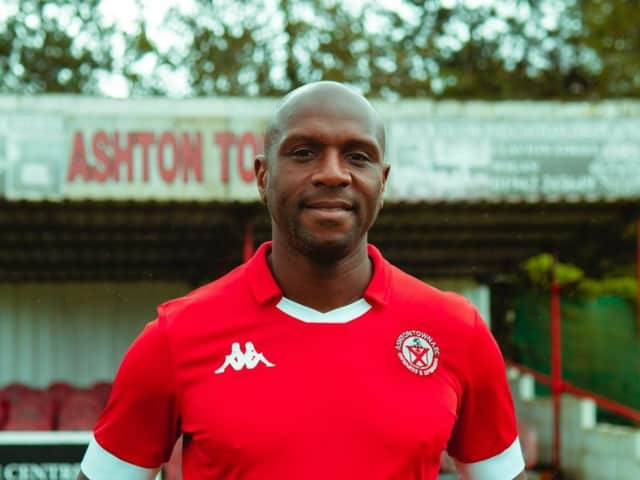 Emmerson Boyce at Ashton Town
The FA Cup-winning captain, who retired from playing in 2016, has signed to play for the non-league side after an invitation from chairman Mark Hayes.
His move to Town comes 18 months after the high-profile capture of another ex-Latics defender, Pascal Chimbonda.
Boyce, 40, said: "I'm excited about pulling my boots back on. Mark is a great guy with an amazing kind heart, He has done so much for Joseph Goal without the full recognition within football.
"I asked him if there was anything I could do for him, I think - tongue in cheek - he asked would I play for his team.
"I think he had a shock when I said 'yes'!
"I've been commentating for BBC Manchester and I've realised how much I've missed playing. I am still fit and healthy and still got a lot to give.
"So many former players always say to me I should keep on playing till you physically can't.
Boyce captained Latics to FA Cup glory in 2013
"A few teams have asked me in the past but I always turned them down as I needed a reason to light the fire in my belly.
"With this pandemic and the situation at the DW Stadium, I suppose this also gives the Wigan fans something to talk about or even to come down and watch a former player - obviously within the safety guidelines."
Boyce spent nearly a decade at Latics as a player and since retiring, has been busy helping others by coaching juniors, men's and women's teams.
"My passion is to give something back to football. No matter what level," he said.
"I've set up the Emmerson Boyce Football Academy which is based in the Wigan, Warrington and Altrincham areas so far.
"Ex Wigan player Neil Rimmer is one of my coaches and we often have some of my former team-mates come down and put on some sessions.
"This has given me so much satisfaction, my passion is football, as everyone knows I captained the Barbados national team.
"So we are in the process of finalising a second academy in Barbados as well as the Emmerson Boyce Foundation to help local communities give opportunities and create pathways through sport and education."
Boyce, also a qualified personal trainer, can be contacted at for business queries at: [email protected]
Meanwhile, he is backing the supporters club-led bid to raise cash to save his former club. More than £250,000 has been donated since the 'Save our club' campaign was launched on Wednesday, in a bid to part-own the club - or even act as a safety net should no buyer take over. It can be reached here"Maybe one day I will return to the DW Stadium," he added. "Maybe not as a manager yet but I would love to be on the board.
"I have done my governance courses through the effective Board Member with the PFA and think it's important to have a voice from the fans on any football board.
"This is just my opinion after the recent events at Wigan Athletic Football Club."
Ashton Town are in the North West Counties North division, the same league that AFC Bury have started in this season. Fixtures are not yet announced, however the season is scheduled to start on October 3.
Town chairman Hayes said: "I am obviously absolutely delighted to sign Emmerson.
"I am a firm believer of believing in your dreams, and if I can make people smile with them, then even better. This for me is simply magical to have him pull on an Ashton Town shirt.
"With all that has gone on at Wigan Athletic recently this hopefully gives every single fan something to smile about. Emmerson will always be our immortal legend, and it literally is my proudest moment as Ashton Town chairman to welcome him to the club."
Chimbonda, who was on the bench for France in the 2006 World Cup Final against Italy, only played four matches for the club due to the commute from his home in Newcastle.
Hayes added: "When Pascal signed it was much more than a publicity stunt. It literally gives a non-league club the biggest ever lift both on and off the field.
"The lads gain vital experience playing and training alongside an outstanding ex-professional from the game, and the knowledge that they pass on is simply priceless.
"This season we are going in a different direction at the club following the summer announcement of ex-Bury, and former Wigan target, Glynn Hurst as manager.
"Glynn has brought professionalism and new ways of working to the club that I am certain will bring in success. Then add in Boycey, then this could be a very special season."