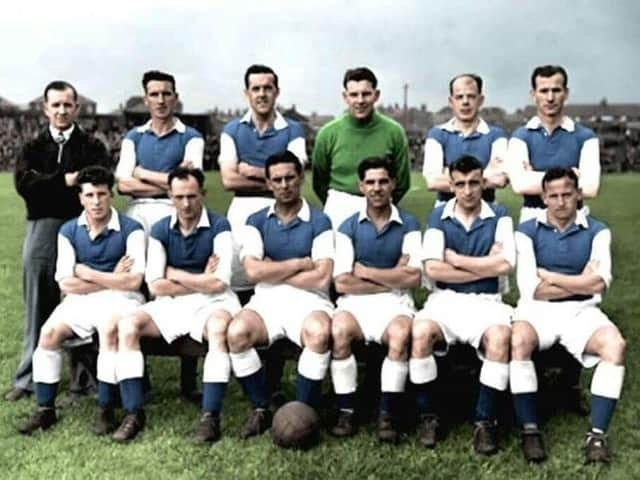 Harry Penk (bottom row, far left) with his Latics team-mates, circa 1955
Harry spent two years with Latics, his hometown club, in the Lancashire Combination between 1953-55, scoring six goals in 55 appearances.
A lightning fast forward with an eye for goal, he was quickly snapped up by Portsmouth for a fee of £2,500 - a non-league transfer record at the time.
The Pompey manager's assessment of him at the time was: "Harry can crack a ball with either foot, and I have seldom seen a player who can cross a ball so perfectly."
He later moved on to Plymouth, whom he helped to win the Division Three title in 1957, and finished his career at Southampton.
In total, Harry made 165 career appearances, scoring 22 goals.
He remained on the south coast after retiring from football, turning out for Hursley Park Cricket Club at Lord's at the age of 50, when they went all the way to a Village Knock-Out Final in 1984.
Harry had previously turned out for Norley Hall Cricket Club, while working his apprenticeship as a painter and decorator, and loved catching up with his old pals during trips back up north.
He and wife Barbara celebrated their Diamond Wedding Anniversary a couple of years ago.