Wigan Athletic star departure confirmed
Kal Naismith has left Wigan Athletic with immediate effect after his contract was terminated by mutual consent.
Published 7th Jan 2021, 11:51 BST

- 2 min read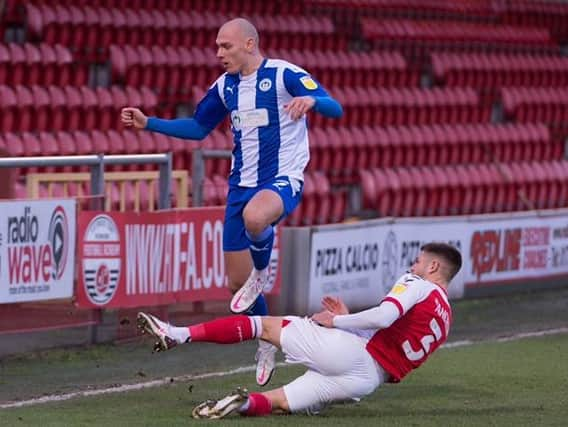 The 28-year-old had five months left to run on his Latics contract and requested to the administrators that his contract be terminated to allow him to pursue a new opportunity.
Following consultation with Latics' coaching staff, Naismith's request was reluctantly accepted.
"The last six months have been incredibly challenging for everyone at the club and like all of my team-mates, the staff and the supporters, I have felt the effects of everything that has happened," said Naismith in a statement to the fans.
"With that said, when the opportunity to play at a higher level didn't arise this summer, then I knew I had to focus myself on supporting the team in being competitive this season and I've been so proud to see the development of the club's young players, who are working so hard to make the most of the opportunity they have.
"Every time I have put on the shirt, I have given my all and tried to help this new team with my experience.
"We've been able to enjoy some good days in this darkness this season, most notably the wins at Portsmouth and Sunderland.
"My time at Wigan has been a rollercoaster to say the least, with many highs and some lows too; I think I have become a better player and a stronger person for the experience.
"The two wins at Leeds United, the 3-0 win over Stoke City and the club record win against Hull City are just some of the special memories I will take with me.
"The thing I will treasure the most is that team spirit we have had over the last couple of seasons; it has been an absolute pleasure to be a part of this club with some incredibly talented players and more importantly great people.
"I would like to thank David Sharpe and Paul Cook for bringing me to the club in 2018, as well as Leam Richardson and all of the staff I have worked with during my time at Wigan Athletic.
"Now is the right time for me to leave; I have an exciting and fresh opportunity for me and my family and that's something I have to prioritise for myself, my partner and my children.
"We have all been overwhelmed by the level of support from the Wigan Athletic fans over the last few months; the fundraising was just incredible – I have learned over my time here that this club seemingly always defies the odds - and that support is going to be one of the club's biggest strengths moving forwards, hopefully under new ownership.
"I wish the club stability and better times in the not-too-distant future. I will be following the results and cheering on Wigan with my children.
"Stay safe and best wishes, Kal."