Wigan Athletic star goes viral after jaw-dropping strike
Wigan Athletic striker Stephen Humphrys has been catapulted into worldwide fame after scoring an incredible solo goal for Hearts on Saturday.
Published 5th Feb 2023, 17:20 BST

- 2 min read
The 25-year-old - on a season-long loan with the Scottish club - picked up the ball on the edge of his own box, and held off a couple of would-be tacklers before unleashing a 60-yard shot that sailed into the Dundee United net.
It was a goal that had to be seen to be believed, with footage of it quickly going viral after the game.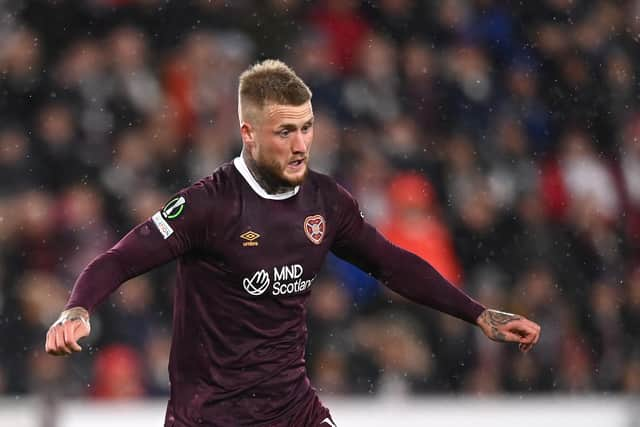 The 98th-minute strike capped a 3-1 victory for Hearts, whose manager Robbie Neilson admitted he'd never seen anything like it.
"I've been here for a long time and seen a lot of games over the years, but I can't think of a better goal to be honest with you," he said. "It was an unbelievable finish.
"As soon as it left his boot we all thought it had a chance, it's over the keeper, is it dipping and time kind of slowed down a bit.
"It was outstanding and I'm delighted for him, firstly he is a brilliant boy, he has been brilliant for the dressing room and the group.
"He has been a wee bit in and out but you saw when he comes on what he can give you.
"It shows you both sides of him, pace, power, strength but also the finesse to have that final finish.
"I think goal of the season is now done in Scottish football."
Making it even more special was the fact it was struck with Humphrys' supposedly 'weaker' left foot.
It also underlined the cult status of Humphrys in the Hearts dressing room - although Neilson admits Latics remain in control of his long-term future.
"He is, and the dressing room, he is a really good character," he added. "The boys love him and so do the fans because he is different to what we've got there.
"I'm over the moon for him. I would love to keep him longer term but he is a Wigan player and has a contract down there so it will ultimately come down to them."