Wigan Athletic star is a class(room) act!
Jamie Proctor made sure he took full advantage of the long midweek trip to the south coast after Wigan Athletic's schooling of Plymouth.
Friday, 12th March 2021, 11:50 am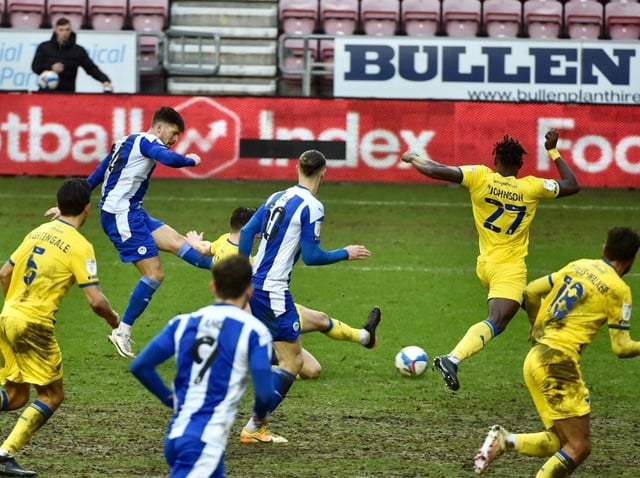 Jamie Proctor scores his first goal for Latics against Wimbledon
While some of his colleagues were studying the League One table following the 2-0 win that lifted Latics out of the drop zone, the on-loan Rotherham was doing his own studying.
With his head in a book, swotting for his teaching diploma!
"I try to make the most of times like that, while I'm away from home," Proctor revealed.
"The journey home flew by after Tuesday, because everyone was buzzing after such a good win.
"Some of the lads were reading, playing cards, listening to music, checking their phones...I was just doing a bit of work!
"At the moment I'm doing a PGCE, a teaching degree, which is something I've been doing for about six months now.
"I'm doing all of the academic side of that rather than the practical work experience in school, because obviously football doesn't allow me to do that for now.
"I'm concentrating on getting all my assignments done, so the long journeys to places like Plymouth give me time to actually have a few hours of peace, without having a baby at home screaming in my ears!"
Not that Proctor totally escaped the screaming, after returning home in the early hours of Wednesday.
"I got back about 4.15am, and then the little one was up about 5.30am...I'd literally put my head down and I was straight up," he grimaced.
"As soon as we'd got her off to pre-school I was straight back to bed, which isn't like me because I like to be up and about early.
"It's sort of messed up the last couple of days body-clock wise, but we're lucky we don't have a game to prepare for this weekend.
"If we had, under normal circumstances, we wouldn't have been allowed time off and it would have really messed us up, we'd have been like zombies on Thursday!
"But it's worked out well, and hopefully we'll have a couple of good days on the training pitch ahead of Wimbledon on Tuesday."
And Proctor has already set his long-term stall out for his new career when his footballing days are over.
"I'm gearing towards keystage three (ages 11-14) and keystage four (14-16) - no primary school kids for me!" he added.
"That was the route I was initially going down, but now I'm looking to specialise in PE in secondary school, maybe college type of age.
"That way I can keep the naughty little kids at home, and hopefully when I get to work it'll be older kids who want to learn, so it'll be more peace and quiet!"
Get 20% off our sports subscription package and stay up to date with all the latest Wigan Athletic news with a year's subscription to WiganToday for less than 9p a day. Use promo code TRANSFER20