Wigan Athletic star opens up on racist hell
Viv Solomon-Otabor has lifted the lid on the short spell in Bulgaria that he says moulded him into a player and a person who 'can handle anything'.
Thursday, 15th October 2020, 11:34 am
Updated
Thursday, 15th October 2020, 11:40 am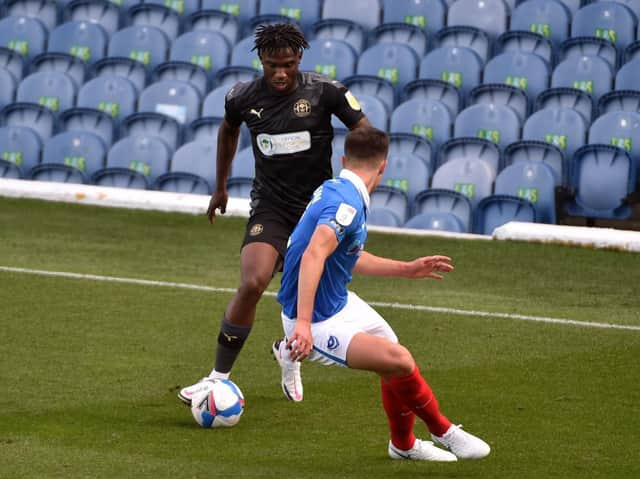 Viv Solomon-Otabor
The 24-year-old forward joined Wigan Athletic earlier this year after a short spell with CSKA Sofia.
Despite finding his feet on the field, his time there was marred by racist abuse which was exacerbated by England's trip to Bulgaria in October 2019, when the visiting players were targeted by locals.
Solomon-Otabor's contract was then cancelled following the Covid-19 pandemic, and he trained with Latics over the summer before agreeing a deal until January.
The early signs have been hugely promising, and Solomon-Otabor has no regrets about turning down a contract extension at Birmingham to try his luck in Bulgaria.
"When I first heard a team from over there was interested in me, I was a bit sceptical," he told Wigan Today.
"I'd never played away for England before and I didn't know if it would suit me.
"But at the same time, I will play anywhere and I thought it was a good career opportunity.
"Turning down a contract at Birmingham was a big thing for me to commit to, but I saw it as an opportunity to become my own person, become my own man, and step up as a senior player.
"On the field I was happy, I was picked for the Nigerian national team, and things were going well.
"It was a great club, great team, great people and a great move for me.
"Obviously some issues then happened, but I guess that's life, that's football, and you deal with it.
"Overall, though, it definitely made me mentally stronger.
"I know that for the rest of my life nothing can affect me mentally after that."
Solomon-Otabor spent most of his time in Sofia at home to avoid any unwanted attention.
"There was racial stuff from the away fans, and you just have to deal with it," he added.
"The plus side is whatever happens to me now, I know I will be able to deal with it.
"My mind is stronger than ever after what happened, I am mature, I've just turned 24 and I know I can handle anything."
Solomon-Otabor also revealed it wasn't a difficult decision to join Latics – despite the current administration.
"I did have other options to go elsewhere, some from abroad," he added. "And I had a sit down at home to work out what I wanted to do.
"But then I just thought: 'this is Wigan isn't it', and I knew I had to come and take this opportunity, see if I like it, and crack on.
"Obviously with the unfortunate (Covid-19) situation, there's a lot of quality players sitting at home, waiting for the phone to ring. I'm very happy to be in the position that an offer came in, and I aim to take it with both hands."
Special offer: Get 15% off our digital sports subscription - read unlimited Wigan Athletic and Wigan Warriors stories for less than 60p a week! Click here