Wigan Athletic: The 12th Man
Our panel of Latics experts use the lockdown to discuss the man thing they're missing about football so far...
Published 31st Mar 2020, 14:08 BST

- 6 min read
Updated 31st Mar 2020, 14:10 BST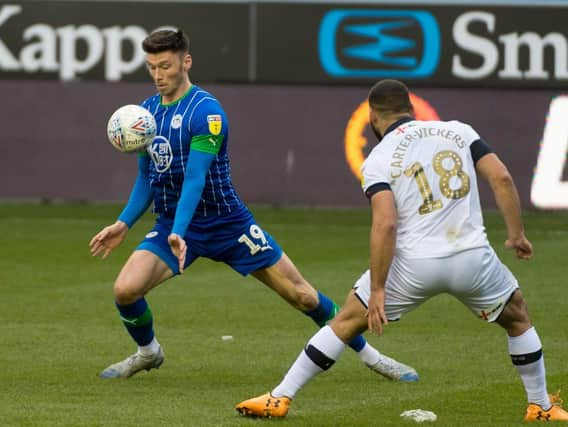 What am I missing most about football? As a 30-something-year-old exiled from the great Republic of Wigan, it is generally Latics that brings me back to the promised land. Like many I have my matchday routine: 1) Check Google maps praying that the M62 is clear. 2) Leave by 11.00am. 3) Visit family for an hour and obligatory bacon and egg butty. 4) Park up by 2pm. 5) Walk to the Dave Whelan Arena and consume pre-match pint. 6) 3pm: See which side turns up on the pitch hoping the trip was worth it. If there's one thing that I'm missing the most it's definitely the visit to family, as that's the one thing I can rely on putting in a consistent performance. Bacon cooked to perfection, egg with a runny yolk and bread toasted...perfect. For now a phonecall has to suffice, as it does for many of us. Sit tight and we'll all be back following our routines, and hopefully watching the mighty 'Tics continuing the great form – after a butty of course!
It's been nearly three weeks since Latics played out the 0-0 draw with Luton, but it feels longer than that. Am I missing the football…yes and no. No, in the sense that dealing with this pandemic and everyone staying safe is the main priority, so thinking about football and what will happen for the rest of the season is of less importance to me at the minute. Having said that, watching Latics does provide a great escape from the norm of working 9-5, Monday to Friday, and the longer these lockdown measures remain in place, the more I will l begin to miss watching a game. As I write this, I'm thinking about my usual matchday routine, and it's made me realise I do miss heading to the DW more than I actually thought. Be it catching up with family and friends, completely switching off from everything outside of football for 90 minutes and having a good moan win, lose or draw about something happening in the game. One thing for sure is that, when the football does come back, be it this season or next, I think everybody will appreciate heading to watch a game just that little bit more.
Am I missing football? Good question. I'm missing all that goes with football - the drink, the laugh with my mates. But football? Not so sure. So where do we go from now? Onwards! Everyone at the top of football wants the season to be finished, but is this from purely a football point of view? Or is the balance sheet and having to pay back SKY/BT/BBC/QUEST huge amounts of money? What happens to out-of-contract players if we go past June? Can they sign for other clubs mid-season, so to speak? Do loan players go back to their parent club or stay on loan? What about the day-to-day running of clubs? How do they decide what to cut back on? What about sponsorship and kit deals? Do clubs end up with new ones midway through the season? Of course, all of the above means nothing in the fight to save lives. So stay safe out there, and hope the powers at be bring football back at the right time – and only when it's safe to do so.
It's been a surreal few weeks, hasn't it? The worries about the coronavirus began in January and, as with many world crisis, you never feel that they will affect your way of life in the UK. Sadly, this deadly virus spread faster and with more severe consequences than anything ever seen in my lifetime. As the virus spread across Europe, it was only a matter of time until it reached our shores in a large way. When that happened, football and the rest of the sporting, and indeed entertainment, world would take a back seat. Who knows when football will begin again? All non-league football underneath the National League has been cancelled, with all of this season's results expunged from the records. Football really doesn't matter at the moment, of course, but those sides who have battled all season long – some like Vauxhall Motors FC, who had already won promotion from the North West Counties League – must feel hard done to. Yes, football doesn't matter at the moment. But when we are through this, football will one of the central things to bring light to dark times. It will be one of the things that can unite the country again, and allow people to grieve. Nonetheless, it's important that, when football does return, it's done correctly. Who knows if the 2019/20 season will resume? Like our non-league cousins, will the season just be wiped from memory? If North Shields are already threatening legal action to the FA, you bet your money the likes of Liverpool, Sheffield United, Leeds and West Brom will do as well. I don't envy any of the football administrators at the moment. All of them are having to grapple with a crisis not of their doing, and no-one will be a winner from this. Especially if the crisis stretches long into the summer, as most expect. Wigan Athletic will return at some point, and it will be a joyous moment when we do, but who will be lining up for the Latics is uncertain at this point? Nine players, including first-team stalwarts like Michael Jacobs, Chey Dunkley and Joe Garner, are out of contract in June. Latics, like many clubs, will have to work out how to proceed if the season hasn't finished at that point in time. Keep your chin up, stay at home and let's hope we can once again return to Robin Park to watch our beloved football club. It will be an uplifting moment when we do, as it will be a sign – a much-needed sign – of a return to normality.
The absence of football has left a void in all our lives at the moment. That said, it has also given us a sense of perspective on what really is important, namely the health and wellbeing of friends, family and the wider world. It has also given us time to think about events in our lives. I first went to Latics in the 1967-68 season, which was our last season in the Cheshire League. Memories of league games that season are vague, but I can remember one game in particular quite vividly. We got to the final of the Lancashire Junior Cup and our opponents were Marine from Merseyside. We won the game 2-0, and the venue was Deepdale, home of our neighbours, PNE. It was a midweek game and we had a decent following. The pitch was lush green and the ground was neater than our ramshackle but homely Springfield Park. As a kid, the venues and atmosphere form more clear memories than the games. The smells, too – a fusion of pipe tobacco and pies. If you stood close to the tunnel at Springfield Park you could smell the steam from the changing-room showers and the winter green players used to rub on their legs. Without resorting to research on the internet, I could not name the team, but Harry Leyland was the manager and it was the era of Harry Lyon and Bert Llewellyn – a lethal strike duo – and the captain was Alf Craig. In the summer of 1968, we appointed a manager called Alan Saunders but, for some reason, he left again before the season started. And we appointed the wonderful Ian McNeil to guide us into the inaugural season of the Northern Premier League. This was his first spell as manager before he was sacked in the early part of 1970, to be replaced by Gordon Milne. Justice was done when he was reappointed in the mid-70s, and he was boss when the Holy Grail of Football League status was achieved. Milne was also an amiable boss and still handy as a player. His Northern Premier League Champions team of 1970-71 was my favourite from the non-league era. We only narrowly lost 1-0 to Man City in the FA Cup third round, and I waited a long time for tears of a different kind after a certain return game against our Mancunian friends. This is only potted history of a lifelong love affair with a club that has given me and my son thousands of cherished memories. I am all for banter, but when fans of other clubs say we are a nothing club with no history, they are so wrong. Our story in my view is unparalleled in English football history. Let's make this break in the game an opportunity to re-live the story of our fantastic club. Over to 'Tics fans...go!