Wigan Athletic: The 12th Man - 'An acute reminder we are in the scrap of our lives, and that we still have at least one hand tied behind our back...'
Our panel of Wigan Athletic experts run the rule over a huge weekend on the pitch - ahead of hopefully one of the most significant days in the history of the club off it...
Published 26th Mar 2021, 14:19 BST

- 9 min read
Updated 26th Mar 2021, 14:22 BST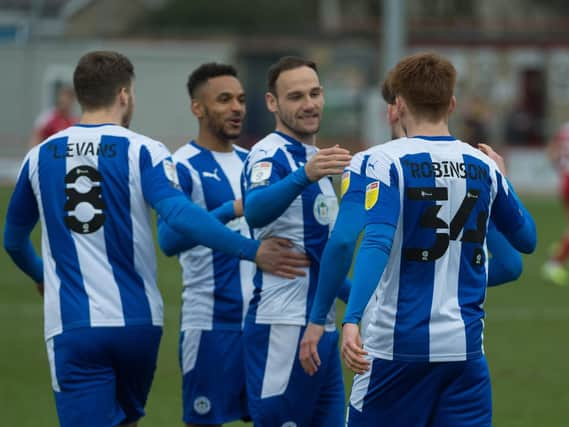 Shows what I know about football. I thought we might have a chance against Accy. What with them dropping down the table, I somewhat foolishly thought they might be on the beach, metaphorically speaking. Well, metaphorically, that is the only way anyone is going to be on the beach right now! It was a rude awakening against a team of scrappers, who were well drilled and worth full value for their league placing. Nevertheless, this one still had a much bigger impact on my mood than previous defeats. Maybe it was because I thought it would all be rosy once it looked like the ownership situation had been resolved, despite a squad desperately low on numbers, quality and able-bodied footballers. It was an acute reminder that we are in the scrap of our lives, and that we still have at least one hand tied behind our back. I don't know what happens next but, though I'm not one to over-dramatise, it does often feel like after a defeat, I think "well, that's it, if we can't win that one, we're probably not going to win any". Yet there have been points earlier on in the season, when games have been approached with all of the same restrictions, where we have looked down and out and in a state of pure desperation, and we have somehow pulled off a victory. Of course, then the little voice in my head chirps up with a "nothing to fear in this league, we can beat anyone!" The truth is that, where we are at now, we don't have to beat everyone, we just have to beat someone every couple of games. Four maybe five wins in the remaining 10 games will do it, I'd speculate. Still a tall order, but not impossible. Ten games stand between us and knowing our fate for next season.
Ipswich: not holding out much hope, as Paul Cook will want to prove to his new employers he's not gone soft. But hang on! Their form hasn't exactly been mind-blowing so far under him, and maybe the deputy will want to get one over on his long-standing boss? Gillingham away is never easy but, due to timing, we may find ourselves eagerly facing an opportunity to climb up the table and get a head start over the Easter period. But Gillingham aren't far off the play-offs, and the next three opponents (Pompey, Donny and Sunderland) are also challenging to go up. It doesn't make them invincible, though, and one or two may falter by the time we play them. It is the three games after that which I am eyeing up, however: Crewe, Shrewsbury and Burton. Saturday, April 17 to Saturday, April 24.
Those are the eight days where I think we can pick up maybe seven points out of nine, like we did earlier this month. We may well need to, but necessity and urgency can make things happen. And if we can do so, it will give us the platform to safely negotiate the last two games. Hull will, in all probability, collect the league title on the day we play them, so they will beat us. Unless they "do a Barnsley" like we did that year. They'll need to open the pubs first, though. Which takes us all the way up to facing Swindon on the last day. You just know it's going to happen, don't you? It is the Wigan way, it is written in the stars. They cut our nerves to shreds and put us through torture, but they generally have a habit of coming good for us. They send us into euphoria at the latest possible moment, rather than giving us a nice soft landing a few weeks before the end of the season. And would you back against us, with our track record? Having said this, it didn't go to plan last time as we failed to beat Fulham on the last day of the season, thereby allowing a team who lost four more games than us and let in 21 goals more to somehow declare they had performed a 'great escape'. However, I don't feel the circumstances were anything remotely like normal leading up to that game. It felt like an almighty kick in the, erm, melons at the time, after already suffering repeated kicks on the same fruity areas over the preceding few weeks. I'm sure it would be little different if the same happened again this year and we found ourselves dropping into League Two. Yet this time, we would at least have the money to go out and buy some new, fresh melons over the summer and look forward to a new healthy future – or you could call it a "fruiture", LOL – once the rotten fruit has vacated the premises. So let us have hope, passion and pride no matter what the outcome. Accept we are still turning the ship around, and it might take longer than we have all hoped, but nevertheless we will soon be setting course in the right direction once more. Regardless of what happens, I don't think it is too much of a bold statement to say that next season will unequivocally be better than this season, even if we do have to start it in League Two.
The birds are chirping, the brush is starting to clear, and a freshwater stream is nearby. The sun has even started to peak out of the foliage. Spring is on the horizon but we are not out of the woods, yet. For all the recent events that have worked out in our favour, on and off the pitch, we are still subject to facing great amounts of adversity during these closing weeks of the season. Our beloved Latics find themselves in the relegation zone again, coming off the backs of a frustrating defeat at Accrington Stanley and midweek victories by 'bottom six' rivals Northampton Town and Swindon Town. Nicolas Cage must've been in the stands on Saturday, because our lead was nearly "Gone in 60 Seconds". Latics have now dropped 24 points from winning positions on the season. Football is cruel and we have recently felt its full wrath like never before. The return of Gavin Massey and Viv Solomon-Otabor to the squad and eventually the starting line-up, correlated in a positive shift in team performances. That recent run culminated with victories against MK Dons and Plymouth, where the duo combined for one goal and a handful of assists over the two matches. Now, we will likely have to finish the season without the contributions of either player as both have picked up injuries – again. A lack of continuity in the playing squad has proved to be one of our toughest barriers this season. With exactly 10 matches remaining, Latics will have to establish a new playing shape that will include some players who have featured on a limited basis over the past few months. Six of those final 10 fixtures will be played at the DW, with Saturday's match against Ipswich being as important as any other. Paul Cook will forever be remembered as one of the great managers who served here during the 21st Century. Some were with the club for longer periods of time, while others helped Latics achieve greater heights during their tenure. Cook led us to a thrilling promotion campaign, a gutsy survival campaign, and a heroic stretch during the start of the pandemic/administration that nearly resulted in the club's greatest 'escape' yet. He was at the helm for some of our most inspiring victories, and oversaw the development of some incredible talents. I will always be grateful for every ounce of energy he gave the club, but on Saturday, he will be "Enemy Number One" as the manager of our opposition. Latics and Ipswich have both gained just seven points from their last six matches. We are two points adrift of safety, while Ipswich are two points off the play-offs. Both teams have much to play for. Cook deserves another chance at managing in the Championship, and I'm sure he will stop at nothing to see his team have that opportunity again. Over six months have passed since we played Ipswich in our opening match of the season. Even in defeat, the 2-0 scoreline flattered us. It was a very discouraging performance, and thankfully Latics have since become a much more competitive side. Against Ipswich we will need to unlock the best attributes from each of our individual players. We'll need goals from Callum. We'll need creative brilliance from Thelo. We'll need Evans and Ojo to sync together quickly in midfield and shift us to a higher gear when the time calls for it. A win, draw, or loss on Saturday will not make or break our season. We are not in desperation mode yet. However, securing three points would be as satisfying as any other feeling we've felt over the course of this season. Cook saw Wigan Athletic win 40 competitive matches at the DW since he first became our manager. I don't think it would pain him to see victory number 41.
New owners on the horizon, still can't believe I'm saying it! But have to thank Talal and the people who are putting money into 'our' club to bring stability, and the world can then be our oyster. I'm as happy as I possibly can be. The boys on the pitch have my full support. The results and performances might not always be what we want (that's football), but guess what? Until we are properly stabilised as a club, on-field matters may take a bit longer to sort out, as potentially come the end of the season – no matter which league we are in – we'll need new playing and backroom staff. It will take time, but as fans we just have to be patient (remember, it took long enough to reap rewards when Mr Whelan took over). Here's looking forward to the next 25 years! Isn't social media great when we are a happy fan base? Can't stop singing 'Bahraini men' thanks to Sean Kennedy!
Saturday definitely had the feeling of after the Lord Mayor's Show for me. The excitement of three matches unbeaten and a takeover virtually completed gave way to that familiar feeling of Latics being just not quite good enough. Saturday's match with Accrington started in the finest possible way. A Callum Lang goal within the opening minute, and it should have been a platform for the lads to build on, sadly the same issues we've struggled with all season made a return just when we didn't want them. An inability to defend from set pieces and another penalty conceded. Of course Accrington are fighting their ow battle and hoping to sneak in to the play-offs so it would have been a game that upset the odds if we had managed to earn a win. Now we're left with an uphill battle in the remaining games of the season. It isn't an insurmountable battle by any means, but the defeat to Accrington and draw with Wimbledon makes everything that little better tougher. The next few games look daunting but we've shown this season that we can take points from those sides higher up the division. With the boost of the club's future being secured within the next seven days could it be enough to drive us forward to safety? With what's happened to the club over the last nine months I think we would have all snatched your hand off if we had been in with a chance of survival and had a takeover virtually completed at his stage of the season. It's now down to those lads to show they deserve to stay in League One. Ironic that it's Paul Cook's Ipswich up next at the DW Stadium. Instead of pushing us on to the Championship play-offs it's Ipswich that are looking to secure a place in the League One play-offs. Cook spoke about his love for Wigan Athletic on BBC Radio Manchester earlier this week. He spoke about what the club and Leam had gone through in the intervening months and how that has shaped us. He also spoke at length at his delight about the takeover being close to completion. The pain of what happened to us last summer will never go away and Ipswich's future under Cook should have been ours. But with all that said we have the potential to rebuild our future, and maybe even come out of this nightmare stronger than we entered it. Let's hope that Leam Richardson can get one over his old mate on Saturday afternoon. Lord knows we need it.
Get 20% off our sports subscription package and stay up to date with all the latest Wigan Athletic news with a year's subscription to WiganToday for less than 9p a day. Use promo code TRANSFER20