Wigan Athletic: The 12th man - 'I completely understand why people's heads are being turned, hey I've admitted it myself...'
Our panel of Latics experts can see the light at the end of the takeover tunnel...will it prove to be an early Christmas present, or another false dawn?
Published 11th Dec 2020, 11:17 BST

- 14 min read
Updated 11th Dec 2020, 11:20 BST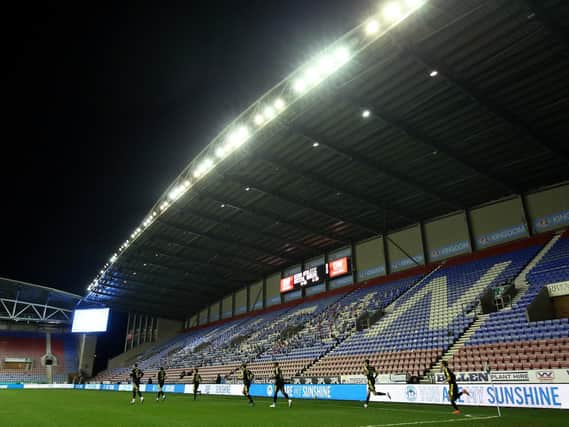 Feels like it is (finally) squeaky bum time for the Tics. I was going to suggest the fat lady is about to sing but a) I'm not sure whether that is a negative thing; and b) I'm not even sure if I'm allowed to say that any more. One thing is for sure, something has been unblocked since this time last week. Only time will tell whether it is time for Begbies Traynor to exit the place that they appear to have got so comfortable with over the past six months, or they will still be in situ, using the Premier League emergency fund to hold a lavish three-man Xmas party in the Marquee. Takeovers are very rarely amiable affairs, whether it is one company buying another or parties seeking to buy off an administrator. But I think it's fair to say we have had a love/hate relationship throughout with the men from Begbies. It feels like there has been a very deliberate attempt to confuse the lay person as to what is happening, if indeed when information has been shared at all. As a result of all this, it is very difficult to know who to believe or where the truth lies. As it stands, it appears the Spanish group – now a 'group' of one – are simply waiting on the EFL to say yay or nay and then we can finally come out of administration. The sub-plot appears to surround other parties, of apparently more substantial means, who claim they have been around every bit as long as the Spanish. Yet they have been given short shrift by the administrators, not only at the beginning, but also throughout the 10 weeks or torture inflicted upon us fans, who have waiting patiently for the EFL to make a decision either way. Again, devil's advocate here. Begbies seem to have played a straight bat throughout, and taken the exclusivity deal as a flat refusal to engage, or even acknowledge the existence of, any other bidders. You put your money down, you get the exclusivity for as long as you need it, no matter how much damage it has caused the 'assets' in the meantime. This, indeed, could have been a very dangerous game, if the Spanish bid was to get thrown out. There is also a bit of 'look what you could have won' when one of the other bidders is promising the world, and another has £600million behind him. My honest opinion? I understand both are keen. I feel if he just reined it in a touch, the Frampton bid might have had just a little bit more credibility. I also understand the much quieter Ranson has been keen throughout, but highly frustrated by the process after finding the door locked at every turn. The bottom line is the Spanish got there first. It may have been because the admins 'let' them get there first at their discretion, or it all may have been done absolutely by the book, within the terms they dictated.
It is disappointing other bids may not have been given an opportunity, but there was ample opportunity for them to get there earlier, before the Spanish even appeared. I did find it a bit unprofessional when one of the administrators took to social media to ridicule one of the other bids the other night because, until it is done, you never know when you might have to get back on the phone to them. But they have been so confident and adamant throughout that there has only ever been one bid, we can but hope the EFL rubber-stamp it. Ideally before the next round of fixtures, so we can get back to building our club back up. Thankfully, that one action can (should!) silence all that talk of other bidders. Though it will be interesting to see if they crop up somewhere else in future...if they do start investing petro-dollars, building football grounds in the sky connected by rocket ships. Even so, ultimately there is no point blaming the Spanish for that, it was Begbies decision and nobody else's. So, maybe, there is a bit of regret. The gambler in me would perhaps have liked to have seen what Ranson could offer. The Frampton bid is difficult to believe as real, and feels very much like high risk/high return. The Spanish bid may well be low risk and low return, but let us just cast our minds back to July. The fact ANYONE was willing to come in and save us would have seen them treated like heroes, and this should absolutely be the case, when Felipe Moreno gets his name on the boardroom door. We have been through too much pain to let this drag on a single more day. I completely understand why people's heads are being turned, hey I've admitted it myself. But from the moment this gets ratified, we need to be 100 per cent focused on getting behind the new owner(s) and doing everything we can to help them rebuild our great football club. The only note of caution is I would be careful drawing parallels with his work at CD Leganes. I would be delighted if Moreno replicated this here and took us back to the Premier League. But I have no expectations he will do so. If people are expecting that, no matter who takes over, they are only setting themselves up for disappointment. If it does happen, then brilliant. But let us not forget it cost Dave Whelan the best part of a hundred million to achieve the same outcome. And that was 15 years ago, when his money went a heck of a lot further. For now, let us dream of actually having a settled team, a few new signings blended with our fast learning youngsters, and a steady climb out of the relegation zone if possible. That remains our short-term goal, which is why we need the EFL to approve the Moreno bid, so we can finally start our fightback and look forward to 2021!
Well after 10 long weeks, the EFL knock back the Spanish bid because of Jose Miguel Garrido Cristo's involvement. And a lot of major Wigan figures seemed happy with that. Luckily, those who passed the fit and proper directors test have not gone away, and have come back with a reshaped deal. So fingers crossed this goes through sometime soon. Away from the Spanish bid, Tony Frampton seems to have took leave of his senses, with plans for an increased capacity and sliding roof at the DW, along with superstar players from all over the world (would like to see him get work permits for starters). Now I'm no great accountant, but can't see that given the combination of Wigan Athletic's income and Wigan Warriors' rent.
On to Sunderland, and it was great to see the team get a result. Kyle Joseph got his first goal, some of our experienced players are back, a bit of luck and a lot of hard work... well done lads. Hopefully by the time you read this it will be: 'Up the Spanish Tics!' Stay Safe.
Well it looks like the takeover isn't far away now. The Spaniards have shuffled a few people and things about, and it looks highly likely it's Estrella and Pie-ella on the concourse sooner rather than later...OR IS IT? With Tony Frampton threatening to build everything except a monorail, this 'Simpsons-esque' bid of his still hasn't gone away, and he's telling anyone who'll listen that we need a bigger ground and a retractable roof! Do we really, pal? I don't know much about Senor Moreno, but everything I read, I like the sound of. Having taken a Third Division club (Leganes) to the top flight in Spain (sound familiar?), they're supposedly very well run and on a budget – something we greatly need. All I – and a few other 'Tics I've spoken to – want right now is some stability. Let's hope if and when the takeover is complete, that's first and foremost. The days of the Premier League are gone (for now), let's get back on an even keel and get our feet back under the table. What is paramount for me is, when we are allowed back into the ground, we all give Moreno, the manager – whoever that'll be – and the players the boost they'll want to see... fans flocking through the turnstiles again. We all know Wiganers are very apathetic when it comes to showing up. But now isn't the time for that. Now is the time to get back in the seats – all of us. We've come perilously close to losing our beloved club, so let's not just sit back and watch it happen again from the pubs and the telly. They're gonna need us more than they ever have, let's not let them down. Right, I'm off for dos Estrella, por favor... UP THE SPANISH TICS!
Personally, since the administration was announced I've just wanted the football club to survive. If that means League Two football for a few years, then so be it. I've seen people on social media making comments that liquidation would be easier to stomach, because watching the team and club we love systematically ripped to shreds is getting too difficult. I totally disagree.
No matter what happens with our new owners, no matter what happens in our future, I've learned that I need Wigan Athletic and – from looking at social media and speaking with fellow 'Tics over the last six months – I know I'm not the only one. I couldn't imagine spending the rest of my life with no football chat other than the odd England game, VAR decisions in matches I'm not bothered about, and discussions on who our best ever left back was (Leighton Baines is the answer, by the way). If Felipe Moreno is the man to pay the bills for the time being, then so be it. The away days, the matchday routines, the friendships, the songs, the bickering and the difference of opinions were all at risk a few months ago. Yes, we've had it bad, but there are dozens of football league clubs who would still happily swap places with us right now. Am I concerned what our new owners have in store for us? Most definitely. But Moreno has taken the plunge, his track record at Leganes is very impressive, and running a tight ship is what we need – for the short term at least. So, today, I'm happy. Now there's light at the end of this very long tunnel, it's hopefully time to look forward. I can't wait to get back into the DW, and book myself on to a battered old minibus for a trip to a town I'd never dream of visiting away from football. I can't wait to head into the Anvil after the match to chat to fellow fans whom I only see on a Saturday. Hopefully a new owner and the return of fans in the new year will coincide with an upturn of form on the pitch, our new owner will quickly obtain a Wigan accent, a love for pies and a hatred for Bolton, and we can all look forward to a far more positive 2021 for our club.
The news of the EFL's rejection of the Spanish takeover one week ago couldn't have even been described as a setback. The 'administration expressway' has featured innumerable traffic delays, several impromptu detours, and sometimes has required Latics fans to get out of their own cars and lay down the asphalt just so the club can continue to drive on the 'road to somewhere'. After many mirages of secure ownership have faintly appeared in the distance during our road trip over the past five and a half months, has our true exit out of administration finally revealed itself? We have lost many battles over the course of 2020, and I have remained adamant that one victory – whether on or off the pitch – could have a snowball effect on the club. Our fanbase seemed quite pessimistic that one of those victories would come against Sunderland at the Stadium of Light. Will Grigg's flame was surely set to ignite, captain Max Power would absolutely put his game in overdrive, and the homecoming of the ever-so-skilled Aiden McGeady was destined to be the icing on the cake for a Sunderland side champing at the bit to unleash a goal-fueled fury against a bottom-of-the-table Latics team. The match started much to Sunderland's plan. They were pressing high, having lots of possession in our final third, and keeping Latics on their heels for the first 15 minutes of play. Then all of a sudden, almost like clockwork, something changed, and Latics mounted their first real attack of the match. Moments later, the ball landed at Kyle Joseph's feet in the perfect spot and, in the blink of an eye, he fired past the Sunderland keeper to score his first senior goal. Several minutes after the restart, Sunderland had still not equalised, and the thought entered my head: 'Will today be the day?' Believe it or not, it had been nine years since we last defeated Sunderland in a league match. For much of the past decade, the two clubs have played in separate divisions. Going into Saturday, with this match taking place in League One, the gap between the two teams seemed greater than ever. However, as we went into half-time with a 1-0 lead, and maintained that lead deep into the second half, fighting off little legitimate goalscoring threat from Sunderland, the realisation we were facing an out-of-form third-tier side and not Bayern Munich became more and more glaring. As Grigg, Power, and McGeady were subbed off, they were no longer feared supernatural beings, but rather mortal League One footballers. Winning for the first time in 14 matches did not elevate our position in the league table, but it marked a huge achievement for a team desperate to receive a tangible reward at the full-time whistle. Lee Evans was exceptional in his return to our starting midfield, and provided a sense of stability and a boost in quality to a Latics side that had been missing veteran leadership in the centre of the pitch for quite some time. Contrary to the Black Cats, Accington Stanley – who we face this weekend – are in much better form, having not lost in all competitions since November 7. With a healthy mixture of youth and experience on the pitch, we are finally starting to resemble a competitive League One side, and should aim to obtain another result this Saturday.
What new drama will the next week bring? In the strange world of Wigan Athletic we can never be sure what's approaching around the corner. After 10 weeks had passed since the takeover was first announced the EFL finally came to a decision last Friday and it wasn't a wholly surprising outcome. Jose Miguel Garrido Cristo was disqualified from owning a share of an EFL club and as such prevented from becoming part of the ownership structure here. After taking a number of weeks to finally submit the required paperwork, it looked like we would receive a decision one way or another last week. Instead we were left further in the mire. This didn't really come as a major surprise, Garrido had spent the week aiming to raise funds for his share in the club, by re-mortgaging his property portfolio in London and taking out a loan from Barclays. Unsurprisingly (or surprisingly if we take the last takeover into account), the EFL refused to sanction the takeover in its current form. Jose Miguel is out, as is his brother Antonio Garrido Papadopaulo. In a glut of departures from Companies House, Victoria Condratova also left. There was some quite understandable dismay when the exclusivity period was once again extended. With other bidders ready and waiting, there was a sense a decent resolution was being locked out by the administrators. But then on the other hand, being 10 weeks down the line, you can see the reluctance from administrators to start the process all over again. The new holding company set up to run Wigan Athletic is now in the sole control of Felipe Moreno, the owner of Leganes. I think some people were put off the scent (myself included) when news of the takeover first broke back in September. Moreno and his wife Victoria Pavon had reportedly tried to buy us in the past (imagine the pain we could have been saved if they had). If news Moreno was the sole bidder had come out, I think people would have felt a lot more comfortable. As it is, all the talk and public declarations have come from Garrido Cristo, and indeed a lot of the financial worries from not having the money to sustain the club, to questionable business records, are also accountable to him. With him out of the picture, surely the EFL will approve the takeover? Well not quite. A week later, it still hasn't been signed off yet. As with everything since this nightmare began at the end of June, we are in a state of limbo.
So what do we know of the new *new* prospective owner? Well, like Garrido Cristo, he has history of football ownership, and quite successful he has been too. Leganes are very much like us. Formed just four years before the Latics, CD Leganes are based on the outskirts of Madrid. They were in financial trouble before Moreno and his wife Pavon took over, where they took them through the Spanish leagues and into the La Liga, where they had a highly-successful spell in the Spanish top division.If we had been presented with this bid back in August, I think many of us would have jumped for joy. It sounds like the exact model we need. Worries persist though – worries that are natural after the turmoil we've gone through in the last few months. Worries, like why was Garrido Cristo so heavily involved and then dispensed of so easily, and what had he done that required disqualification from the EFL? The plans of turning a profit in year one seem widely ambitious considering our current position, and the continued absence of supporters from the DW. Also, what will the role of Andrew Clilverd be, and will there be any senior staff left who know the club and its supporters? It would be a huge worry if there is no representation within the decision-making roles. Like it or not, we are a unique club and a unique fanbase. It needs someone who understands that. Like Jonathan Jackson, who has represented the club and acted as that bridge between the club and fanbase. He's a Latics fan and, as my friend Tony Topping put so succinctly last week: 'The Jackson family's dedication to Wigan Athletic has never been in doubt'. Jonathan was obviously made redundant back in July. He won't need people like me to fight his corner, but people like Jonathan and those others who lost their jobs are essential for us to carry on being a progressive force for good in our community. We need Wiganers in those roles, people who understand us and what we stand for, and I worry we won't have that in any new ownership structure. Also, could the Wigan Athletic Supporters Club recommence talks with the new owners now Garrido Cristo is seemingly out of the picture? Would they be more willing to invest that significant sum into the club with Moreno at the helm? And if so, would Moreno offer a better share of the club than the insignificant four per cent on offer back in October. As always there are more questions than answers. I've not been privy to any discussions, but a lot of people have raised concerns with the Spanish bid. Unfortunately that information isn't in the public domain for all of us to make an informed choice, and as such we're left to hearsay. So as we head in to week 11, Wigan Athletic are still in limbo. Let's hope better days are just around the corner.
Read unlimited Wigan Athletic and Wigan Warriors stories for less than 70p a week by subscribing to our sports package here