Wigan Athletic: The 12th Man - 'In some ways, (it) marked the 'beginning of the end' for a group of players that was going to witness a dramatic shift...'
Our panel of Latics experts count down the minutes to the end of the international break, with their side desperate to get out there and right the wrongs of back-to-back defeats...
Published 15th Sep 2023, 10:45 BST

- 12 min read
Watch more of our videos on Shots!
and live on Freeview channel 276
Visit Shots! now
It's not unusual for the days to go by slowly as we wait for time to pass in between regular Saturday fixtures. It's a near guarantee the two-week international break will always feel like it has spanned two months by the time we return to action. Seeing only two League One fixtures took place last weekend, we were likely given a glimpse of how we'll need to pivot over future international breaks, with more matches likely to be called off than not. For now, all focus should shift towards our long-awaited return to the DW this Saturday. This weekend's visitors, Cambridge, narrowly avoided the drop to League Two by the skin of their teeth last season. A perfect concoction of results on Survival Sunday kept the U's in this division under the most unlikely of circumstances. They have ridden the momentum of good fortune to the tune of four wins from their first six league matches during this new campaign. Their manager, Mark Bonner, has been in his current role since January 2020, and is surely leading a side with ambitions of a top-half finish in the table. Few should forget Cambridge's last visit to the DW in April 2022 - a shocking 2-1 defeat, where a Latics team on the brink of automatic promotion to the Championship was thoroughly outplayed by a side that entered the day in the lower mid-table places of League One. The loss ended our nine-match unbeaten streak at the time and, in some ways, marked the 'beginning of the end' for a group of players that was going to witness a dramatic shift in their future results from that point forward. That period of time is very much behind us, but it should serve as a reminder that no team in this division should be looked down upon under any circumstances. Nonetheless, Saturday marks the start of a stretch where the expectation should be to pick up a chunk of points, and hopefully create some separation between ourselves and the teams in the relegation places. Charlie Hughes will make a return to a line-up that missed his presence during the extended stretch he missed for the Barnsley and Blackpool matches. Shaun Maloney will have had plenty of time to analyse our past few performances and identify major areas of improvement for the team to address before Saturday's match. The season is still in its early stages, and we should have every reason to believe there is more good to come than not. Three points this weekend would provide a great push in the right direction. Let's give the lads our full backing in our quest to refortify the DW for the foreseeable future.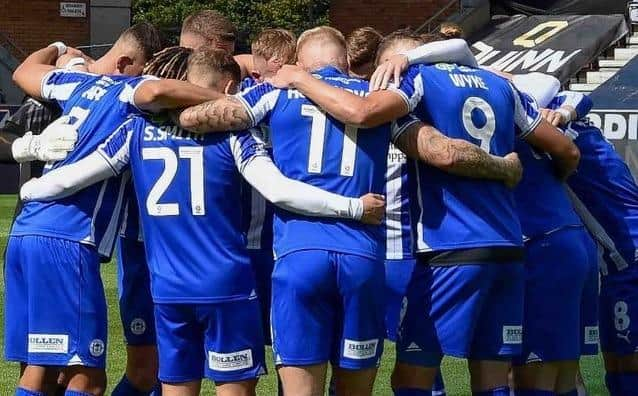 Apparently England played the Auld Enemy this week, and did okay, except for the current pantomime villain, ex-Latic Harry Maguire, who had a bit of a 'mare' in common parlance, which I am told is the norm for him these days. I say 'apparently', because frankly the whole thing filled me with as much excitement as a trip to Tesco because we're running low on milk. Yes, I know the atmosphere was electric™. I know the Scots get very worked up over such matches. I know everyone is getting their knickers in a twist over the respective booing of the anthems. But genuinely I for one can't get the vaguest interest going. It's not just 'friendlies'. it's the same with Euro/World Cup/and whatever that other new tournament is called. I just have no interest in the national team any more. The hype surrounding them in the media is enough to put anyone off...the hysteria and overwhelming optimism if we beat Andorra, the recriminations and national mourning if we lose to Liechtenstein...I just can't be bothered. When I was a lad, England wore white shirts - plain white - and dark blue shorts. The badge didn't have any stars, even after 1966. To get a cap was a huge honour, and we were in awe of Billy Wright, having gained over 100 caps. Now players can clock up 100 caps in one month, coming on as a sub for a total of five minutes. International games were called internationals, not friendlies. There was nothing friendly about a game against Scotland, or West Germany or Brazil. It meant something. I was going to say there was a pride in the national team, but I fear I might start to sound like the people on Facebook groups called 'Remembering All Our Yesterdays in Britain Social History', which always has a drawing of an idyllic Wiltshire village with an old bus outside the post office. But you know what I mean. There was a feeling these were our lads, playing for the country with pride in the shirt. Not viewing it as an inconvenience to the Premier League fixture list. It is great our real local lads are getting a look in at Under-21 level, and I really hope they can break into higher levels. It would be a great boost to our Academy. I have not only English ancestry, but also Irish, Welsh and Scots, so I can happily wave whatever flag I wish. I also have Manx ancestry, but FC Isle of Man may be the nearest I get to shouting for them. As a result, I am not bound to the England senior squad, as I think they are called now, and will cheer on any Latics, even if at some point they come up against England. A ramble of thoughts from me this week, I know, but I think by now you may have got the (correct) idea I am no longer a fan of international football. Roll on Saturday, when the real foe, Cambridge United, appears at the DW. But please don't ask me about the game against Leicester Under-21s this coming Tuesday. Now that really would take me into next month with a rant. And I think the editor of this page would have to censor it. Ah well. Onwards and upwards!
The internationals are over (for now), Latics are back at the DW on Saturday, and Charlie Hughes is back from suspension. I can't help but feel excited for this weekend. However, this will be another very tough game against a Cambridge side who have started the season very well. Mark Bonner has been very loyal to Cambridge since joining their Academy in 2011 as a coach, before eventually moving up to senior level as an assistant manager in 2018. He is Cambridge through and through and, despite a spell at Southend as an Academy coach in the mid-2000s, Bonner has not spent time at any other club. After stepping into the caretaker manager role on two occasions, Bonner was finally handed the reins in March 2020 on a two-year deal, which has since been extended until the summer of 2024. He is on a project one and, despite being on a small budget, he is continuing to see the fruits of his labour. Cambridge were promoted to League One for the 21/22 season, after coming second with 80 points the previous season. They achieved a respectable 14th place in their first season back since 2002, yet last season was a real struggle for the Us, which saw them climb to 20th on the final day with a 2-0 victory over already-relegated Forest Green. It was the first time Cambridge had left the relegation zone since January. Over the summer, the club have recruited well, and secured some of this season's first-team regulars on frees or loans, due to their small budget. Jordan Cousins made the permanent move from Latics, alongside Elias Kachunga (Bolton), Sullay Kaikai (MK Dons), Jack Stevens (Oxford), and Danny Andrew (Fleetwood). Bonner has led this developed side into sixth place so far, with four wins and two losses, and they have a very good chance of making life difficult for us at the DW. We saw at Carlisle and Blackpool that, when teams sit deep, allow us to have possession, and play for the counter, we really struggle. Cambridge's average possession this season is 38 per cent (33 per cent away from home), yet they have four clean sheets from six (just five off their total from last season), have scored eight goals (all from inside the penalty area) and conceded just four (three from inside the box, and one long-range effort). The return of Hughes will be a huge boost to this Latics side as, in the somewhat controversial Barnsley game and the Blackpool trip, we very clearly missed him. Baba Adeeko will be raring to go again after an impressive couple of international wins with Ireland Under-21s, as will Sam Tickle and Liam Morrison, who have been away with England and Scotland respectively. Jordan Jones and Josh Magennis had an international break to forget with Northern Ireland, but our captain scored at Blackpool before the break and will be wanting to add to that in the league. My hopes for the Cambridge game are that we can return to the brilliant footballing performances we saw in August, and we can put another three points on the board to restart our league campaign. Our 20th place is not reflective of our actual achievements, even with the one-place jump due to Reading being deducted a further three points by the EFL. I also hope for Callum Lang to get on the scoresheet, as I saw a tweet this week which marked it one year since he's been on the scoresheet. He looks shot of confidence, and we know there's a great player in there, he just needs to rediscover it. You have to go back as far as March 2002 for the last time Latics beat Cambridge, thanks to an Andy Liddell hat-trick and a Lee McCulloch goal - albeit we have only played them twice since with a 2-2 away draw and a 2-1 home loss, in the 21/22 league season. Into 'em on Saturday, Latics. Let's make it five points, baby!
After successive defeats at the hands of Barnsley and Blackpool, followed by the international break, it is well and truly time to get going again. The fact Latics started the season on a points tally of minus eight means we simply cannot afford an extended slump in form. Cambridge will provide a stern test for Shaun Maloney and Co as they visit the DW Stadium on Saturday. The U's sit sixth in the six-game-old League One table, and defeated newly-relegated Reading in their last league outing. However, Latics are more than capable of providing the answers to any test Mark Bonner's side may pose to them. The Barnsley defeat was largely due to Charlie Hughes's controversial dismissal, and the dramatic defeat to Blackpool was somewhat harsh. Bloomfield Road could prove to be one of the trickiest grounds to visit for any third tier outfit this campaign. The Tangerines are yet to taste home defeat. With that in mind, it may not be too difficult for the Tics to rekindle their early-season form. The fact Josh Magennis is back fit and firing is great, as we do need depth up front to keep Charlie Wyke both on his toes and at his very best. In the likes of Martial Godo and Steven Sessegnon, we have some exciting new signings who could add yet more ingredients to the good project Maloney has got going at Latics. It was great to see those two at the club shop's 'Meet and Greet' in midweek as well. Before even making an appearance for the club, they have both already been out and about in the community. That is something which the club is very special for. No matter how well results are going, Latics can never be faulted for the community ethos at the heart of the club. The international games provided many moments of pride as well. Sam Tickle's inclusion in the England Under 21 squad was naturally the headline grabber but, as a fanbase, we should be equally proud of Baba Adeeko and Liam Morrison for their Under 21 appearances in Ireland and Scotland colours respectively. Above all, let's hope we have put the international break to good use and will produce a strong performance on Saturday. Up the Tics!
Latics are back this weekend and it will be interesting to see what response the team give after defeats to Barnsley and Blackpool. Cambridge have had a solid start to the season, and it will be a good marker of where the team are, at this early stage of the season. We have to remember we still have a mainly young and inexperienced squad, and as fans - while it's great to see all these youngsters breaking through - we probably do need to temper our own expectations at times, and show some patience. A report in the Athletic this week points to how surreal the situation was last season. The club reportedly operated with a wage bill of £18million pounds, while we now have a wage bill of less than £4million - which is still around half the wage bill we had the last time we were in League One. It puts into perspective the job Shaun Maloney and Gregor Rioch have done at the club, and the importance of the Academy. Aside that, the club has organised a Fan Zone for this weekend, which is a new initiative. So if you can, try and get down early and enjoy the day and the game. Up the Latics!
A great start to t' season, but then for some reason, we then lost two games in a row. Some started to doubt, wanting Maloney out, (but then everyone knows someone slow). Now wi' more in the squad, a fit Wykey (thank God), September could just see us push on. Before October's out, and mid-table (no doubt), we might just have that relegation cushion. As the team starts to settle, and show us their mettle, we might well just be up there by Christmas. Cos of course we're still bedding, but by t' time we play Reading, the lads could be doing the business. So pick up your glass, and as things come to pass, just regard it as really half full. Not half empty, give over, we're sitting in clover, so stop it with defeatist bull. The young lads look the part, and show plenty of heart, and with more than a neat touch of class. So think happy thoughts, yeah? And think positive, eh? And let's not talk out of our whatever anyone can think of that might rhyme with class…
When your luck's against you, your luck's against you. It feels like it's been a long time since that last minute kick in the teeth at Bloomfield Road. After having an excellent record at Blackpool for so long, it feels like they've got a hold on us these days. It was another disappointing performance at the seaside, made all the more disappointing after we failed to shut up shop to earn a point. Going for the jugular showed a side with that lack of nous and probably a side with a bit of naivety running through it. But not to worry, this is a young side. These things will happen, what matters is how we bounce back. The international break came at completely the wrong time. After a fantastic start of the season, the two games against Barnsley and Blackpool brought us back down to earth. I'd imagine Shaun Maloney and the players would have been smarting and would have preferred to play against Charlton. But with the success of the Academy, I don't imagine we'll be playing on international dates again for a while. The return of Charlie Hughes is a huge plus point for Saturday. That red card will go down in history as one of the daftest decisions we've ever witnessed. Especially when the review panel subsequently threw out the appeal, saying their job wasn't to re-referee matches. Well what's the point of you then, review panel? We missed Hughes' distribution against Blackpool, and I still maintain we would have beaten Barnsley with 11 men on the pitch. There was the usual drama from the usual suspects in the usual places when we lost to Blackpool. One fella described it as the 'worst performance in 22 years of watching Latics' which, dare I say, suggests he hasn't actually been watching us for 22 years. Maloney this week revealed the wage bill is operating at around £14million less than last year's, and even 50 per cent less than when we last played in League One. It seems the message of our impending extinction earlier in the summer hasn't reached some bits of Wigan. Speaking of extinction, we moved out of the bottom three in midweek thanks to another points deduction. This time to Reading. The second this season and for the all-too familiar failing to comply with the 125 per cent of salaries ruling from the EFL. It brings it all back and shows just how precarious many clubs' financial positions are. Which brings me back to us. We're lucky to be here but that doesn't mean the lads and the manager are immune to criticism. But at least have a think before you're screaming about what an embarrassment these young lads are for having the audacity to lose to Blackpool. It's not a good look.