Wigan Athletic: The 12th Man - 'It matters a little who he is, it matters a lot what he does, but it matters most of all what he is given to work with...'
Our panel of Latics experts welcome the Kolo Toure appointment, and assess how he'll stamp his mark on the club both short-term and long-term...
Published 1st Dec 2022, 10:54 BST

- 15 min read
Updated 1st Dec 2022, 14:21 BST
Let's talk about levels then. Specifically Wigan Athletic's level, the level we belong at. The first thing to say is that we, or indeed any other club, are always at the level they deserve to be at, despite any protestation to the contrary. So we are currently the 42nd best football team in the country. This is an improvement on seven months ago, we were the 45th best football team in the country. Yet strangely, (most) fans were happier being 45th than are being in the 42nd spot. Go figure! Now it turns out some of our fans not only thought Leam Richardson wasn't up to managing us (or presumably anyone) at this level. There were also numerous managers being linked with us, whom fans also thought weren't suitable for us, at our level. On any particular day over the past few months, you will find conflicting views either stating the squad is not up to this level, and also we should be performing better with the squad we have got. There are those suggesting already Kolo Toure might also not be up to the job of steering us up the table to the level we really should be at. However, attracting a big name like this to a club like ours, seems to implicitly imply we are a big name ourselves, and are perhaps performing below our natural level. In summary, it's a veritable minefield. So what factors can we use to determine the level we should be at? The obvious one is crowd size, the trouble there is we are 22nd in the attendance table too. However, to continue the analogy above we are by no means the 42nd or even the 45th best supported team in the country. There are eight teams in League One and Two who get bigger crowds than us, and even Notts County are snapping at our heels in the Conference. And while I'm putting the boot in, I should also add that if Luton ever move to their new ground, they will undoubtedly get more fans watching than us, as their main limiting factor is their capacity. Look I know, as a Latics fan, we shouldn't go down the crowd argument, but crowds are predominantly fans of your own club who pay money to watch the game, spend it on shirts, become sponsors and spend commercially. And ultimately, no matter how your football club is otherwise funded, they give an indicator to the owners as to the appetite to watch a football club, which ultimately dictates decisions as to how much they themselves will invest. On that basis alone, then our 'level' is just outside the play-offs in League One. I think many of us understand and acknowledge this, but it still doesn't quell the widespread outrage, when we do find ourselves losing more regularly in a higher division. Of course, they are a major factor but crowds aren't everything, which is coincidentally the title of my forthcoming Wigan Athletic memoirs. Every club in the Championship now needs rich owners to survive, but there is the sugar daddy concept, where disproportionate levels of funding are pumped in as part of a pet project. If we're honest, this was a major part as to how Dave Whelan got us where he did, ditto Walker at Blackburn or Davies at that lot. It seems less prevalent now because everyone in the Championship has to dig deep, but can still be found further down the pyramid, where clubs such as Fleetwood or Forest Green have progressed up to the third tier, backed heavily by local businessmen. There is also the infrastructure argument. If it comes down to stadium or training facilities, then you've got to think we have the upper hand on Rotherham, Luton, and maybe a few others in the Championship, perhaps Blackpool or Preston. Nope, not Preston. Thanks Krasner. This sort of stuff can be badged under the 'attracting better players' category, but again it ultimately comes down to finances. Having a decent academy, which as we know takes decades to bear fruit, is another way of getting a competitive gain. You either produce players you can eventually put in the first team, and/or sell on for a large fee to a bigger club, or even a small fee to someone lower down the leagues. You, of course, have to deduct all the costs of running it first, however. Secondary to this, and something that costs little, is to provide a welcoming family environment. This is something which has been applauded very publicly in recent years, and I hope is still in place. Nobody really speaks to me at the club any more, so I have no idea whether it is the case. It does matter though, footballers talk to each other and word gets around. Treat your players well and you are more likely to attract good players though, as per above, paying them more money is probably still the more important factor. Finally, there is that old chestnut 'history' which supposedly dictates your natural level in football. It is our history or perceived lack of it, which frequently gets aimed at us by other clubs as to why we are really a small club. Firstly, I should add, every club has an equally valued history, every club is unique. Every club has a story behind it, which celebrates its existence. To suggest any club has 'no history' is poppycock. My second, more important point, and with the theme of money never far away, is history doesn't pay the bills. Players don't care about your football club's history, they care about getting paid and being content in their work. Being successful in the past does not necessarily make life easier in the future. If anything, it can have the opposite effect, as past success leads to higher future expectations. This is another factor we have found with regard to supporting Wigan Athletic, compared to say Oldham Athletic, who a few short decades ago were a bigger, more successful club than ours. We have punched above our weight for so long, now the fans demand it as a natural right. However, having a strong history can positively influence factors such as crowd size above, and of course crowd size can also be influenced by location: you are more likely to find big city clubs in the top two divisions than the bottom two. It is early days yet to know exactly what the plan is behind the Kolo Toure appointment but it is a fair assumption to conclude his brief will be to move us up a level, not to be confused with moving us up a division. That level might just be to turn us into a mid-table Championship club, which was always the stated five-year intention of Phoenix 2021. The problem (and opportunity) with being a mid-table club is you are potentially only a few bad results from being a relegation-haunted club, or conversely a few good results from being a play-off chasing club. And during the first few months of this season alone, we were briefly all three of these, with the worst of these segments ultimately resulting in Leam Richardson being able to spend a lot more time at home with the wife and kids this Christmas. Now, as we keep saying, Toure is a 'name' so in that respect, he will hopefully be capable of moving us up to the next level. But everything else will depend on the other factors above, the most important one of all being money. So let us see how he is backed in January, and what he can do to turn water into (non-alcoholic) wine because, as ever, being manager of Wigan Athletic is not a job for the faint-hearted. It matters a little who he is, it matters a lot what he does, but it matters most of all what he is given to work with.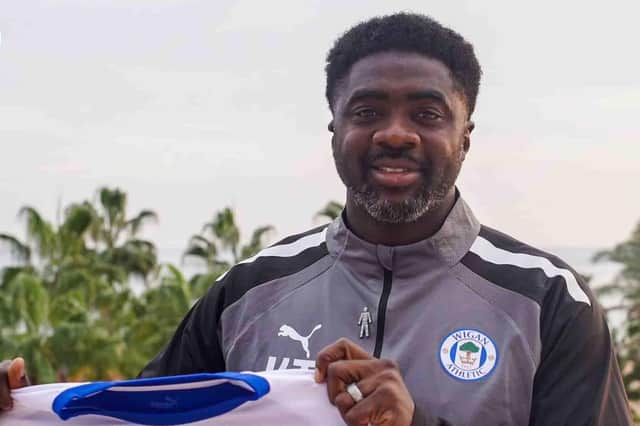 Two weeks ago, it was likely. One week ago, it was near-certain. Now, it is official. Kolo Toure is the new manager of Wigan Athletic. The gaffer is in sunny Turkey with the lads and will have a full week-and-a-half to evaluate the squad and prepare them for Millwall next weekend. The greater reception to Kolo's appointment has been overwhelmingly positive, and feelings of optimism about our future have slowly permeated the football world. What the conclusion to our manager search has taught us is Kolo is undoubtedly still a big name in the football community. Despite retiring from playing over five years ago with no managerial experience under his belt, his influence spans widely across multiple countries and continents. It's been no secret that, for the better part of this past decade, we have attempted to build stability in the EFL, with domestic players and coaches. It was a vision that sent us on a steady upward trajectory under Paul Cook and has served as a base for our success during the post-administration era. However, the new ownership has expressed a desire to expand the Latics brand well beyond the British Isles. Partnerships are currently developing in Bahrain and the club had explicitly targeted players from the Egyptian Premier League during the summer transfer window. We now have a manager with heavy ties to West Africa and it's possible that connection could create further inroads for expanding our international footprint. I became a fan of Latics during a time when they had player representation from nearly every continent. The global look and feel of the squad was a major selling point to me. Some 10-15 years have passed since that era of Latics football was in full effect. I would be among the first to welcome the club taking a more international approach to its marketing and player recruitment. Yet, winning football matches should come before all else. Our new gaffer will first be tasked to do that with the players who are at his immediate disposal. We are at the three-quarters mark of our break-away from league play, and I hope we're all feeling at least a little bit better about the club's prospects than we did three weeks ago. Let's enjoy this last bit of calm before the storm that is Championship football returns next weekend.
The new era begins! I'm sure I'm not the only one that was starting to get a bit restless with the lack of news on the managerial front after news broke over a week ago the vacancy had been filled, pending one or two formalities. But touching 10 days without an update, I was beginning to think 'NoShow' Toure was getting cold feet. However, no panic necessary! Kolo was finally officially announced as our new manager on Tuesday morning after a very long '48 hour' wait and seemingly jetted straight off to Turkey to join his troops on their warm-weather training camp in Antalya. The decision to appoint novice Toure over several names with much more experience is a huge risk given the circumstances, one that could prove to be very successful, or very… not. We shall see. Nevertheless, we will welcome him to the club and support him as long as he's here. Kolo is joined by coaches Kevin Betsy and Ashvir Johal, while assistant manager Rob Kelly has agreed to continue in his role. James Beattie has also been relieved of his duties with immediate effect...good luck Beatts! Focus now turns to our trip to Millwall on December 10. A solid month of fixtures for the new gaffer to make his mark before the transfer window opens for January and we begin another month-long anxiety-ridden roller-coaster of rumours and many many tweets about what we need, who we want and don't want, and whether we can afford to spend or are completely skint! Can't wait, honest. It will be interesting, if nothing else. I personally think the first thing on the agenda should be the introduction of 'Kolo Kubes' in the 'Tic n' Mix'...!
I begin this 12th man column on a topical note, as I admit I am one of presumably several thousand football fans who, despite being against Qatar and its human rights abuses, has consumed as many World Cup games on the TV as possible. It's just another sorry example of the moral pills you have to swallow as an avid football fan nowadays. Although I'm pleased with England's clinical second half display versus Wales, it's nice to be writing about Championship football again. A league which still has somewhat of a moral compass. The day of the England-Wales game finally saw us announce Kolo Toure as our new manager. This move had been on the cards for a while, but Latics fans were made to wait a week or so for official confirmation in true Wigan fashion. Personally, I've no strong feelings for or against Kolo's appointment, as it really could go either way. On the one hand, as we all know, it's his first time trying his hand in first-team management, so he definitely doesn't have the sort of Championship experience which could really help out Latics in their current predicament. However, if you look at how well Vincent Kompany has been doing at Burnley, and the start Michael Carrick has had at Middlesbrough, then as an ex-Premier League champion as a player, perhaps Kolo has every chance of being a solid manager too. In addition to this, as one of the assistants at Leicester, Kolo has worked under Brendan Rogers, who is one of the best Premier League managers of recent years. The Ivorian could also bring in some exciting acquisitions in the January transfer window. As he was one of the finest centre-backs of the Premier League era, he probably has some very handy contacts indeed. The obvious one being his brother Yaya, who is a youth coach at Spurs. I wish Kolo all the best, and now the wounds left by the shock decision to sack Richardson aren't as raw in the minds of fans, it's time to back our new gaffer. Let's hope the time he has with the lads on the training camp in Turkey before we take on Millwall on December 10 is valuable and he can instil his footballing philosophies into the squad. Lastly, it's nice to see that Rob Kelly has retained his position of assistant manager. Hopefully this means the hard-working qualities and selflessness of the squad implemented by Richardson remains a constant throughout Kolo's reign.
There's loads o' names, the list is long, some names are OK, but some are just wrong. Most have their plusses, and of course crosses, but there's no consensus wi' th' internet bosses. Whoever the name, there'll be someone to say that they've had their time, and yon mon's had his day. Cos tactics, charisma, and Premier League nous, are what divides critics like two floors of a house. Who's good for the goose isn't favoured by t' gander, and they'll tell you just why, stopping just short o' slander. So whoever we get will find themselves soon wi' some fans on their back, and not 'over the moon'. Cos if there's one thing the world can rely on, it's the guarantee Tics fans will continue to cry on the appointment of managers who don't fill their ideal, of a bloke to get t' Latics back on t' even keel. So buckle in all, cos the road 'll be long, and we all know whoever comes in will be wrong. Bloody rubbish Wiggin!
So the wait is finally over and Wigan have appointed Kolo Toure as their new manager. He will become the first African to manage in senior English football, which is both ground-breaking and one to remember in the future for the pub quiz! Interestingly, Toure has decided to keep Rob Kelly while James Beattie departs. It's fair to say the fanbase reaction to the appointment has been mixed and, as with every managerial appointment, there is undoubted risk involved. However, this one does seem to be a particularly high-risk strategy. Giving an unproven manager the task of keeping a struggling out-of-form team in the Championship is a very brave move. In reality it could prove to be either a masterstroke or a disaster, and the only way we will find out as ever in football is by the currency of performances and results. My own personal opinion is that, regardless of his obviously impressive stellar playing career, it is a huge risk to appoint a man who will effectively be learning and making mistakes on the job. However, for reasons we all know too well about, this is exactly what happened with Leam - and he ended up completely rebuilding the playing side of the club, securing a title-winning promotion...and getting a stand named after him! Also, everybody has to be given a chance and start somewhere or the merry-go-round of clubs continually appointing experienced failing managers would never end. Another concern is what the owners will do if things don't start well and results don't improve short-term. Have they factored in this risk, accepted this could happen and made this appointment for the long-term regardless? I sincerely hope so, and that irrespective of early results being good, bad or indifferent, the new manager is given time to put his own stamp on the club. To me, be prepared and accept there is a very real possibility of relegation. The key question is how much if any money is made available in January, and which type of players are targeted. The line-up in our first game in February will give us a clear indication of how much money the owners have afforded the new manager, and if they have deep enough pockets to fund a serious tilt at staying up or not. Regardless of my thoughts on Leam's sacking and the risk associated with this appointment, I will be backing the new manager and giving him my support 100 per cent. As a club, we are a much more dangerous beast when owners, players and fans are united and fighting against the odds. It is imperative this is the case as we embark on the second half of the season, and the challenge of getting enough points to stay in the Championship. As ever with the Latics, there are certainly interesting times ahead, and we would not have it any other way. One thing the appointment will certainly do is increase the level of noise in the stadium with fans singing the 'Toure' chant. You never know, those of us in the West Stand might even join in! Up the Tics.
I can't have been the only one to wonder if it was actually going to get over the line, can I? When it was first revealed the club had decided to make Kolo Toure the new first-team manager, the World Cup hadn't even begun. Now we've nearly reached the end of the group stage! The club made it clear he was their first and only choice and, in fairness to the board and ownership, they've put their money where their mouth is. It took a while but it was a relief to see the new man take his place on the training pitch in Turkey earlier this week. We've spoken about it being a risk over the last two weeks' worth of columns so, instead of looking at this risk, let's instead look at how heartening it is to see a young manager given his first opportunity in football. Kolo has played under some of the world's best managers, he has won countless titles and honours, and is the second most-capped player the Ivory Coast have ever had. If he can bring a fraction of that experience to the table and influence those young players in need of a helping hand, it could be a real success. The club should be applauded for looking outside of the box at this appointment. He may not be the manager we expected but someone in their first job, like Toure, is a much more exciting appointment than those usual suspects linked with the job. Is exciting right for us now, though? I'm not too sure, but for too long this season supporters have complained about stoic and dull percentage football. I believe that was a means to an end, and also an accusation unfairly levelled at Leam Richardson. But equally Toure is expected to be the antithesis to that. So alongside Kolo, who else will we see in the new look dug out at the DW Stadium? Rob Kelly remains as assistant manager, which could be as important an appointment as Toure. Kelly brings stability for the players as someone who's respected and an important link with that fantastic campaign last season. Alongside Kelly arrives Kevin Betsy, a name we'll know well as he made nearly 600 appearances in the football league. Since retiring, Betsy has been head coach in various youth set-ups, most notably as head coach for England's U16/U17 and U18 sides. Last season, he was in charge of Arsenal's U23's before joining Crawley Town earlier this season. His football at Arsenal was described as fluid with various formations including 4-3-3 and 3-5-2. Arriving with Toure from Leicester is Ashvir Singh Johal, a community champion from Leicester who was heavily involved in the coaching and set up of Guru Nanak Football Club to help Asians get into football in the early 2000s. For the last eight years he's been a coach at Leicester's incredibly successful academy. These are different types of appointments by Phoenix '21 and show a willingness to try something different. Now the contracts have been signed and the pictures released, it's all about getting ready for Millwall. What better way to face your Championship bow! Will it work? No one can say, but these lads will get the full support they need from Wiganers. For our sake, it needs to work, so be loud and proud for Kolo's Tricky Tics!