Wigan Athletic: The 12th Man - "It will be very difficult to walk away. But there really are more important things than football..."
Our panel of Wigan Athletic experts enjoy a morale-boosting victory at Bristol Rovers - as well as ponder the ramifications of a Bahrain-led takeover...
Published 26th Feb 2021, 11:01 BST

- 7 min read
Updated 26th Feb 2021, 13:50 BST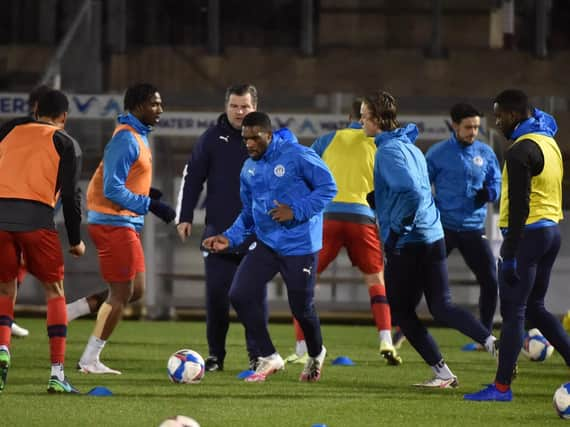 Wigan Athletic were moments away from falling to the rock bottom of the League One table on Tuesday night. They were on the verge of dropping a whopping 18 points from winning positions on the season and coming away with just one win from their first 10 matches of 2021. Yet, by the finest of margins, the Latics churned out their most miraculous victory of the season against Bristol Rovers, and the winning feeling could not have been sweeter. Despite the 20 shots that Rovers took, it did not take a professionally trained eye to see that our opponents were one of the poorer sides we have faced through 30 league matches. When Callum Lang scored his fourth goal in five matches for Latics, I thought there was a good chance we would hold on to keep the clean sheet. However, Rovers' 69th-minute equalizer brought back strong feelings of deja vu thanks to Latics' recent second-half collapses. I waited for the winning Rovers goal to punch us right in the gut. A free-kick sailed high. Other shots missed wide. Jamie Jones made an impressive low post save. I slowly started to accept the match was going to finish as a draw. You couldn't find a single Latics fan that was going to be happy with that result, though, as the match entered the 94th minute of play. Simply put, a draw was not going to be good enough for our struggling survival prospects. On the final kick of a wholly imperfect evening, Thelo Aasgaard and Scott Wootton combined to create the most perfect ending for Wigan Athletic. The last-minute goal was the moment of the season thus far, and represented everything the club and fans had so deeply yearned for during an extended rough stretch of events on and off the pitch. Leam Richardson and the lads "went for it" in every sense of the phrase that evening and were rewarded handsomely. Another week in administration has brought about few new pieces of information regarding the status of our takeover. We continue to be told that progress is being made behind the scenes. At this point, there is nothing else to do but maintain faith that our situation will be settled favorably. As fans, we may have to go a few more Fridays without receiving substantial updates from the administrators, but that doesn't mean that a remarkable piece of news can't land right before our eyes on a Monday morning. As a team, Latics may have to withstand one or two more 5-0 drubbings before this season is all said and done, but we can still finish in 20th position off the backs of several more 2-1 victories like we saw against Rovers. There is undeniable quality in our side, and thanks to Tuesday's events, a visible team spirit appeared that assured even the most cynical of Latics fans that this team has the necessary drive to finish this season successfully.
When we desperately need a goal in the dying minutes of an upcoming match, would it be too much to ask for Joey Barton to magically appear on our opponents' touchline again?
During a season as unprecedented as this one, nothing can be ruled out, and Wigan Athletic can certainly not be counted out yet.
Location: A parallel universe
MYSTERIOUS VOICE: "Hi there, my chum runs casinos and gave me this football club. It's losing £1m a month, I'd like to liquidate it please."
PROFESSIONAL VOICE: "Well, you could indeed do that. However, as a corporate and ethical professional (and a football fan), I should really advise you that you have a player who AC Milan offered £8m for in Jan and a free-scoring international centre forward who could probably flog for another £8m, if you just hold tight for a month or two until the transfer window opens. You should maybe put the club up for sale, and someone will probably pay £8-£10m for a mid-table Championship club with a first team and academy full of profitable assets. You'll easily get £25m back."
MYSTERIOUS VOICE: "I can't be bothered, I've just been told to get rid. Why don't you do it instead? Don't you want to make a shedload of money?"
PROFESSIONAL VOICE: "Well, as it happens….."
I'm going to start with what's happening on-field. The reason we're only a point away from safety is down to a couple of things. Firstly, the commitment from the majority of players, and certainly all the coaching staff is impossible to criticise. We've had some very poor results, it's true, but we've been competitive in most games, which nobody really expected if we're honest. Secondly, and probably more importantly, this is a truly awful league. That a team of kids and unsigned journeymen can still compete, to the point where one win could put us seventh from bottom, shows how poor the standard is. Despite losing a lot more than we've won, few if any teams have looked that much better than us. Had we kept more of the players we had last season, I reckon we'd have walked it. But if my auntie had balls she'd be my uncle, is how the saying goes. Ifs don't mean anything when we come to totting up the points after 46 games. We've probably still got a lot to do, seeing as how we're almost in March, but all is not lost and nobody should be giving up just yet. Off the pitch, well, where to start. Journalist Alan Nixon, a man who has had more right than wrong throughout all this, tells us the Bahraini group is within a whisker of completing the buyout. Paul Stanley for Begbies, a man who picks fights with fans on Twitter on a Saturday night, says a deal with anyone is still some way off. Stanley actually went one step further, and blamed fans for the delays. Is it any wonder nobody believes a word that comes out of their collective mouths? On the subject of Bahrain, the country has an horrific human rights record. It is described by every human rights observing body on earth as "not free" or "not safe for opposition members", with disappearances and abductions commonplace. The counter-argument is that the potential new owners are unlikely to be the Bahraini government. But you don't get to be rich enough in Bahrain to buy any football club without being on the inside track. For me, and some like me, this causes big problems. I've spent most of my adult life fighting injustice of one sort or another. If I can't establish that the buying group are willing to denounce the human rights violations routinely practiced by the Bahraini government, it's unlikely I'll be attending games as long as they own Latics. Whether I'll ever get the chance to ask, I have no idea. I suspect the question will not be welcome, either way. This is Latics, of course, a club I've supported and watched for 40 years, and it will be very difficult to walk away. But there really are more important things than football.
There's definite signs of life, it's not perfect by any stretch yet but there's progress. Despite losing against Lincoln on Saturday Latics provided the best response to the 5-0 drubbing against Hull three days earlier. A performance that was full of plaudits and a performance were Latics were well worth a point if not at all three. A lack of finishing and another mistake in defence conspired to us not getting anything out of Saturday's match but the feeling at the end was a world away from the despondency that greeted the Hull defeat. Despite the performance against Lincoln we were in danger of falling further behind the chasing pack at the bottom of League One if we failed to get anything from the match with Bristol Rovers.
Conditions on Tuesday didn't lend themselves to scintillating football, but Leam Richardson's side still put on a decent display. Latics went ahead early in the second half but were soon back on level terms after Bristol Rovers got back on level terms. After the clock ticked to 95 minutes, it seemed Latics would once again be looking down the barrel of points thrown away. That was until Norwegian gem Thelo Aasgaard stepped up and whipped a free-kick into the area which avoided everyone other than Scott Wootton. This was as precious a three points as one could imagine. We're still in with a fighting chance if we can cut out the defensive mistakes. There's still a lot of games to be played and we seem to raise our game against those sides above us in the table. There'll be no harder challenges than Peterborough on Saturday afternoon. But if we show the kind of performance levels we have over the last week, we'll be okay.
All eyes are now over on Begbies and the never ending takeover. The EFL made positive signs earlier this week, only for Paul Stanley to contradict that and himself a few hours later. Time is quickly running out as we head into the spring.
Get 20% off our sports subscription package and stay up to date with all the latest Wigan Athletic news with a year's subscription to WiganToday for less than 9p a day. Use promo code TRANSFER20