Wigan Athletic: The 12th Man - 'Latics have never made it easy for us for any length of time, but this feels a little bit more grim than most of those other times...the circumstances that have led us to this point...'
Our panel of Latics experts run the rule over another difficult week and try to keep the faith ahead of Saturday's daunting trip to top-of-the-table Burnley...
Published 10th Mar 2023, 10:35 BST

- 13 min read
Updated 10th Mar 2023, 10:36 BST
I'll be honest, the loss at West Brom feels like a big one. Getting out of the relegation zone was never going to be easy with only 12 games left, but we had a chance to at least pick up another point, and yet never really quite got going until it was too late. The habit of always having to try and come from behind is worrying, despite looking much better in defence now than even a few weeks ago. Goals continue to elude us, and we rarely look like scoring more than one, which puts us at a disadvantage in almost every game. Suddenly, six points looks like an awful lot to make up, especially with games coming up against Burnley and Coventry, one nailed on for promotion, and one chasing a play-off place. By the end of next week, it would well all be over bar the fat bird having a warble. Is it the end of the world getting relegated? No, not really. But I'd like a day off from it every now and again. We'd started to look much better under Shaun Maloney, and you can't help but wonder 'what if'. What if the owners had spent some money in the summer? What if Kolo Toure hadn't proved to be the worst managerial appointment in recent memory (and I include Owen Coyle and Malky Mackay in that)? There's every chance we might be at least fourth from bottom by now, and without the worst goal difference in the division. thanks to us setting a target of losing every game by four goals, for a few weeks in January. Latics have never made it easy for us for any length of time, but this feels a little bit more grim than most of those other times. Not the actual relegation, that will be what it is. But the circumstances that have led us to this point. I know we have no money, and we generate even less, but some sound investment in June and July would have made perfect sense. Speculate to accumulate, and all that. So to Burnley on Saturday, with everything 1974 has to offer, and hoping for the best but preparing for the worst. Who knows, we might just light up the East Lancashire skies with a display for the ages, and come away with a spectacular win. Or we might not.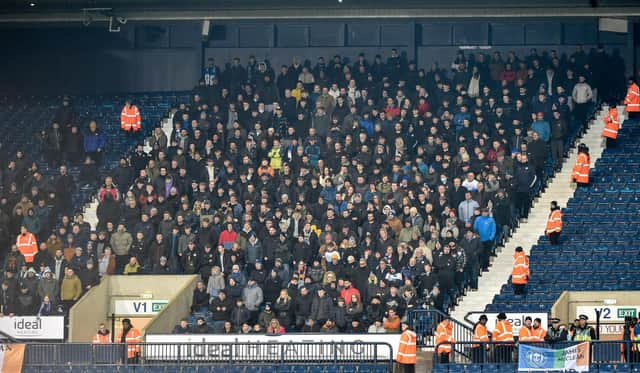 Before we all start the birchings and public flogging of our own players just remember lads there's Accrington away and the usual hammering of Bolton next year to soften the blow when and if we go down. Because at this moment the fat lady isn't just singing, she's blasting out a full concert and doing encores. I, like many others, have given our players as much backing as I can, and will continue to do so until our fate is sealed - which won't be long at this rate - but the hard simple facts are we are just not good enough to stay in this division. And the blame lies firmly at the owner/chairman's door for the absolute poor recruitment last summer. Not backing Richardson and bringing in the worst manager we've ever had in Kolo Toure - yes that includes Owen Coyle and Warren Joyce. The only saving grace was the board quickly realising Toure was a dud and getting rid, but the damage was done. His nine-game stay, with Shaun Maloney in charge, MAY have helped us in the fight. They also might not have. We'll never know. But I do know we'd have been a lot more competitive and not softer than soft. When Maloney came in, he immediately said we had to be harder to beat, which I feel we are now. The shipping of four goals a game has stopped but, at the other end, we are woeful, simple as that. I've no idea when we last scored two goals in a game - I probably had a perm and was teetotal. But we simply offer nothing in attack. Can we just blame the strikers? Of course not. The service to them is dire as well from the midfield. We're so slow getting the ball forward and have zero pace to put any kind of pressure on whoever we're playing. I'm not going to start ripping into individual players, I'll leave that to the Twitter mob. But there's far too many in this side that weren't good enough, aren't good enough, or never will be good enough for Championship football. And that's back at the owner's door again - going back to last summer. Now there's not one sane Tics fan that expected us to win the league or go up this season, but we did expect us to be competitive. Sadly we're just not. The first half at home to Birmingham and the whole game at West Brom was as painful as I've seen for a long time. We were utterly clueless and looked like a team that was resigned to their fate. Maloney has, of course, come out with the manager's handbook and is saying exactly what we'd expect to hear...'we're still fighting', etc, etc. But there's fewer and fewer listening, and even less believing nowadays in the stands. If and when we make the drop to where the dregs from Horwich are playing next season is going to be massive for everyone. We've got to firmly stick with Maloney and let him get his own squad together, get rid of the dead wood and, more importantly, see a show of faith from Mr Al Jasmi and Talal, and give the manager a fighting chance of bouncing straight back and back him with the funds we desperately needed at the end of last season. Surely doing the same again is football suicide? This weekend sees us going to the champions-elect in Burnley, and not many give us any chance of coming away with something. But it'll be just like us to do the impossible and come away with one or even three points...who am I kidding?! I've also seen on Twitter this week that this is the worst group of players we've ever seen at the Tics, and oh how I laughed. Some folk have very short memories, trust me some of those 90's teams we had made these lads look like Brazil. But we came through that and we'll come through this. I've said it a million times - there are 80 teams in this country that would sell their kids to see half of what we have, and sometimes we've just got to ride out the rough bits. We all know we'll be back, we're Wigan Athletic, it's what we do! Right, I'm off to find the scene in Rocky IV where Duke is screaming 'Throw in the damn towel' in readiness for Saturday...we all may need a few 'Bow for this one!
Any optimism about Latics' prospects for the remainder of the season quickly evaporated over our last few matches. We gave three points away at Preston, performed underwhelmingly against Birmingham, and hardly put up a fight against West Brom midweek, despite only losing 1-0. We're now six points from safety with 11 matches to play. Our margin for error has shrunk from small to miniscule. To add insult to injury, we travel to Burnley this weekend to face a team that hasn't lost at home this season, and delivered us our worst defeat of the campaign when they beat us 5-1 at the DW in August. More and more fans have resigned to a future in League One next season. Given our recent track record in the third tier, it's very possible that relegation could mean 'one step back and two steps forward' for our long-term outlook. However, I'm not throwing in the towel on the 22/23 season yet - not with 24 per cent of the fixture list still to play. While it's obvious we've lost the 'pep in our step' from our 'new manager bounce', there's still reason to believe we can turn our current form around. The fixtures will get easier in the coming weeks, and by that time, Maloney will have a better idea of what works and doesn't work in our squad. But will we become more decisive and deliberate in front of goal? Will we cut out the bad decision-making in our defensive third? Can we take control of games to the degree where we avoid the poor 10-minute spells that have done us in recently? We still need to improve in every area of the pitch if we are going to have a fighter's chance at survival come April. It'd be easy to argue that if things haven't changed for the better by now then they won't change for the next match, or the next match, or the match after that one. This group of players are who they are and it's silly to wish for a miracle when there is no miracle-maker present. However, as long as there's a mathematical chance this club can finish the season with a successful outcome, I refuse to stop believing. Why can't 'Burnley away' be the turning point for this season? We've beaten better teams with less impressive squads. If we truly play to the best of our ability, we may just very well surprise the masses. Let's not lose hope yet. Not just yet.
Whichever way you look at this season, we haven't been good enough, on or off the pitch. Mistakes galore, which started well before the fixtures were even released. Whatever your opinion, or whoever you lay the blame with, the bottom line is we aren't good enough for this league yet. I can take defeat if we're played off the park, and I can see the lads are giving everything. But the reality is we're getting beat by bang average sides in bad form. Everyone from the big wigs at the top right down towards us lot in the stands have got it wrong somewhere this year. Let's just muddle through these last few fixtures, chalk this season off, and start again in the break. Build around the lads who stay and get behind them and the gaffer, whatever league we're in. I'm sure I'm not the only one that feels they don't have the energy required for the rest of this campaign. Just get it over with, I'm tired.
It may not be squeaky bum time yet, but time is ticking for a Latics side who don't currently appear to be good enough to stay in the Championship. There's two ways of looking at the Birmingham game last Saturday. One of those is to say we had 72 per cent possession, and on another occasion we may have used that control of the game to create goalscoring opportunities. However, the reality is that, with all that possession Latics only mustered three shots on target to Birmingham's two. On top of that, the visitors also missed a penalty, and hit the woodwork on two other occasions. That sort of performance and result would be all right if we were a mid-table side, but we're not. And we need to get more wins from somewhere to rise up the table and into safety. The fact still stands that we haven't scored two goals in one game since the last match before the World Cup! At West Brom on Tuesday, the Tics didn't look any better than on Saturday. Just the three efforts on target - two of which were ambitious shots in the second half, from Aasgaard and Pearce respectively. With West Brom's expected goals (XG) standing at 2.52 and Latics' XG standing at just 0.53, it's surprising really that we only conceded one goal, but no great surprise that we didn't score one of our own. As with Birmingham on Saturday, West Brom struck the woodwork on more than one occasion, and also forced Ben Amos into making saves. What a silly goal we conceded at the Hawthorns as well! Burnley away is not the sort of upcoming fixture the doctor would have ordered, but it would be extremely 'Wigan' to come away with something from that game. Shaun Maloney still seems to be saying all the right things, though. We just need to put the ball in the back of the net.
As night outs go, well it wasn't great, Just another nail toward relegation fate. We weren't 'that' bad, we just weren't that good, cos we just didn't play like we know we should. With no fear, with belief, and by taking a chance, but instead, we just looked like we're too scared to dance. And if the loss weren't enough, then the trip home got worse, M6 closure and roadworks, it could make a mon curse. But it's Burrrrrnley up next, in what's really a free shot, cos wi' not much expected, we might show what we've got. Just show us some passion, some fight and some skill, cos if you show belief, then you know that we will. Cos we've done it before, and come back from the dead, but you've got to believe it, it's all in your head. You're not suddenly rubbish cos you've lost a few games, you won t' league just last season, so what are your aims? To drop right back down? Back again to League One? Or to show us some fight and prove it's not all gone? So, fingers extracted, and tripes all pulled out, you've got to knuckle down lads, and show what you're about. Get a grip of yourselves, wear your hearts on your sleeve, Cos you're playing for t' Latics, and you've got to believe!
It's not over till it's over, but the larger lady must be readying her vocal chords after this last week. If the trip to Preston was disappointing, what followed was depressing, Birmingham at home had all the hallmarks of a 'must win' but when it came to it we fell just short. A summary of our season perhaps? The first-half display against Birmingham felt like a hangover from the trip to Deepdale, we were second best and gave away a foolish free kick we didn't recover from. The second half was much better and we seemed to be in the ascendancy once we scored our equaliser. But a ridiculous penalty, and a mad four minutes where Birmingham did everything but score, seemed to kill any momentum we had. I hate to keep mentioning it, but that's two matches in a row where a referee has adversely affected the result of our match through ridiculous penalty calls. The one awarded to Birmingham was somehow even worse than the one awarded at Preston. The failure to beat Birmingham meant we were left needing to pull something out of the bag at West Brom, but unfortunately we turned in one of our worst displays under Shaun Maloney. We rallied, somewhat, in the second half, which was positive. But the damage was already done and we didn't really threaten to get back into it. So we're left with 11 games and 33 points to play for. Not out of it yet by any means, but it's going to take near title-winning form to get out of this now. Maloney has certainly sorted out the defensive side of our game, we look a lot more solid at the back than we did previously. But going forward we're struggling massively. Unless we start to score and get wins we won't escape this, and I've come to accept relegation as a necessary if nonetheless disappointing reality. Off the pitch it's been an interesting week, a fans forum on Wednesday along with the release of the financial results and the release of the season ticket prices for next season. The ownership has come under fire for a lack of investment in recent months, but the sobering reality of our financial position should* make everyone ready to tweet Talal about a lack of signings or slag the owners off for not putting their hand in their pocket think again (*should, not necessarily would). We have had investment, but unfortunately that investment is tied up in the not-so-sexy matter of propping the club up, rather than signing the next Messi. We can all complain about a lack of investment, and it's clear mistakes have been made across the year – primarily in that August transfer window. But our problems are, in essence, the same as they were under Dave Whelan's long tenure in charge. How do you support a club that is arguably too big for the town in which it resides? We are trying to operate a Championship club on League One crowds, and no amount of gimmicks or reduced price tickets will change the fact we have 7,500 season ticket holders and a total of around 10,000 Wiganers who pay to watch us. Even if we made it free (we've done that before), or left the doors open for anyone to walk in, we wouldn't see a dramatic increase. No matter how much we dress that up, it means we don't have the spending power of other clubs in this league. That isn't to excuse every issue and mistake this season, and these need to be addressed by the club. But that lack of investment isn't because the owners have given up on the club, it's because the money being ploughed in is to keep us afloat. Now if we do manage to survive in the Championship, under a young manager who understands the limitations of this club but can tap into the markets that other clubs may not look at, we may have a chance to have a better season next year. But sadly that's looking extremely remote at the moment, so it may well be another major rebuilding project. If we do go down perhaps - and again it isn't a popular view - maybe there has to be an acceptance that League One is our natural level. There is no Dave Whelan any more, willing to pump in the millions to get us to a higher level, the millions being pumped in now will simply keep us alive as a going concern. It isn't over till it's over but, with an ever-reducing possibility of survival, it's important to be realistic about our position. Maloney may well be able to build another title-winning team and the cycle will begin again but, like Rotherham and Peterborough those other perennial Championship and League One yo-yo clubs, we will always struggle once we reach the Championship, as it becomes more and more like an extension of the Premier League. I'm quite content with our position. Many others won't be, but it is a sad reality that 90 per cent of clubs in this country make no money unless you're in the Premier League. And we are as far away from the big league as we have been for the last decade. Away from the sobering reality of our situation, we've owners who - despite missteps this season - seemingly have our best interests in heart, and a manager who knows the club and speaks so highly of us. That can count for a lot. This season will always feel like a wasted opportunity if we go down, but I'm confident Maloney is the man to rebuild us and be in charge of the club – whatever form that may take in the future. Saturday's trip to Burnley is as daunting as you could imagine, but we've done the impossible before. Trips to Elland Road in 2019 and 2020 come to mind, when Latics rose to the occasion when the chips were down. The likelihood is we'll lose at Burnley as their march to the Championship continues, but imagine if we did get something from Turf Moor. It flips the season around. It's unlikely, it's not impossible. Keep giving the lads that support. It's easy to support a team when they're top of the league, less so when they're bottom of the league.