Wigan Athletic: The 12th Man - 'Maybe it was destiny that a man who played such an integral role in this club's history over the past five years not get in the way of our ongoing resurgence...'
Our panel of Wigan Athletic experts reflect on another last-gasp victory - which took their side joint-top of League One...
Published 10th Dec 2021, 10:50 BST

- 5 min read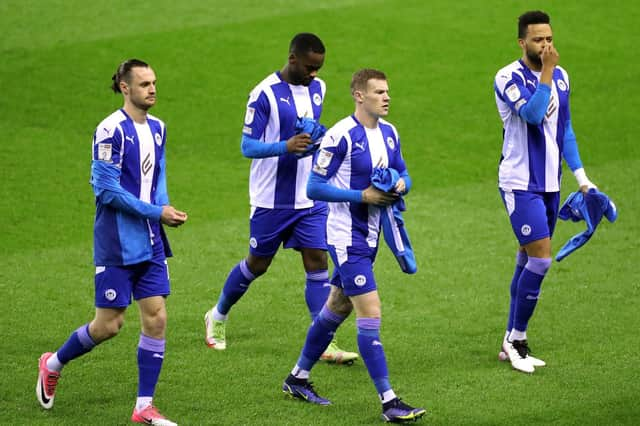 There is no such thing as a bad win for this Wigan Athletic team. It doesn't matter the scoreline, the opponent, the competition, or the day of the week. It doesn't matter who scored, who played well, who underwhelmed, or who didn't play at all. Latics are on a 10-match unbeaten streak. They have figured things out to the tune of victory in eight of those matches. They have featured a different starting XI in each of those matches with a total of 26 different players getting a start during that stretch. We are less than three weeks removed from Charlie Wyke's cardiac arrest followed by the heroic efforts of Leam Richardson, Dr Jonathan Tobin, and an assortment of other medical professionals that revived and stabilised Charlie. We have no idea how our players, coaches, and club staff are still processing this event – whether it be on the pitch or in their regular day-to-day activities. The fact they have all rallied together to continue such an impressive run of form goes to show that our club has been blessed with a very special group this season. Our most recent match against Shrewsbury fully exemplified the 'roller coaster' trajectory that many of our matches have taken on so far. We scored an early belter, but a sloppy spell of play led to an equaliser for our opponents. We came out re-energised and refocused in the second half, yet struggled to find a breakthrough for the winner. If there was one player on the pitch that evening who was going to dictate the outcome of the match, it was Thelonious Gerard Aasgaard. He showed nothing but positive intent from the moment of his introduction late in the first half. There is no question within our fanbase that Thelo is a special player. His 92nd-minute long-range effort was quite special itself, and the 19-year-old's first senior goal of the season delivered three points to the home side. The first Latics goal scored while attacking the newly-named Leam Richardson Stand was well worth the wait. On the topic of waiting, it's been 21 months since Paul Cook managed a team in front of fans at the DW. And I know many of us were eagerly anticipating his return with Ipswich Town this Saturday. Since Cook was sacked last weekend, we'll have to look forward to the return of Sam Morsy, Lee Evans, and Christian Walton instead. Maybe it was destiny that a man who played such an integral role in this club's history over the past five years not get in the way of our ongoing resurgence. We're second in the league table, only by goal difference, with one to two games in-hand on all of our promotion rivals. We've already matched last season's League One win total of 13 and are still four games away from the midpoint of this season. Keeping our current winning streak and unbeaten streak alive will require us to put forth a quality effort in all areas of the pitch against Ipswich. No matter how the three points come this weekend, we will take them. There's no such thing as a bad win for Latics and there's never been a better time to be a Latics fan than right now.
The art of being rubbish, yet managing to win,
Is not to be sniffed at. It isn't just spin;
Cos it worked in the boot room, for Bill, Bob, Joe and Kenny,
Late scrawpy wins? They had plenty, they had many.
Old Trafford, too, is no stranger to this,
It wasn't every game they were taking the 'Michael';
Level at 90, then no reason, no rhyme,
They'd score at the death, it were called "Fergie Time"!
So let's not be harsh that last night we weren't great.
That's no reason at all to lash out and berate,
Let's just be happy that we still won the game;
We're joint top of the league, not deserving of blame,
Up the playing rubbish...but still winning Tics.
It always amazes me at Wigan Athletic, with all of our history with late goals and comebacks there's still a sizeable amount who depart before the final whistle each week without fail. Even this season knowing what had come against Rotherham, Cambridge, Plymouth and countless others. Would you leave? Thelo Aasgaard thankfully went right to the final whistle, and boy how we needed him. After a stop start season due to injuries we haven't yet seen the best of the French Norwegian Scouser, but there's signs he's getting back to his influential best. He was involved in the opening goal at Plymouth last month and was one of the few creative sparks against Shrewsbury. The Shrewsbury match followed the path of many midweek games at the DW this season – Latics started off brightly before fading and essentially chasing a way back into the match. Thankfully the aforementioned Aasgaard was on hand to see Latics return to the promotion spots in League One. Wednesday night wasn't a sparkling performance by any stretch. No wonder really when you look at the weather conditions and the fact Latics hadn't played at home since Halloween. Despite that, Latics still dominated the second half. And although it's a cliché, it's a sign of a good team when you're winning when you're not at your best. To take seven points from nine in the last three league games and progress to the third round of the FA Cup is a very good period in anyone's book. The reunion with Paul Cook on Sunday is sadly off, and I felt for him at the weekend. He remains a good man who served Latics well as both a player and as a manager. It seems strange a club would allow a manager to move out a whole squad, bring in 19 new players and still dispense with his services before we've even reached Christmas. Ipswich haven't a sparkling record with managers recently, and a bit of patience goes a long way in a football club. Although we're doing magnificently well at the moment I hope if we endure a bumpy period, as we will at some point that Leam Richardson is shown that patience. He's certainly earned it over the last 12 months.
Get 20% off our sports subscription package and stay up to date with all the latest Wigan Athletic news with a year's subscription to WiganToday for less than 9p a day. Use promo code TRANSFER20