Wigan Athletic: The 12th Man - Part 1 - 'You know what hope did. And hope is not a strategy. And it's the hope that kills you. And we've got two hopes right now: Bob and none...'
In the first of a bumper 12th Man, our panel of Latics experts try to plot a way out of the current doom and gloom at the DW Stadium – and search for positives heading into the New Year...
Published 6th Jan 2023, 09:29 GMT

- 13 min read
Updated 6th Jan 2023, 09:38 GMT
Let's start with the positives - I took my kids for the first time against Hulll, and bizarrely they seemed to enjoy it and want to go again. 'We liked the celebrations when they scored, the singing and the goal music, daddy'! As I mumbled under my breath about 'modern football'... Anyway, don't get used to that, kids. Although, if they played goal music every time the opponents scored right now, you'd think you were at a roller disco. So the positives I am clinging to are no different to the ones I held close to my thoughts on Monday morning: he's trying to change the way we play, he'll get some fresh players in, we'll fight back in the new year. It's what we do, it's in our DNA! We hashtag believe; Sin Miedo! And Hull aren't a top-half side, they are down there with us, so there won't be much in it, will there? Surely we'll give them a game, right? Wrong! If anything, this struggling Hull side were made to look better than our opponents in the previous few games. They were made to look like Barcellhullina by us. Actually, Re-Hull Madrid works better, in a Wigan accent at least. I can't be any more positive than that I'm afraid, other than hope things get better. But you know what hope did. And hope is not a strategy. And it's the hope that kills you. And we've got two hopes right now: Bob and none. Enough hope-related cliches, I spent way too long on various online forums and social medias on Tuesday, trying to gauge the mood, and all I see is thread after thread of ridiculous mental gymnastics as to why we are actually in a good place, or at least, that the club initially made the right decision to sack the last manager. They didn't, you know they didn't, and yet because you wanted this to happen, you are still trying to justify it happening. You can disagree all you like but, unless things change pretty quickly, we have made a fatal error here and/or even four consecutive errors I will list below: The reason we are in a complete mess is that 1) Richardson was sacked too soon, following the first bad run he had ever had for us; 2) He was also sacked without having any sort of replacement lined up; 3) It's early days yet, but the replacement is looking more and more by the day the completely wrong appointment. Bottom of the Championship really is no place for any new manager to learn on the job; And 4) No consideration has been given to whether the new manager could work with, and motivate the players he has got. In other words, he is completely the wrong fit.
Let me deal with 1) first. Last week, someone attempted to pull me up on my article by saying we weren't showing progress and needed to. Firstly, I never used the word 'progress', I used the word expectations, namely that we, as Wigan Athletic fans, expect too much because we have over-achieved in the past. In terms of progress under Leam, he built a team to progress us out of League One, and somehow took us up as champions at the first time of asking. This year, he got us in a higher division than we expected to be in, ahead of schedule. This was progress. Unfortunately, this was to be his own fatal error, as he has got an ageing squad, many of whom aren't out of contract till this summer, and very little in the way of funds made available to refresh the squad. And yes I know he signed them. He signed them to do a two year job, which he did in 12 months. These days, any promotion or relegation needs an overhaul. Points 2) and 3) above are fairly self explanatory, but the reason I would have kept Richardson until the end of the season, or till January at least, is precisely because they were his players, and he was best placed to get a tune out of them. Now they are grown men, and whether they are sulking or not, or refusing to play for Toure is part of the problem, but also they are not the players to play his style. However, as a football club, we have always done best when the manager has a strong allegiance to the club, usually as a past player, though for other even more tangible reasons in Richardson's case. This is the reason why we do what we do at the business end of the season, when it pays off. The management team instils a purpose and the players will fight for the club. I don't think that is going to be the case here any time soon, based on the last few games. The over-emphasis on 'hoofball' does make me chuckle. I suspect quite a few of those complaining also used to moan about Roberto Martinez and his aimless passing it around at the back. I've discovered I am not a football snob after all, I don't mind the way we play, so long as it is getting the best out of the resources we've got, and I believe Richardson was trying to. By far the most important thing for me, is that we go out and have a go and appear to be committed, whether it is aesthetically pleasing or not. And for the most part, up until November, we were having a go and trying to win a football match, or at least, to not lose it too badly. In the most recent games, bar a decent 20-minute spell, we've been folding like a cheap tent on a windy day (shout out to my mate from Swindon for that one!) The bottom line here is it's much easier to change the manager, than to change the players.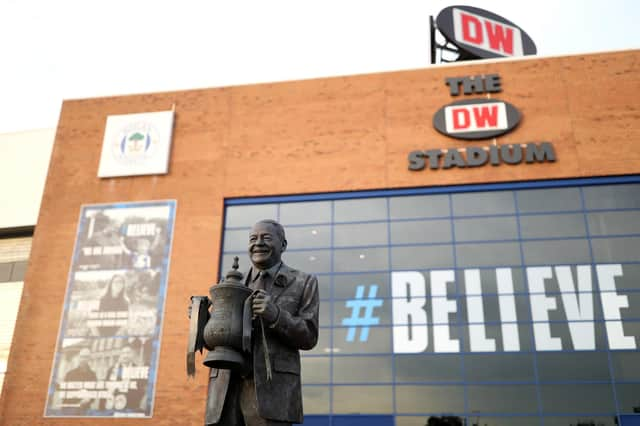 I've talked about Leam a lot here, and I've seen the narrative online that we've got to stop talking about him now he's gone. But then the next minute, the same people are putting the blame for where we are 100 per cenbt at the previous manager's feet. I've also seen the narrative 'we were definitely going down under Richardson'. Really? Can you prove that? In November, when we were a mere two points adrift with 26 games to go? It's fair to say we might have gone down, but two months on since the sacking, it now looks like we are definitely going down, and a whole lot quicker than before. Lots of talk of not winning in eight games, but no talk of the 19 points in 13 games before that. The longer you go on a losing run, the closer you usually are to ending it. What's to say we wouldn't have had a similar run to the start of the season again? Of course there's no evidence to support that, but there's not much to support that we would lose all 26 of our remaining games either, particularly, if given our parlous state, funds were supplied to strengthen in January. In fact, we won the first one after he left with what was left of his backroom team, but I'm not adding that to his win rate, as that would cause some people to lose their minds. Oh go on then. 20 points from 20 games = 46 over a season = probably relegated. 23 points over 21 games = 50 points = half a chance of staying up. Since that we've had 1 point from 5 games = 9 [NINE] points over a season, and you don't need me to add my conclusion there. The grass isn't always greener, and quite why we haven't learned this by now, is beyond me. Plenty will argue the sacking was correct, it's just we got the replacement wrong. But again, that is my point, we always get the replacement wrong when we change mid-season, and I am still utterly mystified why the board made this decision. Finally I should add, if you disagree with any of the above, and indeed, even some of my closest chums might, then please remember that, firstly, it is my own opinion. Also, feel free to call me names online, I'm kind of used to it by now. But I didn't vote for this mess, I'm not owning it, and if you wanted it, then I hope you're happy. I'm also not revelling in this, just pointing out why it was wrong. I will turn up each week hoping (that word again) to see some tangible improvement because I want us to survive and succeed, I hope that decent 20 minutes becomes 40 minutes per game then an hour until we are playing this beautiful, scintillating football we have been promised. It will be some turnaround, but I'm happy to be proved wrong in every single thing I've written above. I don't take any pleasure in it whatsoever, people are hurting right now and I'm no different.
At least you can say we were consistent over the festive season! All gallows humour aside, January has got to be a month of 'Arthur Daley'-style wheeler-dealing. Those who don't want to be here, in Kolo's words, need to ship out, and allow us to get fresh players in. I don't expect too many money signings, probably more loans than anything. This situation has come around from lack of investment in the summer, but let's hope it's not too late to get us out of a bad place now. Stay safe.
Where to start really! Not sure Kolo realised just how much work was needed when he first walked in. Well I'm sure he knows now. We went from a good performance against Sheffield United to losing 4-1 three times in a row. Middlesbrough have really improved since Michael Carrick came in, and nobody really expected much out of that game, but again we created chances. We just couldn't finish them, and that's a killer because we didn't look awful. But when we didn't get that press spot on, we got punished. The Sunderland game was a mess from start to finish. Why he took Tom Naylor off and not Max Power is beyond me. How a professional footballer can hit a one-man wall is incredible, when Sunday players turn up hungover with last night's kebab as their breakfast and whip in a better ball. A game to forget. And the Hull game first half was like an unopposed training session for them. We were abysmal! Nathan Broadhead changed the game at half-time, but I think Joe Bennett going off injured killed our momentum and we couldn't get it back after that. Shout-out to Max Power, who again hit a one-man wall, which is seriously impressive to do two games on the bounce. Some serious investment is needed in January, and the owner needs to do what he says and show it is actions not words...or else we'll be playing Port Vale next season.
I think we're in trouble. The appointment of Kolo Toure has come with a lot of mixed opinions over the last few weeks, and questions around whether he is the right man to take us forward. But with only a singular point from his first five games, not one but THREE 4-1 losses in the space of a week, that led to a public apology being issued by the chairman on Twitter, not to mention the significantly sub-standard performances on the pitch, things don't appear to be getting any better under the new gaffer. If anything they're getting worse. I commend Kolo for trying to find something that works, and he's certainly not afraid to make changes where he feels it necessary. But on the pitch itself, the lads look lost. They don't look like they know what they're being asked to do. There's already whispers of trouble in the camp. Jordan Cousins appeared to have a rather heated conversation with Toure on the sidelines after he was subbed off against Hull, and rumours of more than one player claiming the lads aren't getting on with the new manager in charge does not bode well. You absolutely cannot be losing your dressing room five games into your tenure. Not to mention the post-match interviews from Kolo himself coming across as vague at best. Does he even watch the same games as me? We're now almost a week into the January transfer window, which is usually the time for rumours, wild suggestions and many, many, many 'any Wigan news, Al?' tweets. But so far, all we've seen is a pool of players that allegedly want to leave. It's hard to believe this is the same group that had so much fight and togetherness last season. Most of them look completely dejected. It doesn't look like a happy club at all. We can only hope the board are willing to back Toure throughout this window and pull off some clever business if we're wanting to still be a Championship outfit in six months. At the minute, I can't see where our next point comes from, let alone a win.
I don't normally get involved in the ins and outs of Latics, as I'm just a normal(ish) supporter who is occasionally let off the leash to go to games. But after this week's Hull result, I had a mini meltdown. I mean, it's been that bad that I've been tempted to ask Caddy for a 'Bow. - and I don't even drink! Anyone with half a brain cell can see that something doesn't seem right behind the scenes somewhere. I know it's already been explained previously, but blue seats, stadium name, late wages, poor summer transfer and the sacking of Leam...I personally didn't want him gone, but I was quite excited by Kolo Toure's appointment. But now I'm not convinced. Maybe I'm overthinking (nothing new)! My personal opinion is that he doesn't acknowledge the fans like we were used to. I also get the impression the players aren't taking to him. On the pitch, we've got a good set of lads - contrary to what some others think - but at the minute their confidence is shot to pieces, and I dread to see who leaves in January, because we ain't an attractive destination at the minute for replacements. Having said my bit, albeit negative, I will always support the Tics, and let's hope the slump is over, we can get some decent signings in, and the players that do inevitably leave have a good future, because they've served the club well, whether we can agree or not. Now Caddy, where's that flaming 'Bow...?
There's no kind way to put it - the start of the Kolo Toure era has been nothing short of a disaster. If we were playing a game of 'limbo', we'd be so low to the ground that we'd have to turn into body contortionists to keep ourselves from falling down. Losing 4-1 at Middlesbrough was unfortunate. Losing 4-1 against Sunderland was a wake-up call. Losing 4-1, again, against Hull on Monday was a slap in the face. It's clear a multitude of things have gone wrong over our past several matches. We've had poor giveaways in possession, miscommunications in defence, and numerous other growing pains associated with playing a new style of football under a new manager. Our fanbase has been eager to identify the core of our recent problems. There seems to be a fairly balanced split between blaming the new regime, led by Kolo, and the old regime, led by Leam Richardson. There is also a faction of our fanbase who absolve both managers of blame and claim that the ownership's lack of investment last summer had led to lacklustre results so far this season. Perhaps the smallest vocal minority don't find anything to be particularly wrong with the club at the moment and believe ownership deserves credit, before anything else, for saving the club in Spring 2021. As dire as most of us believe our current situation to be, the reality is there is still time for things to be turned around. Whether you have faith in the process itself or the people behind the process is a different conversation. There are three-and-a-half weeks to make the moves necessary to keep the club in this division for another season. I have confidence Kolo will make use of every contact and connection he has within the professional game to try and improve our squad quality. It's integral Kolo and other decision makers within the club get on the same page immediately about how to maximise this window to the greatest degree. As critical as it is for Latics to bring in reinforcements soon, it may be less urgent for this coming weekend than for future ones on the horizon. This season, the FA Cup will represent a low stakes competition where there will be as little pressure as ever to advance beyond the third round. Our squad has already been rotated quite a bit over the past few weeks, so with the exception of a few players, there will be little demand for wholesale line-up changes against Luton. If we win, it will provide some well-needed momentum ahead of a crucial trip to Cardiff next weekend. If we lose, then at least we can hope it was by a deficit of less than three goals. That constitutes progress, right? The new year has got off to as poor of a start as possible, but time is still on our side. We can only be hopeful our fortune will change for the better soon.
Three 4-1 defeats over the supposedly festive period didn't provide Latics fans with a very merry Christmas, nor a happy start to the new year. Our defence is all over the place which is majorly due to the injury to Jason Kerr whilst Jack Whatmough was only fit in time for the Hull game. But however match fit Whatmough may have been, he certainly wasn't match sharp. Latics' backline in the Hull game acted as some sort of de facto manual which could be entitled 'how not to defend in the Championship for dummies.' I don't like having a go at the players but the defence is absolutely woeful at the moment. We are second to every single second ball. I also thought Hull should have had a penalty about a second before they scored, but it didn't matter that there was a potential foul in Latics' box as of course we failed to clear our lines and an (because obviously) unmarked Jacob Greaves tucked home Hull's opening goal. Wigan came out in the second half still looking rather stale but some Latics-esque defending from Hull saw us find our way back into the game. We then looked good for about 10 minutes as the DW crowd really got behind our lads, as we felt uplifted by the surprising equaliser. However history soon repeated itself as a frighteningly submissive Latics defence let in three goals in quick succession and, as manager Kolo Toure alluded to in his post-match interview, the goals were out of nothing. The worst thing about those Hull goals was that they weren't even good goals unlike the two late goals Sunderland netted against us. Chairman Talal's post-match Twitter thread will only reassure me if he abides by his own motto of 'actions speak louder than words.' Despite the table remaining really tight, we really have lots of work to do in the January transfer window in order to avoid the dreaded drop.