Wigan Athletic: The 12th Man PART ONE - 'This club means too much to too many people for it to slip away for good. Somebody needs to get a grip...'
Our panel of Latics experts assess another monumental week in the history of their beloved football club...and wonder what comes next...
Published 23rd Mar 2023, 13:46 BST

- 8 min read
Watch more of our videos on Shots!
and live on Freeview channel 276
Visit Shots! now
We're another week into the saga that has been March 2023, and we still have more questions than answers about the future of Latics. We were officially docked three points at the start of this week and, after a spirited and coordinated effort from the fans on social media, we elicited a response from our chairman one day later. Talal's words gave us the bare minimum - a statement of intent. As I'm writing this piece, the players have still not been paid, we do not know the outcome of Shaun Maloney's trip to Bahrain, and we do not know how our current funding/liquidity problems will be resolved by our owner. A bad situation has only gotten worse. One of the few positives to come from the past week was our second-half performance at Watford which produced a resilient point. The result only served as further evidence the players continue to give us their all, as they have all season, and are among the last ones we should blame for our current misfortunes. As frustrating as the lack of recent wins on the pitch have been, the losses we've taken off of it are far more concerning. The club has put itself in a financial hole that gets deeper by the day and for every hour we don't make things right, another rung on the escape ladder breaks. Talal's statement featured all of the right buzzwords you'd want to hear in a proper apology: 'rectify all mistakes', 'make amends', and 'restore your faith'. I have to wonder, though, if our owner's financial situation is as unstable as we've been made to believe. At what point does it make more sense for him to pull the strings on a failed operation and walk away? I do hope that is not a future outcome for Latics but, with the events of administration still fresh in my head, I'm developing a more pessimistic outlook on where the next few months will take us. There's still time for a dramatic shift to occur ahead of these final eight fixtures of the season. Getting the players and staff fully paid would be a great start. Maybe it is too late to save our status in this division, but there are a number of assets within the club right now that would give us a much stronger leg to stand on - if we could keep a hold of them for next season. We've been given enough bad news over these last few weeks, not to mention over the season as a whole. We can only hope the people with the power to change our situation for the better are able to do so as quickly as possible. This club means too much to too many people for it to slip away for good. Somebody needs to get a grip.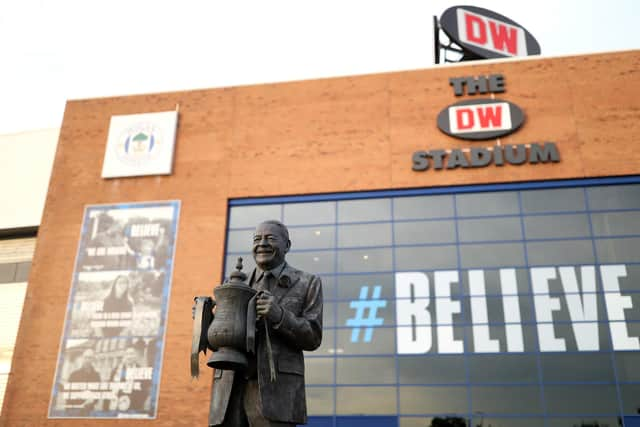 Great battling performance from the team at Watford despite the shambles off the pitch. Tal and Mr Al Jasmi have lost all of the trust and goodwill they have built up since taking over, and the silence from the club is deafening. They say difficulties in the banking system are to blame, which they are trying to sort out. What 'difficulties' are these? We need to know details and not be fobbed off at every turn, not silence, and not soundbites. This is a backdrop against which the club is trying to get fans to stump up cash for next year's season tickets. What would be the club's reaction if you signed up to pay for a season ticket over a period of time and the payment was late each month? Hopefully the international break may make things a bit clearer, but I doubt it. With another pay-day on the horizon and tax payments due, these are very worrying times. The 'Too Much Silence' social media campaign is a good idea, and hopefully it has an impact. Stay safe.
The Latics supporter base is famously diverse. We're a small town club with as many podcasts, fanzines and blogs as there are pie shops in the good borough (I plead guilty on all fronts by the way). We've even managed to end up with two Supporters Clubs. We're also brilliant at falling out, and could even argue over whether the team played in blue and white stripes or white and blue stripes. But we're also fiercely protective of our club and, although it might take a lot to get us to pull together, the results can be spectacular, as the fund-raising efforts during administration proved. Rightly so, the events of the last couple of weeks have rattled Latics' supporters cages again. If the failure to pay the staff and players on time, for a fourth time, wasn't bad enough, things have been made worse by a distinct lack of communication on the issue. A mic drop of a late night statement on the club website, a few wishy-washy comments in a interview with this paper, and then Mal Brannigan exited stage left, leaving Shaun Maloney to pick up the pieces and the internet to fill the silence with speculation, rumour and, in some cases, down right lies. Supporters, particularly of a club that has so recently been on the verge of extinction, deserve better than that. While I know people in the Supporters Club, the local media, and others have been working hard to try and get to the bottom of what's been going on, their relationships with the club mean that it's difficult for them to say what they might want to say, or report any more than the bland assurances that officials are prepare to go 'on the record' with. That's not a criticism, by the way. Everyone has their role to play, and all of these people do theirs well. But as the last two weeks have proved, sometimes that's not enough. Sometimes, supporters need a voice that can voice their fears, concerns or hopes in a frank and open way. A voice that can hold the people entrusted with running OUR club to account, publicly. That can call them out, when they need to be called out. A voice that can somehow chorale the energy of supporters and make sure the best interests of Wigan Athletic are kept at the forefront. A few weeks ago, before the latest wages incident, a few weary souls, who'd ended up in a WhatsApp group together during administration, resurrected an old conversation about whether the time was right to start talking about some kind of independent supporter group again. We'd talked about how it would be a slow process, how we'd need to build interest, get others involved, start to organise things, and then see how many other people were interested. Then, last week, in the midst of national media speculation about the players wages, I opened twitter, logged into @indielatics - an account that had been dormant for six years - and posted a thread asking for calm, suggesting people lay things aside and get behind the lads at Watford, and that supporters should try and speak as one to get the board to break their silence on our situation. The response was, frankly, overwhelming. It became immediately clear that people were looking for some way to channel their frustrations. Followers were flooding onto the account and a form set up to collect contact details of people interested in the idea of an independent group was struggling to keep count of responses. In all, over 1,500 people have shown an interest in the idea over the last five days and numbers are rising. Then, while we were considering how best to engage with all these people, came the points deduction. And still nothing, other than a basic acknowledgement from the Latics' board. If you were anywhere near twitter on Tuesday dinnertime, you'll have seen what can happen when people gather around a simple idea. For a good 90 minutes 'Wigan Athletic Twitter' was swamped with one clear message: Latics fans telling the board that their silence was too much, and they needed to speak now. The phrase 'too much silence' was trending higher than both Roy Hodgson and Jesus. And if it hadn't been World Poetry Day, well we could have been top of the pops. IndieLatics didn't do that. You, the combined force of Wigan Athletic supporters, did that. You were spectacular and deserve so much credit for it. You also managed to break the silence, with Talal Al Hammad making a statement later that day. While it was good to hear his assurances and promises, we're not sure they were quite enough to quieten the unrest among the club's supporters, and the group of people who started that conversation a couple of weeks back have been considering how we can help give those continuing concerns a voice. By the time you read this, we will have probably made an announcement on how people can get involved in making sure Mr Al Hammad is good to his word. Come and find us at www.indielatics.uk and see how you can get involved.
Wigan Athletic FC...what a mess! A three-point deduction could well prove to be the nail in the coffin in terms of relegation back to League One. But seemingly the issues at the club run a lot deeper than relegation. The reason for the deduction says it all. The players and staff have now not been paid on time FOUR times. Where is the money? What is going on? We don't want to hear the same old 'liquidity issues' excuse. If Abdulrahman Al Jasmi and his board were so 'committed' to the club as chairman Talal Al-Hammad keeps 'reassuring' us, then they'd have surely done more to prevent a three-point deduction. There is an unpleasant mirroring of the administration of three years ago creeping back into the club. Murmurings of 'the next Bury' on social media, and the situation is sufficiently worrisome for Wigan MP Lisa Nandy to be spending her invaluable time. Is there actually any feasible reason to not pay the players, other than the potential eventuality that the owners don't have the money? The current owners are not in the Stanley Choi ballpark. It seems they're just highly incompetent. But the fact it is necessary to make the Choi comparison is a massive alarm bell in itself. If the money has dried up, it is hardly a surprise. What did they think was going to happen when they sacked two managers after giving them fresh three-and-a-half year contracts? If we are to get relegated, you can pretty much put it all down to the board. Despite the strength of the League One that Latics were promoted from, it was evident the club should have signed more Championship quality players over the summer transfer window. Unless we were already short of cash by then? Sacking Leam Richardson now seems like the most ridiculous thing the board could have done, especially given his proven track record of dealing well with a club in crisis. The Kolo Toure appointment proved to be a horrendous decision, so they pretty much had to sack him, but it was so naïve to throw an inexperienced coach right into the deep end of the Championship in the first place. Shaun Maloney seems like a decent manager, and an admirable speaker, but what is he expected to do with a squad of players who aren't being paid? This season has been a catalogue of errors from the board. But as with three years ago, the fans have been outstanding. It was an exceptional effort from the fanbase to make the 'TOO MUCH SILENCE' hashtag on Twitter become one of the trending items in the UK on Tuesday. The recent re-launch of the Indie Latics website could prove vital too, and I hope this is one of many 12th man submissions this week. Because when times are tough, the fans need a voice. If it came to it, this fanbase could save our club. Football is in a very sorry state, and once again we find ourselves as one of the prime examples of that.