Wigan Athletic: The 12th Man - 'The worst-case scenario isn't actually the worst part of all this. It is the false glimpses of hope we continually get fed in this ghastly "process" that is destroying our minds...'
Our panel of Wigan Athletic experts reflect on another week of no news off the field...and more disappointment on it...
Published 5th Mar 2021, 10:40 BST

- 13 min read
Updated 6th Mar 2021, 13:31 BST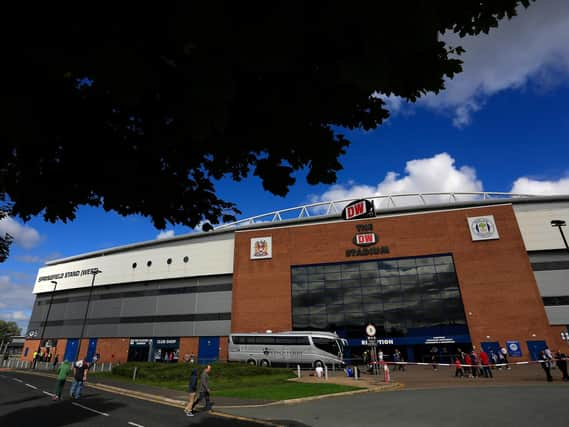 Heartbreaking. That is it in a word. We are a boxer on the ropes, we have our hands behind our back and people are taking it in turns to repeatedly punch us. I have had periods of utter despair in my mind over the past nine months with what is happening to our football club. I can completely understand the anger, the hurt, the increase in cries for help for people suffering from deteriorating mental health among the Wigan Athletic community. Perhaps they don't deserve the following credit, but I really don't think Choi and Au Yeung had any idea of the destruction and devastation their actions last summer caused to thousands of people, their lives, their future, their jobs. Or maybe they didn't care. It was a business interest, a hobby to them. A gamble which they quickly grew impatient with. The logical part of my brain reins in the anger when I consider we were and still are completely powerless to stop it. Like many, I was certainly wallowing in midweek after another defeat and the rumoured exit, or at best inertia shown by the leading bidders. But then I managed to snap out of it, fearful of my mood affecting other areas of my life: my job, my family, my health. Football does affect us in this way, we all know it. It is all in our thoughts, our mind, our reactions. It creates such strong emotions and it is a battle of wits to control it. I never thought I'd find myself quoting an ancient philosopher like Marcus Aurelius in the 12th Man column, but the sentiment bears up to scrutiny: "You have power over your mind, not outside events. Realise this and you will find strength!" It is completely true! The whole branch of Stoicism philosophy concerns the adoption of an open acceptance of the worst-case scenario, so by manifesting it in your mind before it happens, you are left pleasantly satisfied, should the worst not actually happen. So I have privately accepted the worst now, and I am getting on with quietly watching the team I love. Wondering at what level our future will be, and what sort of club we will have but knowing I will be there, and want to be part of it. Giving up isn't the answer.
Having said that, envisaging the worst-case scenario isn't actually the worst part of all this. It is the false glimpses of hope we continually get fed in this ghastly "process" that is destroying our minds, by inviting positive outcomes into our heads that do not materialise. We have all spent days picking our phones up every two minutes and refreshing, waiting for a tweet to tell us a bid has been accepted. Or we have woken up in the morning thinking "today is the day" and it never is. I'm writing this piece on Thursday thinking "ha ha we'll probably get bought on Friday and I'll look a right wally for writing this". Here's hoping. Nope, scrap that, must stop hoping. Waiting for positive news that never seems to come is what is causing the most distress. If you can accept in your mind internally that relegation is probably going to happen, that we might end up being a threadbare, fans' run club, more players may leave, we might even end up back in non-league... then any upside that subsequently follows is a bonus. One day soon, you will be able to watch Wigan Athletic again and have a beer with your mates, and reminisce over the many, brilliant memories this football club has given you over the years. And there will be a Wigan Athletic, too many good people care to make sure of that, even though some of them are seemingly becoming targets for some of our less enlightened fanbase. I know a lot of Latics fans are on the verge of giving up, but please don't. Those staff behind the scenes aren't giving up, we still have so many good people working at the football club, and we still have such a good community of supporters (when we're not bickering with each other). When we look back over the 89-year history of the club, which will one day be many more years, we will look upon this as our darkest hour. A small blip in the story of Wigan Athletic FC, but thankfully it will no longer dominate our minds as it does now. We are unfortunately being taken to hell and back right now by a string of people who were supposed to protect us and have failed us badly. But we will make it back. Sure we might not have even hit the bottom yet. We keep thinking we have, but each new low arrives to clobber us over the head with renewed aplomb. This football club is still fighting, though, for its life, if not its League One status, even though so much remains out of its control.
So to this weekend, and the glorious blue-eyed boy returns to the club where he became an idol. Putting into practice my philosophy, I fully expect him to score a winner for the fake football club he now plays for. Knocking another nail into our coffin, because that is just the way things are going for us right now. I know that is not what anybody wants to hear, but the truth is I (or you) can't control whether he does or he doesn't. Plus, let's face it, the irony in this happening has long been a feature of the Wigan Athletic fans' psyche, whenever a former player returns. I obviously hope he doesn't, but hope is not a strategy. We have just got to ride this out. And one day, maybe next week or next month, or at some point this year or at some point next year, we will wake up and something good WILL absolutely happen, and we will leave all this destruction behind us. In the meantime, we just have to quickly forget each bad day at the office knowing that, even if there are more bad days to follow, we are at least one day closer to eventually having a good day. We will come out of this mentally stronger. Because if you're still with us after these past nine months, then you can cope with absolutely anything that football can throw at you.
Well the 'Tics sit rock bottom of League One now, and the natives are VERY restless on Twitter – myself included – and who's to blame? EVERYONE, starting at Stanley Choi, his invisible mate, the gorps at the EFL, the clowns at Begbies, the management, even the players? All of the above I'd say, yes even the players. This is a hard one, because they've come in (through the Academy) or come here (the journeymen) to help us try to stay up and get out this mess. But at some point they have to hold their hands up and take some responsibility. They're all professional footballers, and some of the defending in the last few games has been nothing short of comical... except it isn't funny. I'm not naming names, but we all know which players are having a stinking time at the moment, and it's up to them to sort themselves out or it's quite simple – we're going down. We are by no means cast adrift, so there is still hope IF the players cut out the stupid errors, and the strikers actually have a shot. I know we've injuries, that's not helping obviously, but the players who are on the pitch are better than they're showing at the moment. Let's all hope they can see that. Off the pitch, it's still Groundhog Day. Another week, another investor claiming to want the club, this time from Australia. The Bahrain lads are supposedly getting cold feet at the prospect of League Two next season. Cheers Begbies for selling everyone for pittance – sorry 'market value' – and even letting the much-admired youth team lads go to free up spaces for experienced pro's. The saving grace for Stanley and the ever-quieter Gerard is we aren't allowed in the ground because, mark my words, it wouldn't be the free ride they're getting now from the fans, while they sit on their hands racking up bill after bill for literally doing nothing in eight months. I also feel it's time for the Supporters Club to open its collective mouth and tell us fellow supporters what the hell is going on. They are custodians of £800k of our money, surely we have the right to ask questions regarding where we're at? The atmosphere is getting toxic again because of one reason – we know nothing, nobody tells us nothing. And we need answers or I fear we are going to just limp into being liquidised without even putting up a fight. Right, I'm off to sink a cow's mouthful of 'Bow. UP THE TICS!
As we approach the one-year anniversary of the last time we were let in the DW – a drab 0-0 draw against Luton – we'd all love to be in the ground for a drab 0-0 against anyone right now. During the initial behind-closed-doors football, we had a team that went on a glorious run, one we all thought – with a couple of additions and the young lads coming through – would have a real good chance in the Championship this season. Then... BOOM... our football world comes crashing down on top of us. The greatest fantasy writers in Hollywood couldn't have scripted this. We've had more villains to make 10 James Bond movies, with no Bond girls to ease the pain. Back to the present day, and it's not so much Groundhog Day but Groundhog Week (again), only with the addition of some lads from Australia thrown in. Will this saga ever end? Stay Safe.
A week has passed since the 'Miracle at the Memorial Stadium', and the novelty of Wigan Athletic's last victory against Bristol Rovers has all but completely worn off. During our last two matches, we enjoyed large spells of positive play where we've limited two quality opponents to few scoring opportunities. We kept the league's form side, Peterborough, at bay for 80 minutes on their home pitch. We also made a promotion-contending Charlton side look average for large portions of Tuesday's match at the DW. Yet Latics came away with nothing from each match, and once again sit rock bottom of League One with 14 matches remaining. Over the past few months, any optimism surrounding Latics' survival chances came primarily from the poor form of the teams around us at the bottom. Now that many of those teams are starting to win matches, while Latics remain in poor form, a sense of doom is starting to spread throughout the fanbase. If you took the current squad in its entirety, and selected your best matchday XI along with substitutes, many would have selected a team that has as many as six or seven current players who are out with injuries. Some of those players, such as Will Keane and Callum Lang, will hopefully return for Saturday's match against MK Dons. Others, like Tom Pearce and Kyle Joseph, may not return this season – and could have possibly played their last matches for us. There is also Lee Evans, who has been out for three months, but whose presence alone in the central midfield could elevate Latics to better playing form. As frustrated as fans are with losing five of their last six matches, an even greater sense of restlessness seems to persist regarding our impending takeover.We are now in March, which is the month the administrators told us to expect a completed deal. We have sadly been hearing 'next month is THE month' for half of a year now, and are approaching the point of being too low to be let down by disappointing news. With so few updates shared over the past several weeks, it is easy to assume the worst and that no progress has been made with the most advanced parties. I have limited knowledge of what's going on behind the scenes, but it's my not-so-expert opinion that winning matches will accelerate the takeover with great gusto. MK Dons, Plymouth Argyle, and AFC Wimbledon await Latics over the next week and a half. Each side currently sits 12th or lower in the table, and each have taken exactly seven points from their past five matches. If we are to make a real run at 20th position and safety, it has to start with this stretch of games. Can we eliminate the self-inflicting defensive lapses? Can we find our shooting boots and exploit an MK Dons side that has conceded 11 goals in its past four matches? Can we limit the impact of Will Grigg, just as we did three months ago at Sunderland? Based on the performances of the past several matches, I believe we're ready to turn our form around.
Another week, another myriad of rumours about potential buyers, another week of losing football matches through our own naivety / bone idleness, another week were Mr Richardson et al have to try to lift a bunch of players thrown together at short notice, and a fan base becoming more and more disillusioned with what is happening at our club. I have to say, some of the criticism I keep seeing of the supporters club, and other people who are working with and for the club, is disgraceful. The supporters club, our MP and others can't just come out with statements because some of our fans get twitchy about rumours, they can't publicly side with or against potential buyers, they can't come out and criticise the admins, or give us any information that could jeopardise the sale of the club. It may be frustrating, but people need to realise there are one or two shady individuals to blame for all of this – picking fights with folk who are trying to save the club, should nobody else step in, is not the way to being going about things. Anyway, back to matters on the pitch, it's depressing, and excruciatingly painful watching us struggle at the bottom end of League One. People making horrendous errors and losing concentration each game is costing us dearly at the minute. Try to keep your heads up folks, I've spoken to numerous Tics in recent months and we're all feeling this helplessness and negativity, it's hard to not let it creep into your home life at times. The team need players back from injury ASAP like Evans, Merrie and Lang, and we all need to hear of progress on the takeover front, the club is aching for some good news, on and off the pitch. Reading Paul Stanley's quotes about everything being quiet on the takeover front is very, very worrying, and it's hard to be positive about anything related to Wigan Athletic right now.
Last week I wrote about signs of life, I apologise. I don't know what came over me, for any signs of life in Wigan Athletic have surely been choked out of us in the last seven days. Let's tackle on the pitch matters first shall we? That last minute winner from Scott Wootton already feels a life time ago, in fact it was only ten days ago. So much of the last year for Wigan Athletic feels like a lifetime. So on to Peterborough last Saturday, as with the previous Saturday Latics outplayed the league leaders for long periods of the match. It was no surprise to see Latics go ahead through Thelo Aaasgaard but it was even less surprising to see Latics capitulate and concede two goals in a crazy three minutes. Leam Richardson's side had been far the brighter side, the side more interested in playing football the side who looked most dangerous but until we cut out individual mistakes and begin to take our chances at the other end of the pitch then we're never going to be favourites to hang on to a lead. No one expected us to go to London Road and come back with three points but the fact is until the 82nd minute this was the outcome we were looking at. To come away with nothing, not even a point is yet another dagger to the heart. It's also another game down and unless we start putting some form together there is only one way this season ends and it might mean trips to Harrogate, Crawley and Newport next season. Tuesday was another ideal opportunity to get a win under our belts, especially at the DW Stadium where we have been in truly terrible form in the last few months (last win at home came over Accrington way back in December) but once again a defensive mix up conspired to hand three points to Charlton and another defeat for Wigan Athletic. It's so much more than another defeat though, it's another dagger to those survival hopes. Be that in terms of the League or as a club regardless of league. So on to another week in the Big Brother house with Begbies Traynor. Last week we had the laughable situation of the administrators using a weekly update to inform us there would be no update this week and no update next week either. Some people of a more optimistic nature than myself took that to mean the takeover with our mysterious Bahrainian suitors was close to completion but as with every proposed takeover of Wigan Athletic since July rumours were abound that the Bahrain consortium had pulled out. This doesn't seem to be strictly the case but they certainly don't seem to be in any rush to complete a takeover, which doesn't help us in any way shape or form. This was complicated by subsequent announcements of bids from Australian investment groups and a Malaysian-backed bid on Wednesday and Thursday morning respectively. Paul Stanley muddied the waters further saying he hadn't heard anything of an Australian bid and that although there still hadn't been a takeover there wasn't much he could do about it.
That kind of approach wore thin a long time ago, we have now been in administration since July 1 – eight months now. To be no further on from the day they walked through the door is a terrible indictment of this whole process. Begbies say there will be a positive resolution and the EFL say we won't be allowed to fail, neither party point to how that can actually be achieved. Time is quickly running out, we will not be allowed to start a second season still in administration. The next EFL season is due to start in August. Less than five months away, I genuinely worry for our future. Gone are any hopes of staying in League One this season the aim now is simply to keep league football in Wigan. The Supporters Club may be reluctant to discuss the possibility but they may need to step in to at least take the club out of the administrators hands – even if that means taking the penalties and all the other destruction that goes with it. The clock is ticking and I have no faith in Stanley, Krasner and Watson to heed the sound of that ticking.
Get 20% off our sports subscription package and stay up to date with all the latest Wigan Athletic news with a year's subscription to WiganToday for less than 9p a day. Use promo code TRANSFER20