Wigan Athletic: The 12th Man - 'There's no reason whatsoever to be openly hostile, but to keep a keen eye on any potential new owners and scrutinise their plans properly is reasonable...'
Our panel of Latics experts have their say on the current takeover situation...and a 'down and up' start to the campaign...
Published 9th Oct 2020, 10:42 BST

- 7 min read
Updated 9th Oct 2020, 10:44 BST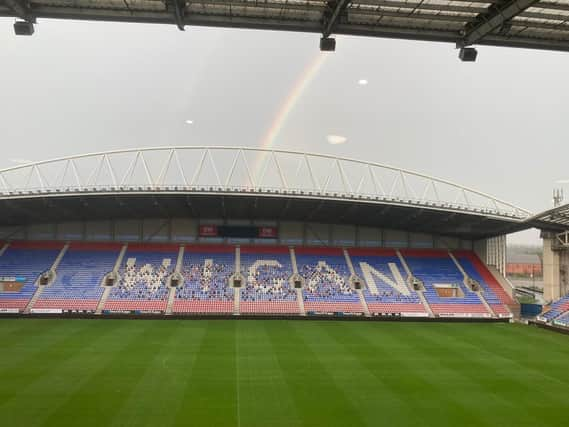 On August 8, 2015 we made a less-than-glamorous return to League One after a 13-year hiatus from the third-tier of England's professional football pyramid. We suffered a humbling 2-0 defeat at Coventry City that featured an 18-year-old Adam Armstrong being denied a late hat-trick only by the left goal post. It was a disappointing performance for a squad that entered the season with very high expectations. We had spent 'Championship' money to obtain Championship-calibre players. A return to the Championship seemed like a given before the first ball was ever kicked that season. Fast forward five years, and our first four league matches of the 20/21 season have surprisingly produced two more points than our first four league matches of the 15/16 season. So, what is the difference? In 2015, we knew it was only a matter of time before the squad would gel and hit a run of form that would elevate us to the promotion places in the league table. A 20-match unbeaten streak in the league from late December to early April proved our assumptions right. At this moment in time, the person who can correctly predict our final league position will be a member of a group more exclusive than the Royal and Ancient Golf Club of St. Andrews. During that first League One campaign, and during the following one in 17/18, we were spoiled as a fanbase. We faced little adversity on our way to both season's first-place finishes. Everything we thought we deserved, we took with little resistance. The first half of last Saturday's Doncaster match was a prime example of how the tides have shifted. Even on our home pitch, teams in this league will now relentlessly attack us and try to put us away by the half-hour mark. By half-time, we were bent every which way out of shape but had not broken. Subsequently, the second half produced our finest 45 minutes of football against a first-team outfit we had seen yet during this young season. We held possession with competence, defended with confidence, and converted just enough of our attacking chances to secure three points by the final whistle. Regardless of what Doncaster 'deserved', we were the side that earned victory. After the injustices of last season, the word 'deserve' should no longer be in the vocabulary of Latics fans. We earned victory with a centre-back pairing of a natural left-winger and a 21-year-old loanee making his first-ever start as a first-team pro. We earned victory with six academy players in the squad – two of which started. We earned victory because the chip on our players' shoulders did not weigh them down, but rather propelled them to excellence. The Latics I watched against Doncaster are a team I can really get behind.
Wigan Athletic are always good for news. There is always a story to be had, and the latest saga is no different. It was revealed this week our supposed new owner is the nephew of a famous Spanish lion tamer! Cue the wags on Twitter calling for such things to be rolled out at half time on matchday. I know the last few months have felt like a circus at times, but I think that is stretching things. Can't see it getting past the health and safety inspectors, but I am not ruling anything out the way things have transpired. On the field, the team rode their luck last weekend, Doncaster should have been out of sight by half time. But a mix of poor finishing and excellent goalkeeping from Jamie Jones kept us in it, and when the chance came we took it and got all three points. We will take that, we were on the rough side of many a similar game last year, so swings and roundabouts and all that. It seems likely the purchase of the club will go ahead before the end of the month now – subject to legalities, EFL approval, and countless other procedural things – and until then, it's just a case of keeping positive and getting whatever we can on the field. So far, so good. It can only get better.
So the Spanish fella has been named, and it's just a waiting game while our best mates in all this – Krasner and the EFL (not) – sort out the paperwork. His model of working in Spain seems to be stabilise over a couple of years and sell on. I don't know what his plans will be for us, but anything is better than where we are now. It was a great performance against a strong Doncaster team for back-to-back wins. Onwards and upwards on the Spanish Galleon that is Wigan Athletic – unless the EFL do a Sir Francis Drake and scupper us. Stay Safe.
Well everything is still crossed that these buyers are deemed sufficiently fit and proper by our friends at the EFL. I'm going with 'no news is good news' and, by the end of the month, we may well be cleaning up the 'Believe' bus once again, while eating tapas obviously. The win at Portsmouth, followed by the defeat of Doncaster, has definitely whet my appetite for an enjoyable season. We've got a nice blend of youth and some experience, which suggests we may be looking up more than down this season, and I hope that is the case. The Doncaster victory in particular was excellent, given they'd scored seven goals in their previous two games and were playing really well. Credit to John Sheridan as well. To be honest, I wouldn't say I was overly excited when he came in. However, we've seen some good results and signs of the Wigan Athletic fight from last season. October is a busy month for fixtures. However, given the potential for new ownership being in place by the end of it, let's see how we get on on the pitch, and then the new owners may have a decision to make in regards to who occupies the manager's role. Fingers crossed fans may be allowed back into stadiums soon. Like many, I can't wait to be stood somewhere in the East Stand belting out 'YAMS' with some socially distanced like-minded souls.
It's been another topsy-turvy type of week at the Dave Whelan Stadium (I wonder how much longer we'll be calling it that post takeover). Following the highs of the news of a successful bid being accepted for the Latics, and another important win over Doncaster, Tuesday saw the link of the name of one of the potential bidders and a humbling defeat to Port Vale in the EFL Trophy. Let's tackle the name linked to the takeover first – it was interesting to see a name revealed for the first time, but in reality it's only part of the story. The administrators mentioned a group of bidders so, although we have a name, it certainly isn't the full tale yet. The news was leaked by 'The Business Desk' website, who have a decent track record in this sort of information. Whether our potential new owner would have wanted his name revealing yet is another point. I've not looked as much into his background as I would have liked to yet, but it's clearly not the major club link-up some may have thought could have been in the offing. Instead it's a moderately successful businessman based in London and originally from Madrid. He's had various interests in Spanish football clubs and, from the little I can find on the web, seemingly did okay. He rescued Albacete and managed to get them from the brink of bankruptcy to the Segunda League, and then sold them on to a group with more financial fire power. There are worrying elements on the surface of it, and it's that where Wiganers have to be wary. There's no reason whatsoever to be openly hostile, but to keep a keen eye on any potential new owners and scrutinise their plans properly isn't beyond what should be expected. This is where the involvement of the Supporters Club is key, we need fan involvement and we need supporter representation to ensure this last few months never happens again. Let's see what comes of the next few weeks. Gerald Krasner in this newspaper on Wednesday announced they would be out of the door by October. We shall see if that timeline transpires. Away from the boardroom, it's been as busy as ever on the pitch. I missed Saturday's match but, from reading the reports, it sounded like an excellent win. We may well have rode our luck at times, but to keep a clean sheet against a free-scoring Doncaster team shows our resilience is growing. Joe Garner getting his fifth goal of the season was another boost for John Sheridan's side, and it's so important we keep the captain and the remaining senior pro's fit. In contrast, Tuesday's match with Port Vale was very much men against boys. It was good to see our young lads get a run out again and, if not for some poor defensive mistakes in the first half, they could have got something from the game. Attacking-wise, we looked dangerous, especially in the last 15 minutes. The defence definitely needs reinforcements, though, especially with Danny Fox's departure to India. It's a Covid-19-ravaged Crewe next up on Saturday.
In normal times one of the highlights of any League One season. A quick train from Manchester, followed by a lunchtime in the Belgian Hops Bar, before taking our seats at Gresty Road among 2,700 other Wiganers. Not this season, sadly. But as the world begins to implode again, it's important to remember those days will return. We will be back on the terraces one day, and we will be back in number, travelling across the country with our friends and family. Until that day, stay safe and look after each other.