Wigan Athletic: The 12th Man - 'We are sick of their Friday updates, which we are expected to be grateful for, even though they only serve to obfuscate even more and ruin many a weekend'
Our panel of Latics experts continue to plough through the 'purgatory' of another week in administration - and the League One relegation zone - and desperately look for some positives to cling to...
Published 22nd Jan 2021, 11:21 BST

- 16 min read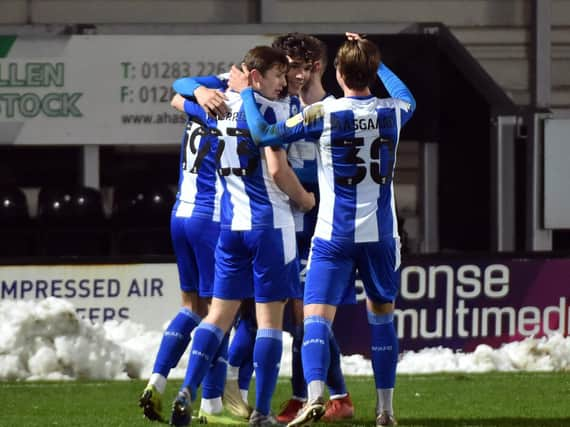 Another week in purgatory flies by, 206 days in total now. Not that anyone is counting. I'd like to perhaps talk about the on-field activity this week but I can't promise it will last, as one is inextricably linked to the other. Now, more so than ever. So when Rochdale went down to 10 men last Saturday, no doubt many Latics fans were rubbing their hands, maybe some of the players were too. Yet that lack of experience came to the fore once more, as a wily and energetic Rochdale side made light of their player deficit to steal an equaliser. I can't get angry or recriminate right now, because that essentially is our Under-23's team out there wearing the shirt and they are learning with every game. Fleetwood are up next, and they have also struggled since the exit of Joey Barton. Was this perhaps linked to the inglorious exit of Ched Evans a few days earlier? I'm fortunate enough to be able to offer a different perspective on the 'Joey Barton Experiment' here. A couple of years ago, we did a charity walk to Fleetwood to raise funds (£36,000!!!) for Joseph's Goal. Not only did our CEO, Jonathan Jackson, join the walk but we also had the Fleetwood chief exec, Steve Curwood, join us for the final day' to walk the full length of the Fylde coast from Blackpool to Fleetwood. Now I must say, it feels that football clubs, certainly in the higher echelons of the Premier League, are as distanced as they possibly can be from the fans in these times. So, to get such support from both football clubs, was massively appreciated. Fleetwood could not do enough to help us, they looked after our bags, they let us go on the pitch for a photo shoot and even gave me 50 beer tokens to get each and every one of the walkers a free pint in their Supporters' Club after the game. At this point, a few of them might discover I might have accidentally supped their free pint too, whoops! Pre-match, while walking up the promenade, I got talking to Steve, and at this time the Joey Barton appointment was imminent. I asked why. Why, Joey? He hadn't at that point got any managerial experience whatsoever, indeed, he still hasn't, other than at Fleetwood. Steve explained that, as a smaller club, they had to look outside the box and get creative when it came to finding a good fit. They couldn't necessarily afford or attract a higher profile, experienced name, so instead they took a punt on someone up and coming. Secondly, we've all got opinions on Barton, and by that I mean the person, not necessarily the footballer-turned-manager. Steve explained they had lost their edge and perhaps needed to be a bit more nasty in their approach to the game. He actually used that exact word, 'nasty', but I don't take offence at it, I get what he was saying. I've always said at Latics, when we are at our best, we are a fierce, attacking side and partial to more than a touch of, erm, how can I phrase it, in a family publication….fond of using the outside toilet. In order for a club like Fleetwood to punch above its weight, they have to use every weapon at their disposal. And to be fair, for Fleetwood to reach the League One play-offs, shows Barton did indeed take the club further than it had ever been.
Returning closer to home, I can't help thinking that, although we are desperately lacking in experience, we are also short on identity right now. And it's not surprising really, given the squad was ripped to pieces over the summer. When we have that identity back, and it may be slightly different from our previous one, we will have our football club back. We will be able to see out games like the one at Rochdale. Now, I'm not advocating appointing Barton, or even his methods. We have two brilliant people in Leam Richardson and Gregor Rioch, who I think we would all be happy with long term, if they were willing to stay. But they are both working with their hands tied behind their back right now. If we can emerge out of admin, even if there is such a hangover that we end up in League Two, we are a football club with tremendous principles that have been forged over time: beating the odds, punching above our weight and playing great football. We turn footballers into better versions of themselves, develop and then sell them for a big profit (in normal circumstances, when Begbies aren't running things). We have a tremendous community spirit, and this football club does things in the town of Wigan, far beyond its remit. So many players who come through the door completely get this ethos. Just how many past players describe their time at Wigan as the highlight of their career? Not Josh Windass. But so many others do. We've got something special here, and it will be special again. We just need to get these admins out ASAP, and get away from our current nomadic football status. We are sick of their Friday updates, which we are expected to be grateful for, even though they only serve to obfuscate even more and ruin many a weekend. Like many, I was sceptical at first about Tony Frampton and possibly correct to be so. But then when it looked like he was going to progress the deal, I was also happy, as I was initially with the Spanish. It doesn't matter who it is, as long as we get somebody owning our football club. Well, it does matter, but you get my drift. I hear whispers about other bidders now looking to buy us, and dearly hope it comes to fruition. But then, as others have said, if we end up getting into bed with a bad owner, it will only end in tears again. The bottom line might be that nobody will buy us. But there will always be a Wigan Athletic, and I know a handful of people are working tirelessly to make sure that happens. Sure there would probably be more pain, a 15-point deduction and relegation, and a scaling back club on the field for a period of time. But we will get through it, and rise again once more with a club we can be proud of. If we had to drop out of the league, that would be an awful, awful situation. But would I give up watching a football club I have given over 35 years of my life to, if that happened? You are joking, aren't you? From despair comes great resilience. The good ship HMS Wigan Athletic is still in very choppy Latics waters, and may even be heading for an iceberg. Yet, in true Latics style, we will smash through it, pick up the pieces and rebuild a bright future. Maybe not now, maybe not next week or even next year but we will, So, stick with us.
How much more of this utter storm can we, the supporters of Wigan Athletic, take? It's now seven months of lies, false promises, hope, despair and uncertainty, with our club being no nearer a sale than we were at day one. When Larry, Curly and Mo from Begbies rocked up and told us there were '30 interested parties', no -one could foresee the next seven months of Krasner talking to anyone with a phone, mic or camera, promising everything, delivering nothing...and Stanley playing chairman, ending up calling folk 'uneducated' for daring to question what the hell they're actually doing to sell our club, while pocketing £1.6 million and rising in fees. Tony Frampton has now walked away, apparently because he can't work with Begbies, for reasons only he knows. Whether this is true or not I've no idea, but maybe if he'd put the £300k deposit down to ensure exclusivity that would've been a start. Looks like the stadium roof, hospitals, schools and monorail will have to wait for now. He was another tyre kicker in my opinion. We're really back to square one again and, for the first time in this whole debacle, I genuinely feel worried for our future. I just don't see where a new buyer is coming from, when you've had every asset you've got already sold by Begbies. And let's not forget the 'no fire sale here' remark at the beginning of all this...yeah right I can see one man sitting smoking a cigar, though...Mr 'Two Teams, One Town' himself, Ian Lenagan. Because if we do go under, he'll pick that stadium up for pittance for them – his goal from the start, I believe. Again all we can do is wait, hope and pray for a white knight to get Begbies out of our club, and give us some kind of club. Because the thousands of fans in this town deserve it. For a lot of us, it is our life, it is our club and it needs saving. It shouldn't be allowed to just fade away because of the ineptitude of the very people that were brought in to save it. Right, I'm off drowning my sorrows with a cow's mouthful of 'Bow...
Well let's all take a minute and pause for thought at the sheer affront of Paul Stanley to go on national radio and moan at not having a holiday and calling Latics fans 'uneducated'. Well first off, Mr Stanley, the 70-plus staff made redundant won't be going on holiday either. Nor will they be getting a share of what could be up to £2.5m for your services of asset stripping a club to the bone, and wasting three months on exclusivity to chancers. Away from the circus – and the heartbreaking, last-minute equaliser at Rochdale – the team seems to be getting stronger by the week. Hopefully Callum Lang and Kyle Joseph can form a decent partnership.
Ripped to shreds, torn apart, and left to rot. That pretty much sums up what has happened to the football club over the last six months or so. And the more time ticks by, the more damage is done. The mechanics of administration mean the administrators get paid, they are top of the list, and experience now tells us that they will manage to engineer the route where they will get their cash no matter what. Begbies arranged and gained agreement from Au Yeung that the sales of the properties would pay their bills, so there was no time wasted in disposing of both Euxton and the Chippy. The disposals were done quickly and efficiently, leaving a pot of gold tucked away nicely in a bank account awaiting transfer when this sorry saga ends. They are well versed in making money are Begbies. What happens to the actual football club next is anyone's guess. Personally, I believe we will get bought, maybe for £3m, but unlikely, maybe for £1.5m, possibly, maybe for even less, most likely. Anything that doesn't clear the full whack that is needed to avoid the 15-point penalty will again hit the club hard, and we could be looking at the fact we are non-league in 18 months time. That is a stark possibility. The fact we are still in this position seven months down the line is absolutely horrendous. I do hope in the fullness of time all the details are released about everything that has gone on, because it needs to as there are so many unanswered questions. On the field, we are all excited about the Lang/Joseph partnership - but again there is every chance Joseph will be sold in this window. Given how short on cash we are, all it will take is a stronger bid from the likes of Spurs or Celtic, who have both been linked, and I think he will go. The same applies really to any other member of the squad as well. Don't forget Begbies' primary duty is to realise as much cash as they can for the creditors, so they won't hesitate if the chance comes. We have seen it time and time again over the administration period and it has, by all accounts, caused bidders to think again. I was looking forward to the monorail and the sliding roof, but it appears the Frampton bid is over. That was such a bizarre thing in the first place, but I am really looking forward to any interview he gives now, to open up the reasons for withdrawing. When all the dust settles, the fact that it will have cost £2m to sell the football club will surely lead to some reforms within the game and the insolvency process. But as we all know, greed is king in football, so I very much doubt anything will change. Good luck to the next team that drops into the pit. I just hope we have enough left to climb out of ours.
Another week in administration has passed and presumably no progress has been made on our takeover – or maybe there has. As of last week, there were 11 active parties still reportedly interested in buying the club according to our not-so-good friends at Begbies Traynor. With that information, one would think there would there be frequent updates to share with all the supposed activity occurring behind the scenes. In addition, it would also make sense for interested parties to move with the utmost haste considering how urgent this takeover is for the short-term and long-term future of Wigan Athletic. Yet, even being well into month number seven of this saga, a clear line of communication between the administrators and the public has not been produced, which has left many of us enraged. There are claims that some prospective buyers wish to stay out of the public domain, while reported NDAs have prevented a great assortment of additional information from being shared. At this point in the process it makes more sense for NDA to mean 'News? Don't Ask' or 'No Deals Allowed'! The administrators have a difficult job but, if they are going to justify their exorbitant hourly wages, they must be held accountable for their failures. If you told me one year ago we would be paying fees just short of £2m for lads named Stanley and Krasner who were unbeknownst to the rest of the footballing world, I would've thought we were doing shrewd business to bolster our squad with young developing talent. Seeing Gerald Krasner is 72 years old, I don't think he would help our club on the football pitch, and unfortunately hasn't helped our club by making a proper business pitch either. On the surface, it appears as if Begbies totally mismanaged the Spanish takeover – completely wasting three crucial months for the club. Now, during the single month of the season that will have the greatest impact on our future of the club, we are expected to maintain hope a successful takeover will occur over the next week. There may be a better chance of Krasner being our answer at centre-back than securing owners for Latics before the end of the month. With each passing day, it only makes sense to assume we are one step closer to selling our remaining player assets, receiving a 15-point deduction for failing to pay non-football creditors, and accepting a fate that includes certain relegation this season. Our last match at Rochdale almost served as the perfect microcosm for how our journey in finding new owners has gone. We took an early hit to the mouth (losing the French-Americans), responded strongly with a few goals of our own (initial news of Spanish takeover), experienced a lull where we failed to put the match away (subsequent months waiting for EFL approval), and thought we surely had the match won in the closing minutes of normal time (Spanish transfer of funds prior to the new year). Rochdale's late equaliser in the closing minutes of stoppage-time provided a punch to the gut nearly as painful as the Spanish walking away from their deal. The match ending a draw represents there being a near-equal amount of positives and negatives to take away from the result. Perhaps the Spanish were never the right owners, and a better option still awaits us. On the contrary, maybe we missed out on our only good option given the circumstances at play. Seconds on the clock tick, and with a pivotal window set to close on Latics soon, may the Tics' second shot at new ownership manifest before the repercussions are too great to overcome.
Well, erm, right, soooo, erm, where do we go from here? The most vocal potential buyer is now gone, all the other buyers seem to be a myth or clearly don't have the funds or desperation to buy our club, the admins' costs and professionalism have been called into question, in-fighting and arguments between some fans on social media, fans giving up hope of anything positive coming to light, our young players on the verge of leaving for pittance now or nothing in the summer...and some, ahem, not so favourable characters waiting in the wings to 'save' the club if nobody else will. I have to say the last few weeks have felt as bad as the first few with regards to the administration. It's hard to concentrate on anything in life except the future of our club. I find the conspiracy theories about the admins driving bidders away hard to believe. If I had legitimate money and wanted to buy this club, I would have done it, and no NDA put in place by an administrator would stop me going public if I felt someone was blocking me for no good reason. The one shining light is the emergence of some great young players, and an absolutely lethal looking attack. However, I'll not get too excited, as it's likely one or more of our excellent youth set-up will have to leave soon to fund us for the rest of this season. Get your lottery tickets on folks!
For what it's worth, I believe Tony Frampton's interest was genuine. I believe that his interest in the wider infrastructure stuff was genuine too. In (at least) one of his interviews, Frampton said they'd undertaken similar projects elsewhere. They apparently follow the Manchester City model, whereby there's a degree of development and/or urban re-generation, so, surely this will peeve the Council into making some kind of protest to the Admins, to get them to apologise to the group, hopefully regain their interest, and then get their finger out and get the bloody deal done (I have to admit, I'm not very optimistic on this front). However, with only a little afterthought, there are some obvious follow on questions to the interviews and, given all the tyre kicker and fantasist allegations - cos apparently, he'd convinced 'no-one' - there'd be no better time to provide some answers. You know, a little like Jim Bowen at the end of Bullesye: 'Look at what you could have won', while flashing the Vs to the unbelievers. It probably won't happen, but just in case, here are the questions:
* You say you're heavily involved with other sports enterprises, not only football - which ones? Which teams? How are they doing?
* You say you have a 'specialist division which deals with the sports aspect of our investments' - what's it called, as it's not clear from the list of companies attributed to ASJ.
* Re the infrastructure stuff ('hospitality, schooling, hospitals, transport'), given you said the business empire is around commodity trading - what experience do you have in such infrastructure projects? Have you done anything similar on other cities, with the other 'sports enterprises'?
*When you talked about marketing, and growing the fanbase etc - were you able to do that with any of the other 'sports enterprises'?
So, come on Tony, rub our noses in it. Tell us all what we could have won.
No one could ever claim the relationship between administrators Begbies Traynor and Latics fans have ever been all rosy, but relations soured even further this week as another dramatic 24 hours revealed the increasingly worrying mess we're are in. So let's recap before we speak about the comments made on talkSPORT by 'two clubs' Paul Stanley. After a reported week of frustratingly difficult discussions, the Frampton group pulled out of the race. Hot on the heels was the first sight of the latest administrators report, which covers the period of July 1 to December 31, 2020. The timing was certainly less than ideal for a fanbase hurt, scarred and bereft of any tangible positives to cling on to over the last seven-and-a-bit months. The headlines from the report included Begbies Traynor's time costing an eye-watering £370 per hour. On top of that, the administrators have already agreed an uplift of one third of their time costs. Furthermore, the administrators anticipate further costs in relation to time with estimates ranging from between £300,000 to £600,000 (dependent on a successful sale). Yet that isn't the most alarming element of the report. No, that actually comes from the total of £9.27mreceived in relation to player sales...for TWENTY SEVEN players! The majority of those coming from our first-team squad that represented some of the best talent ever assembled here. Not to mention some of the finest youngsters in England in the form of Alfie Devine, Joe Geldhart and Jensen Weir. We've basically sold everything not screwed down for less than Brentford paid for Ivan Toney. To make matters worse, Begbies have actually employed someone to facilitate those bargain basement sales, Yatin Patel from Keith Harris and Partners has been paid £120k to date. As many have said, Orville himself would have done a better job. In fact, they could have asked Jonathan Jackson to facilitate these sales, and he'd have done a damn sight better job – and not charged us £120k in the process. Administration is a nasty business. It is tough, it is heartbreaking, and very rarely will you end up in a better state than when you started. But as I seem to say every single week, there is absolutely no reason why this administration should have been as painful as it has been.
Paul Stanley (sadly not the one of Kiss fame...I'd imagine he was more personable) was back on talkSPORT on Wednesday. Despite making a big play on his 'common football man' persona, season-ticket holder at Manchester City and Stockport, a bloke who knows what's what when it comes to football fans, he managed to come out and accuse our lot of not having the required 'education' to comment on administration, so we should keep our noses out. Paul, if you're such a big football man, surely you can see why so many fans are so angry right now? He also mentioned neither he nor the other administrators had managed a holiday since July. I don't think many of us would have managed a holiday during a global pandemic, but hey ho. The final salvo was Stanley stating he wasn't media trained. Probably the only truthful statement we've had off him. It was also revealed 'the guys back in Hong Kong' would be receiving the money from the properties and, as apparently this isn't club money, we shouldn't worry about it. But Paul, here once again, you are wrong. Those assets were ours. Assets left to us by Dave Whelan, to ensure our club would have a secure future. Not so two chancers from Hong Kong could literally gamble away our future. It's been an unhappy relationship between club and administrators, but I think relations must be at the lowest ebb yet after this week. For the normal, everyday people who have lost their jobs and their livelihoods through no fault of their own...how must they have felt? It's not even close to the anger the supporters are feeling. It's even worse. We are on the precipice, with no clear frontrunner to buying us. Administrators who couldn't give a damn of where we end up, and a pandemic preventing fans from gathering and making their voices heard. In whatever form it takes, we must survive. But I'm less confident of survival than I was four days ago, let alone four months.
Get 20% off our sports subscription package and stay up to date with all the latest Wigan Athletic news with a year's subscription to WiganToday for less than 9p a day. Use promo code TRANSFER20