Wigan Athletic: The 12th Man - 'We still don't know if we'll be Bury or Bolton. I don't know who will own Latics, or who will own the stadium. All I know is we deserve better than Gerald Krasner'
Our panel of Wigan Athletic experts have taken just about all they can take from recent events...and just want the administrators out and their football club back.
Published 5th Sep 2020, 11:12 BST

- 12 min read
Updated 5th Sep 2020, 11:26 BST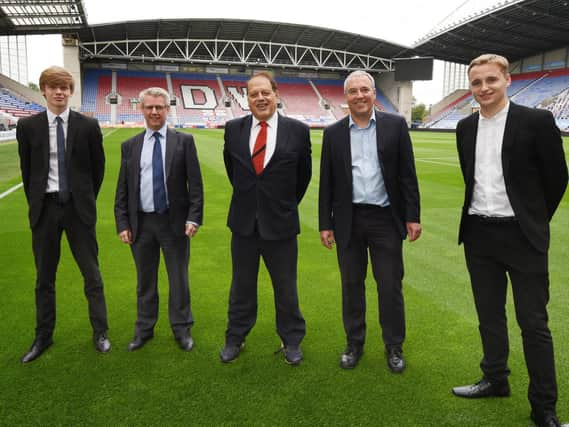 I'd like to start this by saying "So, here we are then". Except I can't. Despite weeks of having to watch the club and team being systematically ripped apart by administration (and administrators), and a deadline of Bank Holiday Monday for it all to be sold, we're still no nearer to actually knowing what's going on. Over half a million pounds raised in just a few days may or may not have had an impact, we truly have no idea because Gerald Krasner seems too busy objecting to Channel 4 News interviewer's questions and threatening people on twitter with legal action to actually do his job. When Norman Smurthwaite announced his interest, I got half a dozen texts from mates in Stoke telling me the full story of what he did to Port Vale, namely constantly undermining managers, threatening to put the club into administration every time they lost a game, and making players eat last week's unsold pies for their training ground meals. Hopefully, Smurthwaite is now just a bullet dodged, as even he got sick of Krasner's messing about, but we still can't be sure. Which leaves us with the American consortium and the Supporters Club/fan 'bid'. Ian Lenegan is a different story, as he only wants the stadium, not the club. This, in itself, would also be a disaster, in my opinion. The many stories of football clubs that lost ownership of their stadiums have rarely ended well. According to reports, it seems Krasner's self-serving approach is causing the Americans to baulk at making a formal bid. Despite Krasner stating enough assets had been sold to fund the club for two or three months, he's still selling everything we have at a knock-down price. We now find that Cedric Kipre has gone for £1million, a fee that is laughable even in administration. Kieffer Moore had a £4m release clause in his contract, and we sold him for half that. Moore's performances would have had Championship clubs queuing up to pay full price for him, but Krasner decided it was better to all-but give him away. As you might be able to tell, I'm no fan of Krasner. Unfortunately, the purpose and role of any administrator is not to care about the business he has been brought in to run, but to make sure creditors get paid by the realising of any available assets. However, it seems Krasner embraces the role with a relish beyond attempting to pay creditors (of which we have very few, actually), and he currently appears to be operating a policy of sell and be damned. Our season starts this weekend, and we still don't know if we'll be Bury or Bolton. I don't know who will own Latics, or who will own the stadium. All I know is we deserve better than Gerald Krasner.
I fell in love in 1979, I had flirted and had the odd date from about 1975. This was a warm Good Friday, Port Vale were winning 3-0. I think we had passed the hour mark when Derek Brownbill was introduced as a sub. I was told some people were throwing their season tickets at the manager and were heading home. Brownbill, Micky Moore and three from Peter Houghton turned that game around, and turned my life around. I made a lot of friends that day – you were allowed to hug in 1979. Since then I have never left a ground early while watching the Tics. You never know what is going to happen with this team. In 1979, I had a dream about seeing a sea of blue and white at Wembley. Various Freight Rovers and Auto Windscreens and play-off finals and anniversary games, partly realised that dream – all great days. But the FA Cup Final in 2013 was that moment I had seen in my head. What a glorious day. My brother was filming us after the match, I was like a wet rag. When we do something special I find it difficult to speak, my body really isn't tuned to Wigan Athletic winning big games. In fact, a mate once asked me if I was one of those people who cried when their team wins and not when they lose. I nodded, ruggedly. Dreams have come true with the Latics, but since July 1 it has been a nightmare. I am at a loss as to how someone was allowed to take over our club and then mug us in broad daylight – the EFL are either blind or stupid. And then the team, all legends, almost dragged us out of this mess, unfortunately a weird refereeing decision stopped that dead and the faceless officials had their day. I am proud that fans and former players have joined together to raise an astonishing amount of money, but all of the Tics know there's something special about this team, its fans and its history. I am proud to be part of that history. Anyone thinking about buying or helping this club needs to realise this is no ordinary football team and no ordinary town. If you become part of Wigan Athletic, you are in for an amazing journey. We are not finished yet.
Following the sale of Cedric Kipre for £1million, we have now sold another value playing asset for a tiny fraction of his value. Why on earth did it come to this? Anyone with any knowledge of the situation, and without ulterior motive, would have surely recommended the owners hang on to the end of the season, offload some of the playing talent, and look to sell the club to a group who would be interested in taking on a Championship club with a strong management team, youth set-up and training facilities. We know these people exist as, if you trust the Admins (stop laughing), we would have been sold of upwards of £10million if we'd remained in the Championship. Who could possibly benefit from going into admin, selling all the players for way below market value, relegation, and Euxton sale? Again, surely the previous owners could've done better from staying put for a while (the loan was written off so that makes thing even more puzzling)? The only real winners from this situation (apart from Barnsley and all the other clubs have taken our players at fire-sale prices) seem to the administrators – the likely people who gave the initial advice to the Hong Kong ownership. Mind boggling. Full investigation required.
We should all be looking forward to the start of the season with Fleetwood in the Carabao Cup first up but I'm not. We're been ripped apart as a club over the past two months and, while the selling of players to reduce the wage bill and generate some income was needed to help ensure we have a fighting chance of having a club to support in the future, we are now starting to see the administrators accepting bids for players that, from what we hear on the grapevine, we realistically do not need to accept given the money already generated by player sales and the training ground at Euxton being sold to Preston North End. Selling Cedric Kipre for £1million is a bargain for West Brom. Yes, he only had a year left on his contract and he may have requested to leave, but why not try to hold out for £2-3million? There's still a month left in the transfer window so there's no rush in having to get a sale finalised. It's incredibly frustrating. Even more frustrating is the mixed messages that have come out from Gerald Krasner and Paul Stanley. While they tried to clear up some news in their last press conference, it feels as though they are revelling in the whole situation. It's been a long two months since we fell into administration, and we're all sick of it now. We're all aware of the interest from the American duo, Randy Frankel and Michael Kalt, with Gauthier Ganaye helping try to broker a deal, but this apparent haggling on the price of the club and its assets just needs to get closed off, as the only people who seem to be benefiting from the deal dragging on is the administrators. Begbies appear to have set their valuation of the club and its assets and are seemingly refusing to budge, all while their costs continue to be added to a growing bill that the new owners will need to pay once they take over. If I had to hazard a guess, they know the US duo's interest in the club is serious, so they want to get as much money out of them as possible so it's win/win for them. They do not have the best interests of the club at heart, and in fairness, that's not their job. They're here to sell what they can while maximising the income they can receive. What's annoying, though, is when they make statements about there being no need for fire sales, no stripping of assets or wanting a deal done by the end of July and then the end of August – only for these statements to be false. It makes you look rather foolish and the fans are sick of it. I just hope we're close to the end of this whole administration saga, and we're soon in the hands of new owners so we can all, hopefully, concentrate on what we all want to focus on – the stuff that happens on the pitch.
The new season is finally here, and as ever we're all excited and optimistic about how the season will pan out...or at least we should have been. Like many, I've never been so disheartened with the state of football and the carnage that has hit our club. While I'm proud at the work everyone has done, it's so demoralising each time I check an update to see something else has fallen through or another player has been added to the outgoing list. While relegation brought with it some expected departures, and I understand the need to raise funds, how can an interested purchaser buy something when its main assets (properties aside) are being sold off? It's like bidding for an eBay item as described, but when it comes there's bits missing. It's easy to get drawn into rumours about who the administrators are talking to and what their agenda may be, and I don't want to criticise too much. However, if you saw Gerald Krasner's interview on Channel 4 News, imagine trying to negotiate a multi-million pound deal with him. He does not fill me with confidence. Onto the football, and Saturday will be an interesting team to say the least given the few 'first-team' squad members left. Like many supporters, we all like to see young prospects come through to the first team and make a name for themselves. This season, we've no choice. Let's look at the positives. There are still a number of gems from the Academy who can step up, plus Gregor Rioch alongside Leam Richardson gives us some hope that the fight and belief we had last season can continue. Whatever happens, this season is going to be tough, but we're up for the fight. Let's stick together, keep fundraising, banging the drum and fighting for the future of our club.
'The Pain Gets A Little Deeper', sang Darrow Fletcher, and that just about sums up Wigan Athletic ahead of the new season. What has gone on and continues to go on is nothing short of a scandal. If this had happened to a Premier League club, we would be looking at parliamentary inquests, 24-hour coverage across Sky Sports News and thousands of column inches across the nation's press. Sadly as it's Latics, it barely causes a ripple. Meanwhile, we continue to grapple with the horrific fall-out from a situation that should never have been allowed to happen. It's a while since I last put pen to paper, but sadly very little has changed in that time. Indeed, if we're being honest, we've gone backwards. Serious concerns have been raised about the administrators, both from the fanbase and anonymous briefings from club insiders. Despite making huge claims about sending out over 70 non-disclosure agreements, and having a number of preferred bidders, there has been no movement towards new ownership since the moment we were relegated. At that moment, the preferred bidder pulled out, as they were only interested in a Championship club. Understandable of course – but this went totally against what Paul Stanley had said about relegation not affecting the sale of the club. Indeed, he said being a League One club may help us to get a successful sale (oh how we laughed). This was the first of many contradictions and falsehoods, briefed by the administrators, who seem able to talk a good game but have so far failed miserably in their key aim to find new owners. Friday, July 24 was the last substantial update we had. It would take another month until a press conference was called, which offered no real further updates apart from 'we're still talking to interested bidders'. In that time, any asset worth anything has been sold. Players need to be sold in administration, especially during a global pandemic, where the only way of generating funds is to sell. Of course we understand that. But the way this has developed is frustrating at best, disgraceful at worst. First we sold Jensen Weir to Brighton, Alfie Devine to Tottenham and Joe Gelhardt to Leeds. All three for hugely undervalued fees, but needs must, as we needed to pay salaries. Next came the sales of Antonee Robinson and Joe Williams. Both had clauses in their contracts which meant they could leave for a fraction of their true worth. Once again, understandable. Next up Kieffer Moore, gone for less than £2million. We're talking about the in-form striker in the Championship in the last few months, and someone spearheading Wales attack ahead of next year's Euros. Throw in the sale of Cedric Kipre on Friday morning for a fee in the region of £1million, and you can see why Wiganers are starting to lose patience. Especially when Stanley said he wouldn't be going unless it was a 'proper fee'. Well, Paul, he's gone for less than we paid for him, after playing in one of the best defences in the country last season. First we were told 'under no circumstances will there be a fire sale', then we decided to sell anything that wasn't screwed down. Secondly we were told 'relegation won't affect any bidders', only for all of the original bidders to pull out after relegation. We were told the administrators didn't want to be in place in August let alone in September, and yet here we are, starting the season in September and we are no further on. We were told the administrators were going to sell the club as a full package, yet Euxton has been sold and, despite what Krasner says, there are serious concerns about the DW Stadium being sold from under us as well. Add to this administrators leaking information more than the proverbial bucket with holes, and things just don't add up whatsoever. Information has come out via twitter rather than through the local press and official channels, and it's no wonder people are confused. Norman Smurthwaite, of virtually destroying Port Vale fame, stepped away from the race this week. Seemingly leaving one group left – the American group, led by Gauthier Ganaye. They, too, have been affected by our administrators' fire sale. To begin with, they thought they were buying our state-of-the-art training ground at Euxton, only for it to not be part of the deal – and that's before Kipre and Jamal Lowe were sold. Despite all of this the price hasn't changed, and it would be no surprise if our best chance of a successful resolution walked away at the behaviour of our administrators. For deals to be agreed and then goalposts to be moved, and bitter statements deriding would-be bidders and journalists on the website, isn't a good look for either the administrators or the club. But I desperately hope they can see past this. See past the ridiculous things that have gone on over the last two months, and instead look at what the supporters have done. In the space of a week, fans from one of the poorest towns in the country, alongside ex-directors, ex-players and anyone else touched by our club, have raised in excess of £600,000 to try to help shape the future of the club. I hope Ganaye can see that and, despite what Hong Kong and the administrators have done, we still have the spirit and fight to get this club back to a level it deserves to be. With stable ownership and the potential for supporter representation and shares within the club, it's too good of an opportunity to turn down. Let's hope for our sake Wigan Athletic can soon be handed over to new owners. New owners who treat the club and it's supporters with the respect it deserves.