Wigan Athletic: The 12th Man - 'We've made a very solid start, and there's plenty more to come from this set of lads, I've no doubt about that'
Our panel of Latics experts sit back and assess the opening block of fixtures, as Latics use the fortnight break to recharge batteries while their international brigade fly the flag with their countries...
Published 9th Sep 2023, 18:21 BST

- 13 min read
Watch more of our videos on Shots!
and live on Freeview channel 276
Visit Shots! now
The HMS breeze the league has hit neutral and is now floating towards the Championship, but calm down Tics fans, it's still going in the right direction. Two defeats on the bounce isn't great, but we've still plenty to be positive about after the opening salvos of the season. We're playing decent football (if you ignore the first half at Blackpool), and we've already got 'plus two baby' The two-week break gives us time to get the new lads settled in, injuries time to clear up, and the fans some time to recharge their bank accounts and livers...it's been a heavy first month! The opening games have seen Sam Tickle get his England Under-21 call-up, which is brilliant news and well deserved. Matt Smith is showing he's better than Xavi and Gerrard combined, Charlie Hughes was robbed of his place at Blackpool by the EFL, and Charlie Wyke is loving scoring again. We've made a very solid start, and there's plenty more to come from this set of lads, I've no doubt about that, so let's all stay on board the 'Believe' bus and enjoy the ride. It's Wigan innit, we never do things the easy way. Right, I've got Talal on hold about these blue seats and getting Strongbow in the ground, see you all v Cambridge!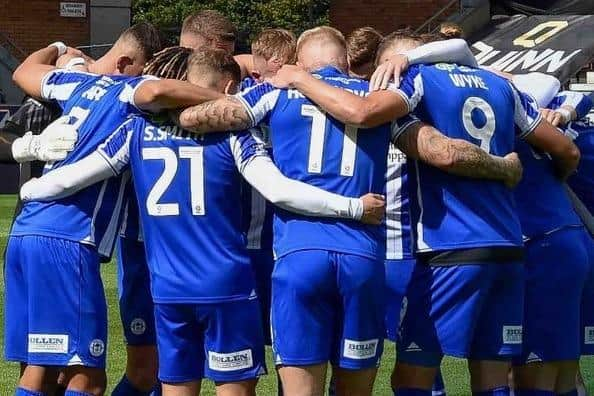 Entering the first international break of the season on the back of a defeat is never fun. When you've just lost two on the bounce, the negative feelings can compound easily. If we've learned anything from a disappointing result at Blackpool, it's that this team is still very much a work in progress. Our gaffer will need to adjust our playing style as teams in this division adjust to us. He will need to continue shifting around personnel in order to create the most effective and cohesive line-ups. He will also need to fine-tune his decision-making with substitutions - especially when we find ourselves in adverse situations against tough opposition. However, points deduction aside, a 10-point return from the first six league fixtures of the season is a solid accomplishment for this group. We've faced two newly-promoted teams and four other 'big' teams in this division who will surely have play-off ambitions (at the very least) come Spring 2024. Given the fact we've barely been able to establish any type of home form with just two matches at the DW through the season's first month (one of which required us to play with 10 men for 70+ minutes), this team should absolutely be given a bit of grace for its shortcomings thus far.
Our final three summer signings - Steven Sessegnon, Martial Godo and Omar Rekik - will all have the chance to become impact players over these next few months, given their strong pedigrees and immense natural talents. The recent additions capped off a phenomenal summer of business as Shaun Maloney and Gregor Rioch tapped deep into their connections to make this year's squad younger and more ambitious, while possessing loads of untapped potential. It will still be a challenge to get our best 11 on the pitch once we return to action, but the pieces for success are surely in the puzzle box. Maloney seems intent on addressing our flaws from the past few matches and putting us in a better position to win - no matter how our opponents set up - when we return to the DW mid-month to take on Cambridge. As for now, let's appreciate this time to catch our breath, allow key players like Thelo Aasgaard to further recover from injuries, and give the rest of the lads a chance to gel even better as a unit, while we have an extended break from competitive matches. We have clearly taken some positive steps over a short span of time. I'm still very excited to see what's to come for this group.
No game to look forward to this weekend, so I suppose now is as good a time as any to look back at the season so far. I think if we were to have a proper vote among the supporters - not some kind of social media click bait, but a true vote - then I'm sure the vast majority would be more than happy to be in our current situation. It's been either amazingly good planning or a massive amount of luck to wipe out our eight-point deficit so quickly (I like to think it's a lot of the former with just a dash of the latter….). Anyway, as far as I'm concerned, and certainly most of the people I talk to seem to agree, it's going well. We have a great manager in place, the board seems to look more settled...and ideally, in my opinion, they don't say much! I always think a strong, silent board of directors sends out a good message. Having said that, our Chinese owners were unbelievably quiet (but maybe not so strong!)... So the manager and his backroom staff are looking good, the board seem to be getting on with their job, and Gregor Rioch now has the recognition he so richly deserves. What about the team? Well as far as I'm concerned, we only need to avoid relegation to make it a fantastic season – because we battered our noisy neighbours, and shut them up once again! Anything we do now is a bonus! I jest, of course. I'm more than happy with how the team has started the season, and hope we continue to improve, but unfortunately, when you start looking good, some fans begin to demand we hit the heights every week (more on that in a minute). The recruitment policy has been top notch given the restrictions placed upon the club and, even up to the last day of the transfer window, we continued to be amazed by the players who seem to want to play for us. And former players, both young and old, seemed to have thrived under the new leadership. Of course, Rome wasn't built in a day, and I don't want to be accused of painting too rosy a picture, but it could have been much, much worse!
So what do we have to complain about? Well, plenty, if some of the postings following the Blackpool match were to be believed. I don't think anyone could say the first half was our finest spell of football this season. In fact, it was garbage, and Shaun Maloney - honest as usual - admitted as much in his post-game interview. Nobody liked it, but the more level-headed among us put it behind us, and hope it doesn't happen again. We are still a young team, missing a key central defender etc, etc, so the important thing is we learn from it and move on. But of course, that kind of approach doesn't work with some of our more rabid correspondents. I'm not going to give individual postings any oxygen here, but savaging individuals just isn't the way to go - especially when the targets have generally made a great start to the season. Do any of the usual numbskulls know what constructive criticism is? Obviously, don't whitewash mistakes and try to pretend the world is a wonderful place. But by the same token, maybe wait until the following day before ranting to the world. It may be a bit easier to get your point across.
We've mentioned it before about some Latics fans reacting and over reacting, and had several discussions about this. But recently the Bolton chairperson had to release a statement asking their fans to calm down. They are top of the league and they still weren't happy, apparently making some savage comments about the management. And then – horror of horrors – we had the Warriors issuing a statement last week, reminding their fans that antisocial behaviour will not be tolerated! That includes the throwing of drinks and other objects. Now I don't know about you, but anyone throwing drinks deserves to be thrown out...they must be out of their minds at that price! But all joking aside, the Warriors are also top of their league, but still have a problem with a minority of fans. Looking further and deeper, at other sports and other teams, there appears to be a lot of hostility boiling under the surface, in many areas. So maybe some of the Latics fans are just a very small part of a much bigger problem. Given the scale of the problem, should we just ignore it, and hope that eventually everyone will get bored and start to play nicely with each other? Well that's obviously never going to happen, so maybe we can try to make a start and try to make a difference?
Going back to an earlier point, maybe we could start with constructive criticism? Instead of just lashing out, maybe we could 'suggest' ways to make improvements? And try to deal with facts? If you are going to moan about something, at least try to get your facts straight. For example, someone had a moan at the Supporters Club (yet again) this week. It was announced they would be sponsoring Thelo Aasgaard and Martial Godo for the coming season. Immediately, someone took to social media to demand why they didn't sponsor local Academy players (why am I getting the words 'Royston Vasey' here...)? Anyway, if they had taken just a few minutes to check, they could have quickly discovered the players were drawn out, and nothing to do with the SC, who they were lucky enough to get. But sometimes I guess the facts just don't fit the narrative. Good luck to England this coming weekend and to all our players on International Duty. And of course – the best of luck to all who are taking part in the sporting highlight of the weekend, the first Andrew Bowden Memorial Bowls competition!
A tad difficult for me to comment this week about the Blackpool game, as I didn't go and didn't even listen to Ant and Tommy's dulcet tones. But we took ourselves off to visit an old haunt in Altrincham, who were playing Bromley. My grandson has just watched 'The Bromley Boys' on Netflix, and wanted to go in with the away fans. But we persuaded him that we wouldn't be able to wander around the ground, so we stood on the terracing watching an enjoyable game. It's many years since I last went to Alty, when Latics - as a Football League club - managed to lose an FA Cup tie there, with me standing on the exact same terrace the current Bromley Boys were camped out on. I remember the cup-tie well - a terrible performance by us, against a team with ex-Latic Neil Morton in a red and white shirt, and the solitary goal being scored by Chris Sharratt, later to become a Latic. I remember it...as being dire.
From what I've read of the Blackpool game, I'm not ready to be on suicide watch yet. I think the team is still on a huge learning curve, and game management is something Saturday's result will reinforce. A late equaliser seems to have turned heads (players AND fans) into thinking of a snatched victory whereas - by forgetting the basics of game management - it turned into a late defeat. I also ponder whether the apparent pitch invasion took minds off the task in hand. It allowed Blackpool to mentally regroup, which would have been a more difficult task with a quick kick-off, while ultimately the time added on for the delay to clear the pitch was crucial to throw the points away. I know I'm talking to the breeze here, but staying off the pitch can often help our cause. Celebrate by all means, but stay off the pitch. More positively, a big well done in particular to Sam Tickle for his England Under-21 call-up, and to all other Latics' players on international duty.
I've just got my ticket for the trip to Bristol Rovers. A ground I've never been to, but 500 on an open terrace - even with building work going on - seems rather frugal. I also have to say I'm disgusted at the lack of wheelchair provision by the Gas for this game. I do understand the difficulties when work is being undertaken, but I really would question if the absence of provision of such tickets – even just a couple of places – is discriminatory. It needs to be questioned in my opinion. So that's it from me...after I said I had nothing to say. Onwards and upwards.
The first international break of the season is here, but how should Latics be feeling heading into it? If we cast our minds back to pre-season, the challenges we began to prepare for consisted of a minus eight-point deficit to clear, and a transfer embargo to navigate our squad building around. We have known since the latter end of last season we would need to be relying on - and providing opportunities to - the Academy players Gregor Rioch and the coaches have been developing over recent years, yet we never really knew how key they could become in the senior squad. Fast forward to now with just six games played, Latics have already cleared the minus eight-point deficit, leapfrogged three teams in the table, and we have witnessed some fantastic football being played with a squad consisting of players who chose to continue with us, Academy graduates, free agent swoops, and intelligent loan moves. How about that for a start to the new 'data driven model of recruitment' that Maloney and Rioch have been working on? Not to mention two of our Academy players being called up to their home nations Under-21 games, with Sam Tickle representing England and Baba Adeeko representing Ireland. While there are many reasons for supporters to be celebrating the start to the season Latics have had, Maloney and his coaches do have areas of concern they will need to address over this fortnight to ensure we can carry on picking up points in the fashion we have so far.
Latics began the season with two strong performances against Derby and Northampton, yet when we travelled to Carlisle and they sat back, we failed to convert our near domination into three points. Some 64 per cent possession, 516 passes to the Cumbrians' 294, with a completion rate of 83 per cent to their 69 per cent, 14 shots, yet we couldn't put the ball in the net a second time. We brushed that off by bouncing back with a 4-0 demolition over Bolton at the Toughsheet yet, with our confidence high back at the DW, we had the wind knocked out of our sails with the early Charlie Hughes red card as Barnsley humbled us to our first league loss of the season. Next up, Blackpool, who were five games without a goal and winless since their opening day victory over Burton. Four minutes in, Jordan Rhodes with the opener. Another early knock forLatics, yet over the course of the 90 we tried to take the game to them. Some 68 per cent possession, 608 passes to the Seasiders' 289 with a completion rate of 84 per cent to 73 per cent, yet it took until the 89th minute to equalise...before taking our second big knock of the afternoon with Kenny Dougall securing the three points in the fourth minute of injury time. Those stats are not far off those we saw at Carlisle, but we looked a shadow of the side we had seen in the opening few games. Some players looked shaky and out of their recent form. This is the code Maloney, the players, and the coaches have to crack now. How do we convert our possession into goals, how do we get in behind a defensive set-up that aims to nullify our attacks, and how do we rotate to keep a freshness in the side without losing ability?
Latics have scored 10 goals so far, with six of those coming from inside the penalty area, and two from the edge of the box. Four of those goals inside the box have been headers from around the six-yard box, assisted from the right corner flag (two Tom Pearce deliveries), the left wing (Pearce), or the right wing (Steven Humphrys). The 10 goals have been scored by five different players - Wyke topping the charts with five goals - and there have been five different assisters, with Humphrys being the only player to score (two) and assist (one) so far. My point here is we are not limited in players who can create, who can score, and how those goals come about. Watching Adeeko shrug off an opponent in our own half, to then drive the ball all the way forward and slip the assist through the defence to Wyke is what we can get excited about, or watching Lang provide the assist to McManaman from the halfway line before the ball gets whipped past the Northampton goalkeeper from outside the box, is what gets us on our feet. Latics have the ability across the field, but they need to believe in themselves more. It's still so early in the season. There are 40 games still to be played, and we would currently be sat in 10th place if not for the points deficit. There are no reasons to panic or get too upset. Latics are still yet to see what our latest recruits can bring to the side, and those who are coming back from injury or suspension will have their moments to stand out and play their part. There certainly won't be much time off during this international break, and I hope Maloney and the coaches are able to translate their ideas into strong training sessions so we can resume the league campaign with a win over Cambridge.
Well, well, well...August was quite an eventful month, wasn't it? I mean, by Latics' recent standards, it wasn't too turbulent, but there were certainly some tales to be told from the opening month of the new campaign. Most noteworthy of all is the superb form of Charlie Wyke, who is playing the best football he has ever produced in a Latics shirt. 'Chaz' is such an inspiration given the cardiac arrest he suffered less than two years ago. He may have never been able to play football again, and yet he is currently one of the finest strikers the EFL has to offer. On the whole, Latics have come out the starting blocks in very good shape. We were impressively quick to make up for the eight-point deficit we started the season on. The Tics have been playing some pretty good stuff too. The aforementioned Wyke is thoroughly deserving of his League One player of the month nomination, while Shaun Maloney has been quick to impose his footballing ideas on a young squad. Callum McManaman's goal against Northampton was reminiscent of his much younger self too. Following the mass exodus of experienced players, Latics found themselves in somewhat of a repeat of the 2021 summer transfer window, in which we had no choice but to secure a high number of incomings. Some of the new signings look like great assets too. I will admit - as I was away in America over the summer - the only game I watched in full was the 2-0 defeat to Barnsley. I watched that at the Wigan Athletic NYC Supporters Club...great company by the way! However, in that match, I was impressed by the technical ability of Matt Smith. The international 'break' is something which has shone a positive light on the club too. Sam Tickle's England Under-21 call-up following the young Lions' Euro triumph is such an enormously proud moment for him, his family, Gregor Rioch, Latics, and the town alike.