Wigan Athletic: The 12th Man - 'With more plot holes than the last John Wick film, we still seem to be no nearer a resolution to Latics' administration worries...'
Our panel of 12th Men have more than had enough now, and just want their club back from the admins...in whatever form that may be...
Published 25th Sep 2020, 10:00 BST

- 10 min read
Updated 25th Sep 2020, 10:04 BST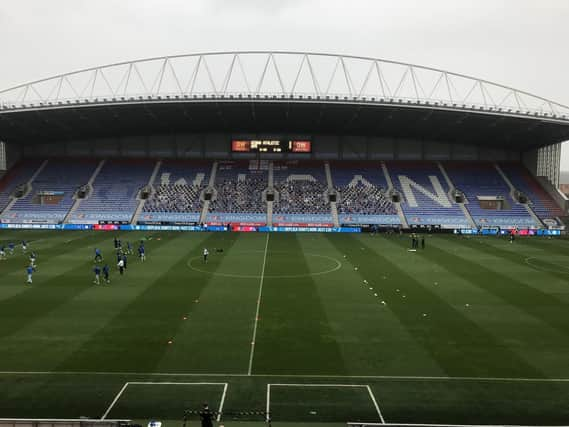 Another day in the absolute horror show that is Wigan Athletic. At the moment, I've never felt so distanced from the club I've loved for nearly 40 years. We've had all the feelings you can imagine in the last few months...belief, joy, despair, anger, apathy, hatred to just name a few. I'm definitely in the hatred bracket at the moment – not at the club, but at the fiasco that is Begbies Trayor and, more to the point, Gerald Krasner. This man, in my eyes, is systematically ripping everything we've got out of the club. His statements are beyond a joke, nothing but lies upon lies. Dare to question him? 'Put your questions to some fella off Twitter and he can ask me'. No disrespect to Barry Worthington meant here, but why is a man involved in a multi-million pound sale answering to someone off Twitter? It's a joke! Unfortunately, I can only see one outcome...Ian Lenegan, with his 'one town, two teams...but I don't want Latics' attitude. I can't wait see the back of Krasner, Paul Stanley and Begbies, for me they're as complicit as Stanley Choi and the EFL in the downfall of our great club. Macclesfield went to the wall last week and I fear if the magnificent effort from the supporters, players and ex-players hadn't happened, we'd already be in the abyss as well. And do you who'd have cared, bar the people surrounding Wigan Athletic? NO-ONE. Wigan Athletic have been in my life for as long as I can remember and, whatever guise we take on in the future, I'll be on the terrace/seats as usual with thousands of others. Let's just end this awful situation one way or another, and let us rebuild what's left. Right, I'm off to drown my sorrows with 'Bow. UP THE TICS!
With more plot holes than the last John Wick film, we still seem to be no nearer a resolution to Latics' administration worries. As an appointed administrator, it's odd that even Begbies Traynor don't seem to know what their role should be. Gerald Krasner seems to contradict himself every other day. From telling us there would be no further points penalty if we managed to pay 35p in the pound to creditors on the drip, he is now saying we'd be docked another 15 points if that happens. Does Krasner actually know what the rule is? More to the point, does the EFL seeing as how they've been a very silent partner in all this? Neither of them seem to have any clue what to do, and it could result in the biggest club on the face of the earth staggering drunkenly into extinction. The most action we've seen from the administrators in months happened on Saturday, when they managed to paint over a new mural on one of the West Stand gates within about 10 hours. I assume we'll now be selling Kal Naismith to pay for the paint. Fortunately someone was able to get pictures before the man with the brush turned up, so it is preserved for posterity. For those who didn't see it, it was a picture of a bloke promoting his eBay shop. We are now getting statements from the administrators. Or the Supporters Club, I have no idea. They seem to have melded into a single entity to release official communiques. I appreciate the SC have to tread more lightly than other fans and I do, but there's treading lightly...and there's treading lightly to the point where they are levitating. I'd like to see them actually challenge Krasner et al, and find out why there's such a reluctance to sell the club. Are they simply holding out to default the ground sale to you know who? It certainly looks that way. Given the EFL's silence on the whole thing, it might be more than just coincidence that Ian Lenagan is a former chairman of the organisation. Favours owed and debts to be repaid? We'll never know, I'm sure. The last vestiges of credibility the administrators had (if, indeed, they had any at all), was when they claimed that a rock solid, cast iron, £4million bid was withdrawn because of the nasty things some people said on Twitter about Krasner. I don't know how thick Gerald thinks we are, but his opinion of the fan base is clearly low. Probably low enough to slide right under the Supporters Club levitation display...
When the EFL Trophy regional groups were announced just over a month ago, the news of a new competition received little to no fanfare from our fanbase. The three additional matches were seen as a burden placed upon a squad expected to implement tunnel vision towards our League One campaign. Few other fixtures would hold major significance this season. That attitude held strong for many – myself included – through the first 45 minutes of our match against the Liverpool Under-21 team. Six goals later, quite a bit had changed, and finally, for the better. While holding onto the beliefs that we will secure new owners and that Covid-19 will not put a premature end to a second consecutive League One season, I've also decided that League One survival is still a very realistic goal given the circumstances. Two opening league defeats have been steps backwards towards that goal, but one could argue our Gillingham performance was only a half-step backwards. Gillingham's three goals were well-earned, but we controlled much larger portions of the match than we did against Ipswich. If the referee had not swallowed his whistle during our late penalty shout, a late goal could've easily produced a 180-degree change in perspective on that match. Our four competitive matches in September have produced varying performances and results but, with each one, the confidence and ability of our young players continues to grow. Against Ipswich the stand-outs were Adam Long and Chris Merrie, against Gillingham it was Alex Perry, and finally, we witnessed the emerging goal threats of Charlie Jolley and Olly Crankshaw against the Liverpool youngsters. For as long as we have a club, these players, as well as others waiting in the wings, will continue to serve as the core of our future. Portsmouth away will serve as another tough fixture. A positive result of any kind would serve as a surprise. There still remains much uncertainty regarding player incomings and outgoings for the next few weeks, but if our young players continue to advance at a steady rate, the joy felt at full time on Tuesday evening could easily become a more regular feeling as this season progresses.
So let's start off with Gerald Krasner...a buyer was going to sign contracts and deposit £4million with his solicitor, but got scared off by Nixon and Wigan twitterati who will probably abuse his chippy tea. That's his best tall story yet. Paul Stanley now thinks there's no better time to buy Wigan Athletic, a football club with no signs of real income until March. Don't see that myself. On the pitch, a disappointing loss to Gillingham but a confidence-boosting goal rut against the Liverpool kids. Finally the sad passing of Roy 'Spike' Highton...he gave me a lot of stick over the years, but took more back. All in good fun, RIP to a true Latics mon. Stay safe.
Forget 'Sunderland 'Til I Die' and 'All Or Nothing – Tottenham'...if Netflix or Amazon don't pick up 'Wigan Athletic – Nothing To See Here' they've missed a trick. If I were more creative, I'd be scripting a drama documentary now, as each week there's a twist or a new mysterious development. I don't want to reflect on the administrators too much, as I get frustrated with the statements, mudslinging and contradictions. We all have our opinions on what to believe, and in short I have little trust in national journalists on Twitter or the administrators. I cling to the hope that our Supporters Club are fighting our corner and will look after our best interests. On a lighter note, football. We continue to turn out a team and, whilse the Gillingham result was disappointing, it will take some time for some consistency in the league. We had a very welcomed victory midweek in the E*L cup thingy and were treated to lots of goals. My optimism levels grew again with the knowledge we still have a number of gems who have been under the guidance of Gregor Rioch and co, and hopefully will be a part of our longer term sustainable future. It's going to be another tough game on Saturday, but we're Wigan and we've a habit of winning when we shouldn't. Let's see what happens. Keep believing, and who knows...maybe some Hollywood actors will appear with a bid…..that never happens…..does it??
It's really beginning to feel like Groundhog Day, isn't it? Yet another week passes by, another week with no real movement on the takeover of Wigan Athletic, and another week where the administrators from Begbies Traynor manage to contradict themselves – sometimes in the space of a few minutes, let alone days. Let's have another look back at the week, shall we? Latics had a boost on Friday with the signings of Nathan Cameron and Danny Fox. Sadly those defensive reinforcements didn't make much impact for Latics against Gillingham, despite Joe Garner once again getting on the scoresheet. It's going to take time for us, and indeed John Sheridan. If you wrote up the worst-case scenario for planning for a gruelling season like the one we have ahead of us, the scriptwriters would have said 'nah, too unrealistic'. This is a club and a side that has been scarred by the last three months, which shows through every bit of the club. It wasn't that Saturday's performance was bad, it was just lacking. Lacking in any real threat going forward (despite the two goals) and lacking in any real strength in defence. This will come with time, and it certainly doesn't look like the men vs boys that Bolton last year. But the fact remains until new ownership comes on board, and indeed new finances to strengthen, the management's hands are tied. There was some light relief on Tuesday in the EFL Trophy, a competition I usually pay very little attention to the competition since but, with the club needing every penny it can get at the minute, bought my streaming pass for the visit of Liverpool Under-21s. I questioned my sanity once Liverpool scored the opener on the stroke of half-time, and missed the equaliser watching the Prime Minister's statement. I then missed the third goal going to get a beer from the fridge, but otherwise it felt like £10 well spent. Sheridan named a relatively strong looking line-up (as strong as you could in our case) and the mix of exciting youngsters and senior pros played very well. The build-up play was very good with Charlie Jolley and Olly Crankshaw in particular looking very good. Add into that more goals for Garner and Kal Naismith, and it turned into a very good night indeed. If we're being honest, this competition isn't anywhere near the top priority this season, but a win is a win – and in our current situation, I think we needed it. We needed to remember what it feels like to win football matches.
Gavin Massey is due to return this weekend for the trip to Portsmouth and, although he struggled to get going last season due to injury, he could be so important for us this time around. That's if Kranser and Co haven't flogged him for a bag of Haribo before the transfer window closes. Although on the pitch Latics are trying their best to get things together, off it there isn't much positive at all to write home about. Despite telling us we would have movement last week, and very well could be at the contract exchange stage this week, Krasner informed Barry Worthington earlier this week that no acceptable bid had yet been made for the club. This followed on from a quite extraordinary statement issued on the club's website, where many things were discussed including an accusation that mysterious bidders had pulled out of a deal to buy the club due to talk on social media among Latics supporters. If we're taking Mr Krasner at his word on this, I would suggest bidders who aren't keen on publicity may not be best placed to own a football club. Paul Stanley also commented on the criticism surrounding transfer fees the club have received for its prized assets, and looking back people might see the sales by Latics administrators as 'remarkable in the current market'. I mean if you compare what we received for Kieffer Moore and what Brentford paid for Ivan Toney – a League One striker – yeah, it's remarkable. Remarkably low. It's difficult to keep up with the statements coming out of the club now as they change so frequently. Stanley also said it's an ideal time to buy the club in his interview with Wigan Today – which came a week after he told the Guardian that the pandemic was 'doing us no favours', and making it harder to sell the club. This following on the heels of Stanley saying League One could be more attractive to bidders than the Championship. It's no wonder the Latics fanbase are exasperated with what's going on. Throw into the mix the return of Norman Smurthwaite, the pantomime villain who nearly destroyed Port Vale, who very publicly pulled out of the running two weeks ago. Well this week he's back, letting Latics fans know he's there as our saviour if we need him.
Our issues were confounded with the wholly expected news of a pause to the return of supporters to live sports events any time soon. Without targeted support – which both the government and the Premier League seem reluctant to provide – this could prove the deathknell for many football clubs, certainly those in the EFL and non-league. And I really think it could hamper our prospects of a successful sale. Pricing the club up the way they have, and rejecting bids in the way they reportedly have, has backed the administrators into a corner. Will anyone – knowing it could well be spring at the earliest before supporters are allowed to return to matches – buy the DW Stadium? Why would you buy a stadium in need of investment with ridiculous business rates that loses a Million pound plus a year in normal times when you can't even host a coffee morning let alone a football match? Until the pandemic has passed, the stadium is simply a money pit, and I can't see any bidders coming up with what the administrators want for us. I think we might be lucky to receive bids we've already received, let alone over that. It's an almighty mess and I feel so helpless in it all. I can't go to the stadium, and I can't support the lads on the pitch vocally. What Choi, Yeung and the EFL did to us should never be forgotten. If we manage to make it through this, the pain will remain for a long time.