Wigan Athletic: The 12th Man - 'With other players being rumoured to join the 'Tics, it is clear Kolo has a vision of how he wants HIS team to look...'
Our panel of Latics experts have their say on another eventful week – on and off the field – ahead of Saturday's crunch clash against Luton Town...
Published 20th Jan 2023, 11:01 BST

- 19 min read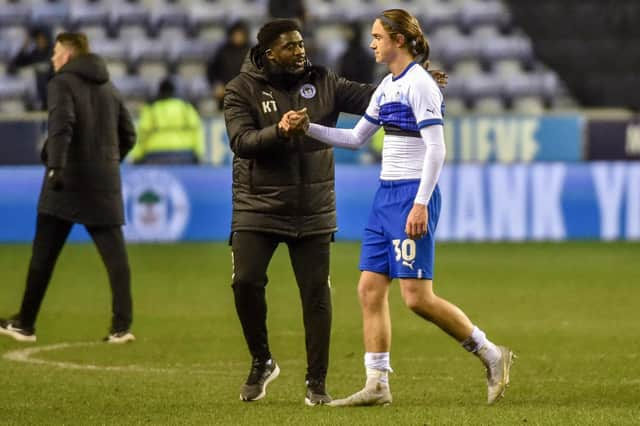 Well all isn't exactly rosey in the wonderful world of the 'Tics, is it? Kolo's goon squad are yet to put a 'W' on the headboard in eight attempts, and there's squabbles breaking out all over Twitter. The crux of it is 'are we any better off since his holiness Pope Richardson left'? Well the results say no, the performances arguably say no, and you'd be hard pushed to see any positives at the moment. Albeit the cavalry is slowly drifting into town with Miguel Azeez and Steven Caulker on board, both not eligible to play against Luton in the FA Cup, so it was Leam's team that started...and lost...again. And this is where I'm going. We can all sulk and moan that sacking Richardson was right or wrong, the fact is he's gone and Kolo is in. Is he out of his depth? Well time will tell, and it's time we haven't got. This team simply isn't good enough for this division, and the blame for this is firmly at the door of the owner, chairman and directors. Without repeating myself (but I will), the lack of investment last summer caused this, and the Bahraini lads must be made accountable for it. Again, I've no idea what cash they've got and it's none of my business, but to just let us fall out of the Championship without putting up a fight is surely suicide for everyone involved at the club? We've spent next to nothing, the crowds are dwindling, and the apathy from the Warren Joyce days is resurfacing. If getting Kolo was just a marquee signing (as the 'yoof' say), surely he was promised funds? Because I don't think any manager on earth could get more out of that team than Leam did. But it simply wasn't good enough (for this division). Why didn't Talal and the lads give Leam a warchest (copyright Dave Whelan)? Is there even a war-wallet? When Talal and Mr Jasmi saved our club we were - and still are - extremely grateful. But come on lads, give us a fighting chance. We're not expecting to be top of the Premier League, but the way we're going we'd struggle to beat Manchester City at the moment...and that's normally a given! Talal said it himself that 'actions speak louder than words...well get on with it, lad, because we're in a deep hole at the moment, and not many can see a way out of it. Please prove us wrong! Right, I'm off showing Azeez the Slime Bar and King Street, don't be surprised if he's pulled a hammy and out for Saturday...I jape, of course! Keep your heads up, 'Tics, it's been a hell of a lot worse than this before…
Ben Topping and Kieron West:
They say life is never dull as a Wigan fan, and the past few days prove that to be true. After making the long trip down to Cardiff at the weekend, we were left with a slight glimmer of optimism. Recent 4-1 defeats meant we needed a solid defensive performance which in large parts we definitely got. Steven Caulker looked to be a welcome addition to the backline, providing a level head and keeping our defence in shape. A compact first-half, coupled with the various chances we managed to create in the second, left fans thinking we could have easily snatched the three points. New signings Caulker and Miguel Azeez looked confident, bringing some much-needed enthusiasm to the squad. Losing this game would have turned out to be a harsh result. The last-gasp equaliser proved to bring back a sense of togetherness between the travelling fans and the team, along with the added bonus of Hull equalising in the dying minutes against Huddersfield. This could prove to be a crucial point come the end of the season. Tuesday night saw the visit of Luton to the DW in the FA Cup third-round replay - with the new signings ineligible to feature - and the only bright spark was Thelo Aasgaard. Finally, a long throw-in worked, finished off with a fantastic volley into the top corner. Aside from that, a pretty drab affair. To the fans in attendance there seemed to be a lack of confidence and identity on the ball and a lack of effort off it. How many times this season will we be punished for allowing opposing players to cross the ball without pressure? Yet more negativity from the fans after the final whistle, as boos rang out around the ground highlighting frustrations with the manager, team and decisions made by the club's hierarchy. The fans do not mind losing to quality, but Luton definitely did not bring that. We can only hope Tuesday's performance doesn't translate into the league this weekend. Recent results in the league force you to question the bold appointment of Kolo Toure, a man who holds no experience in management. With other managers in the rumour loop, fans are still struggling to understand why someone with such little managerial pedigree was selected to guide the team through a relegation dogfight. This was always going to be a risk, forcing supporters to think back to the appointment of Warren Joyce in 2016. That said, up until a certain point, our fans will always back the manager. Recently, with the exception of the Cardiff away trip, the team looked lost with little identity. Our team was built on hard work, determination and fight. These are all traits which seem to be slowly disappearing. It seems an 'ugly' win would be ideal at this point. On the other hand, positive changes are being made in the transfer window. Impressive starts from Caulker and Azeez, along with the recent addition of central midfielder Christ Tiehi, could prove to be critical factors in our quest to stay in the Championship. With other players being rumoured to join the 'Tics, it is clear Kolo has a vision of how he wants HIS team to look. Yet with money being given now, you do ask why this wasn't done over the summer? Saturday is a must-win game. The fans need to be behind the team for the full 90 minutes, allowing the troubles of previous weeks to be forgotten. Three points, and the cup exit is forgotten.
We all knew appointing Kolo was either going to be a spectacular success or a massive mistake, with the odds stacked 95 per cent on it being the latter. The unpalatable fayre currently being served up at the DW has a lot of people already calling for managerial change, but that isn't going to happen. The new recruits are saying he was a factor in them coming to the club, so you have to back him to get a squad of sorts together over the next couple of weeks, in an attempt to stave off relegation over our usual bounty months of March and April. The chances of this happening seem about as likely as Rishi Sunak suddenly getting a personality, announcing deserved pay increases for the NHS, and free pie barms for everyone in the north west. If we are relegated then what are the consequences? We will still follow the club and probably enjoy League One again, and we will undoubtedly have new management and a hefty change in the playing squad. We've been there and done that more times than Evatt has said that Bolton are the best team in League One. A few people are questioning the owners, and I think we all agree that more investment was needed in the squad during the summer. But maybe promotion in the first season wasn't in their plan, maybe they are being fiscally responsible so that we don't end up in the mire we did last time, or maybe they are learning a lesson for if we do go down and have to come back up again. There are some green shoots hidden among the snow and mud, like Charlie Hughes, Thelo's volley, some of the new lads looking like they have potential, and Charlie Wyke returning from injury (fingers crossed). Let's hope as spring comes those green shoots push through the filth and come into bloom. Up the 'Tics!
A draw in a match that was a 'must not lose' down at Cardiff, and a team going right to the end was the main positive, along with the introduction of Steven Caulker and Miguel Azeez, who looked sharp at times. We've still not won under Kolo, hopefully Christ Tiehi can give the midfield a much-needed boost. A left-back would be nice with a few more additions. Looks like our plan is to target out-of-contract players and loans this month. Whatever happens between now and end of the season, more than 11 players out of contract could mean another rebuild in the summer. Due to circumstances out of my control, I missed the Luton replay and have only seen the goals Thelo obviously scored a great goal but Luton's winner was very slack defending. I accept everyone has their views and social media is full of them, but I'll bide my time with Kolo. End of February, beginning of March, see what he brings in and how they play. Stay safe.
Our two-match unbeaten streak has been broken, and the general fan reaction to Tuesday night's FA Cup home defeat was one that was filled with frustration. There was frustration with the team effort, the manner in which we conceded our late stoppage-time winner, and the fact we added another smudge to an already horrid home record. Across the pond, the midweek match marked one of the few times this season where we were unable to watch a live video stream as the events unfolded. The only Latics fans who would be considered luckier to have missed the match are the season-ticket holders who stayed home. As disappointing as Tuesday's events were for all involved, the positive is that the loss didn't knock us any further off course for our greatest goal this season - Championship survival. We'll assuredly put out a stronger side for part four of the seemingly never-ending Wigan-Luton saga this Saturday. Last Saturday's trip to Cardiff produced what was far from our best performance of the season. Charlie Hughes and the newly-signed Steven Caulker provided great reason to be optimistic about central defence going forward, and Miguel Azeez was a revelation off the bench with his attack-minded play from midfield. If another midfield loanee, Christ Tiehi, can settle into the team quickly, we may be one step closer to getting over the hurdles that have limited our progress during the first month of Kolo's tenure. The transfer window is still open for the next week and a half. There's still time for new faces and familiar faces to make their way to the DW and change the dynamic of this campaign for the better. As for our next fixture, Luton have proven to be a tough team to break down through 270 minutes of action this season. There should be no expectation that the floodgates will break open with a burst of goals on Saturday. Luton are one of the better defensive teams in this division, but considering we've scored against them in every match so far, we also know they are not indestructible. With a 16-day break awaiting Latics after this match, the pressure of winning must surely be weighing heavily on everyone. Despite our abysmal form over the past eight matches, I have as much confidence as ever we can secure our first win of the Kolo Toure campaign this weekend. It's time to crank the 'believe'-meter up a few notches; there is still much work to be done on all of our parts to get this club across the finish line.
The normal way to deliver a piece of criticism of someone you like or respect is to sandwich it between two compliments. So I will start by saying that Kolo Toure seems like a nice man. Unfortunately Kolo's time as Wigan Athletic manager is, realistically, already entering its end game. Wigan's season is crashing and burning and Toure and his backroom staff will be unfortunate victims of poor decisions made in the boardroom. It's just a question of timing now. We can wring our hands and clutch our pearls all we want, but Toure should not have been put in this situation. Any managerial appointment is a gamble, but some are bigger gambles than others. The decision to remove Leam Richardson was a correct one, that I think many Wigan fans would agree with in the cold light of day. But appointing an unknown quantity, mid-season without opportunity to build a team in their image, was the wrong decision at the wrong time. Questions should be asked of the recruitment process and exactly how knowledgeable of the situation and scenario the people involved were. A recent discussion on a football podcast talked about the characteristics of a good manager. One point that stuck with me was that a good manager finds a way to get a tune out of their players, a system that works for the resources at their disposal. Kolo has not. He started with an open, expansive game that saw us get played off the park and took four long, painful games to spot the problem. He then changed to a dreary, negative game that saw us get played off the park and, after three less painful in terms of goals conceded but equally insipid games, I doubt if he will spot the problem. The common themes have been a directionless attack, absent midfield and calamitous defence. Fundamental basics that most fans in the stands would probably be able to make a better fist at addressing just by pure luck. Good managers find a way to get more out of their teams, bad managers find a way to get less. Unfortunately I can only see Toure falling into the latter category. So as our season falls to earth the only question remaining unanswered is how long the board will wait before they bail out and consign Toure's reign to the same dark corner as Owen Coyle, Malky Mackay and Warren Joyce. Next season we must start again, hoping we can keep hold of our talent...Thelo Aasgaard, Charlie Hughes and Callum Lang in particular. If they do leave, at least we shouldn't see them go for peanuts this time. And the final compliment? He brought a funny chant along with him that has entertained the fans. Unfortunately they tend to be fans of our opponents…
To begin with, I'm not that interested in analysing Latics too much from a purely footballing point of view at this moment in time, because the situation we are in is just sad. After we won the league title in arguably the best League One season ever, in terms of quality, I didn't think we'd look this uncomfortable in the second tier midway through the season. With League One getting stronger and stronger, I think I've come to an unfortunate conclusion that if we don't pull off a great escape this season, then we'll probably stabilise in the third tier for a while and not return to the Championship any time too soon. It isn't sustainable to bounce between the second and third tier as much as we do, and at some point we will just stay in one of those two leagues. Sadly, I believe the third tier could be the one that becomes a somewhat permanent home. What will always hurt is that the last time we got relegated from the Championship, it wasn't our fault and we had a damn good team. Look at where those players are now. Antonee Robinson is absolutely smashing it with Fulham, who are a very decent Premier League outfit, while Kieffer Moore played at the World Cup for Wales. That's just two examples of where members of that lost Latics team are now, and plenty of others are now highly successful. But here goes… The 2-1 defeat to Luton was unfortunate, and quite a tough one to take. A 98th-minute winner for Luton, as a result of inept defending, was difficult to watch, and when the net bulged it was a kick in the teeth. It would have been a nice year for an FA Cup run, as May 11 will mark exactly a decade since our famous Wembley triumph. That 2013 victory was one of the best underdog stories in English football history, perhaps only bettered by Leicester City's 2015/16 Premier League campaign, in which they defied all the odds to win the title. However, if I had to choose between winning Tuesday's FA Cup clash with Luton and Saturday's league encounter with the Hatters, I'd bite your hand off for three points on the weekend, given our rubbish league form and worrying predicament. After a thoroughly boring first half, Thelo Aasgaard's cracking volley early on in the second showed there is some quality within this struggling side. However, the lack of competence sometimes displayed by our defence was highly evident when Luton instantly helped themselves to a scrappy equaliser. Ben Amos in goal looked rusty, and I've not often seen him make a mistake like he did in this fixture, when he failed to deal with Cauley Woodrow's shot. We need to do better on Saturday, and hopefully the reintroduction of Will Keane and Steven Caulker to the starting line-up will be enough. It would be nice to see what Miguel Azeez can do after a promising debut, and why not chuck Christ Tiehi in the matchday squad somewhere? We need a breath of fresh air! Latics can strengthen their side to help us on Saturday, but so can Luton. Rob Edwards didn't quite select a full-strength side for them on Tuesday, and winger Harry Cornick caused us all kinds of problems when he came off the bench. We need a spark from someone or something somewhere, but I just can't see it at the moment. We are bottom of the league and, on balance, deservedly so. The table doesn't lie. I'm not a pessimist, and I hate to sound like I'm resigned to relegation, after every other time this football club has dragged itself out of the mud in the past. But we are just an awful side at the moment, and I don't think Kolo Toure was the man for this job at all. It's not entirely his fault, I just feel sorry for him really. It's a tough scenario.
There's no point writing about the team, their days are prob'ly numbered. Instead, let's focus on the refs with whom we're always lumbered. Most seem poor, while some are bad, even trying hard, though they might. But Tuesday night's ref was beyond belief, the epitome of shiny. (Dear reader, you'll understand that needs must to get through the censor police!). His actions just before half-time were truly unexplainable. If he'd have let play carry on, an attack was clearly attainable. (Obviously, we wouldn't have scored, cos we're shiny). But then, to make things 10 times worse, he lets us take the kick … and then a second later, blows for half-time, (what a Richard!). So on we move to t' second half, he continues in t' same mind. 'Give the Latics beggar all, not even a tackle from behind'. So when a call for a pen comes up, Naylor's fouled when clean through, it's no surprise he doesn't see it, he sees less than Blind Pew! (Treasure Island kids...belting book!). So overall, aye, yet again, the Latics?, we were poor. But the rubbish refs, well, they don't help, so that's it, I'm gooin' no more…
It's not getting any better, is it? Another dismal night at the D(ire) W(atch) Stadium (Copyright: Someone funnier than me) against Luton. I had big hopes going into this game, foolishly. Two draws had pointed to something. What that something was, I wasn't sure, and I'm even less sure now. Was it the start of the turn around of our season? Well in a word, no. The game against Luton followed that well-trodden path we've followed ever since Sheffield United at home, exactly one month ago. Increasingly, that opening point at Millwall, and the defeat that could have been a point against the Blades, looks like the high point of Kolo Toure's reign. Let me state here: I am not 'anti-Toure'. I'm not screaming for his head, because another rushed managerial change won't in fact change a thing. It's now as clear as day that the problem this season wasn't Leam Richardson. Many of us expressed shock at his sacking, and the timing of it made little sense. But if there was a plan for his successor and as a result a plan to keep us in the Championship, it would have made sense. But we all know what followed. At, I imagine, substantial expense, the club decided to hire Kolo and, as a result, recruited a novice for a relegation battle in one of the toughest leagues in Europe. Now that isn't Kolo's fault and I imagine, upon viewing the job, he thought he could have turned things around. But things have gone very quickly from salvageable to terminal. Where do we go from here? Well, another management change is unlikely. The club won't dispense with Toure, and I'm not even convinced they would be right to do so. An already lop-sided side will be even more lop-sided for a new manager to come in and try to get a tune from a busted piano. Can you say we're as good as down in January? Probably not, but we'll soon be reaching that point. The damage done to our goal difference over Christmas may as well count as an extra point chalked off. So although we're only four points from safety, without a consistent run we'll be down by March on our current trajectory. Sadly, a consistent run of results looks as far away as ever before, as we've failed to win in any of Toure's first eight games in charge. Do we think we're capable of stringing a run of results together that will get us away from the drop zone and stay away? I'm not convinced we are. In fact ,I'm sure we aren't. I felt a bit of belief after Cardiff on Saturday. We'd earned a point, and the players and bench looked delighted. But the FA Cup defeat was once again another golden opportunity missed. A golden opportunity to progress, with a very good home draw against Grimsby on offer for the victors. Indeed, if the referee had done as he should have done and awarded a penalty for a foul on Tom Naylor, we could have been talking about a very different game. But it would have only papered over the cracks. Latics didn't deserve to progress. Once again, I'm not throwing all the blame at Toure, as it's an impossible situation. But he and indeed the club should have seen that early December, bottom of the league, is not the time to teach good but not spectacular League One players possession-based, free-flowing football. The club would have been better sticking with Rob Kelly post-Blackpool, or even better not sacking the man who had saved the club from relegation during administration, and somehow turned a squad of free transfers and bargain buys into champions of the division a year later. But everyone says we were rubbish last year and only won games because we scored in the last minute of matches, so what do I know? All I know is this isn't working and, unfortunately after 18 months of near-flawless success, the copybook of Phoenix 21 has been severely blotted by the decision making that led to this appointment, following the termination of Leam's contract. Anyway there's no time to dwell on it, what's happened has happened. If we end up back in League One, so be it. We've been in far worse positions - little over two years ago, in fact. So attempt nine at a first win for Kolo Toure will commence against Luton (again) on Saturday. If we put in a performance like we did in midweek, we'll have no chance. Let's hope Miguel Azeez and Steven Caulker build on their impressive debuts at Cardiff, because we're quickly approaching last-chance saloon.
Well, where do we begin? How do we spin this one? The pragmatist and hopeless optimist in me tells me to sweep Tuesday night's disappointment firmly under the carpet and look forward to getting one game closer to our next win. It might even be on Saturday! Though I think we'd have to play a lot better and Luton Town might need to send a different team. Oops they're sending their first team this time aren't they? I struggle massively trying to read the room and get the sentiment right in any particular piece of writing on any particular day. It's a real task with the Mudhutter fanzine as we always send it to print a week or so before, and with this being Wigan Athletic, there can often be a huge swing in results, and opinions can look outdated pretty soon. Nevertheless, we need the sort of swing that would cause Tarzan to make that daft noise to inject any sort of positivity into the fanbase right now. One little, lucky result could change our whole perspective on the season. Maybe with an influx of new signings, including the return of the prodigal son, Joe 'Joffy' Gelhardt could spark us into life. Something needs to happen quickly before it's too late though. At the moment, my overarching mood is one of resignation. I don't feel too much darkness, as the choices the board made were not ones that I voted for or supported. I'm not accountable for this, but that doesn't mean that it doesn't hurt any less, watching our decline. Some of our fans did want this, and I doubt they're feeling much happier either. I hope I am wrong for the sake of the club and there is a good manager in Kolo Toure and also a plan to help him keep the football club in this division. The team that takes to the field at the minute is as shaky as a jelly going down Parbold Hill on a skateboard, so it is difficult to see where we are going to get results from. There was a change, and now there needs to be a much bigger change. Sort of like the change that most clubs encounter, almost immediately, when they get rid of a manager and put a new one in. Let us all now watch in awe, as 'Barnsley Mick' turns Blackpool into an all-conquering primitive monster, that kicks every football team, that dares come to come within a mile of Bloomfield Road, 800 feet up in the air, and plays a style of football that is not so much Route One, but Route 0.25. Will their fans be moaning at the agricultural style if it gets them out of the bottom three? I doubt it very much. As for us, I'm not even sure what we are trying to do at the moment, but it isn't working, at the back, up front, or in the middle. We're a bit of a shambles on the wing too, but at least we can see that we're a shambles now they've replaced some floodlights apparently. I'm going to stop right now, anyway, as wallowing in misery serves nobody. It didn't have to be this way, as we all know and have spent many column inches and social media debates going over. We've got to look forward, we can't look back. These are tough, dismal, embarrassing times but, as I say, they can change in a moment. How about you give us something to shout about this weekend for a change, lads?