Wigan Athletic 'will take rest, but we're not flagging'
Leam Richardson reckons a week off will allow his Wigan Athletic players to fully attack the last two games of the campaign and secure their League One status.
26th Apr 2021, 4:20pm
- 2 min read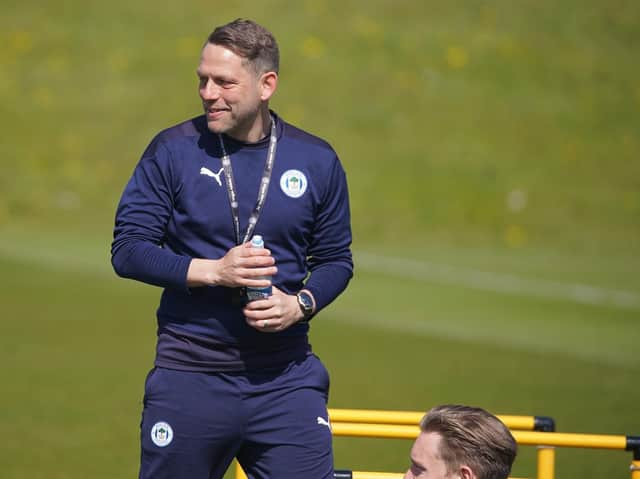 Latics have a four-point buffer over the relegation zone – which could be cut to two if Rochdale win their game in hand at Wimbledon on Tuesday night – despite running with the smallest squad in the division.
Richardson has resisted the temptation to tweak his side in recent weeks, with the finishing line in sight, choosing to keep faith with his 'first choice' side to get the job done.
The two substitutions he made against Burton at the weekend both came inside the last eight minutes, with the gaffer admitting he's loathe to tweak with a winning format.
"It's always a conundrum when you get into the last quarter of a game and it's level," Richardson said.
"You've had around 80 minutes to try to do enough to win the game, and it gets to stick or twist time.
"For me, sometimes it's better to come away with what you've earned and what you've been given.
"A point here or there could be massive at the end of the season, and we'll take that against a Burton team in very good form."
Richardson says the stats prove that his team are still as fit as they have been at any stage of the campaign.
"The lads have been coping with midweek games for a number of weeks now, and it's been a tough slog with such low numbers," he added.
"We were patching up a little bit at the weekend, and it'll be great to get a bit of rest into some of the legs.
"Having said that, the level of performance has been there for a good while now.
"The numbers the lads have been hitting every week have been good, and we're very mindful of keeping an eye on that with the sports science people.
"If they keep repeating those numbers, it's showing they're capable of keeping going.
"Unless those numbers dip, and we are mindful of every individual's needs, then there's nothing like continuity, understanding and relationships on the field."
All eyes will be on Plough Lane tonight with Wimbledon – one point and one place above Latics – looking to secure their safety against third-bottom Rochdale.
All eyes, that is, except Richardson, who won't be losing any sleep over the outcome.
When asked whether he's been keeping tabs on other games, he replied: "No, not at all. It's got nothing to do with us what's going elsewhere, we can't affect what's going on around the country.
"It's so important that we focus entirely on what we can control, and that's what we're trying to do.
"That's what we've been trying to do all season, and what we'll continue to do for the last two matches."
Get 20% off our sports subscription package and stay up to date with all the latest Wigan Athletic news with a year's subscription to WiganToday for less than 9p a day. Use promo code TRANSFER20