Wigan Athletic's star 'rocky' road to the top
Curtis Tilt admits he's found perverse pleasure in digging in to aid Wigan Athletic's desperate fight for survival this season.
Thursday, 15th April 2021, 3:04 pm
Updated
Thursday, 15th April 2021, 3:06 pm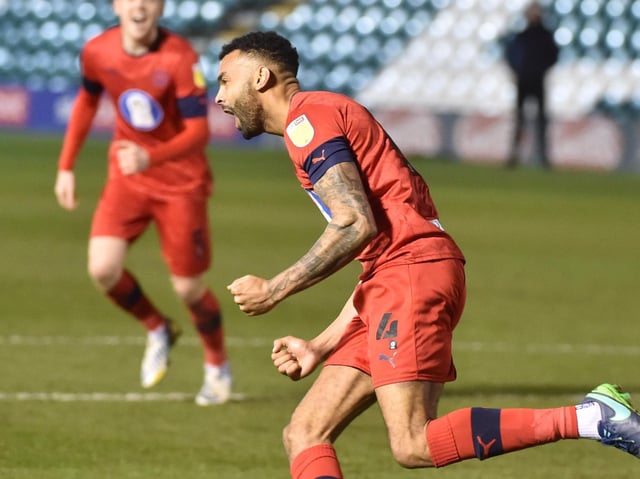 Curtis Tilt
Because the 29-year-old could just as easily be back in the quarry with his old workmates, where he always believed his career path would take him.
Tilt only turned pro as recently as five years ago, after rocking up at Blackpool via a real 'Who's Who' of non-league football – Gornal Athletic, Tipton Town, Halesowen Town, Hednesford Town, Telford United, Wrexham and Forest Green.
But his grounding in the mines means he rolled his sleeves up to become Wigan's defensive rock, as they've constructed a way out of the League One relegation zone with five games to play.
"It's been quite weird, because I've actually enjoyed the fight we've been in this season," he acknowledged.
"It's taught me things I didn't necessarily know about the game and myself.
"What we've been through as players makes you a better person – it's made me a better person and also a better player."
Walsall-born Tilt's amazing journey was underlined last month, when he received his first call-up for Jamaica – for whom he qualifies through parents – and walked into very unfamiliar surroundings.
"When we joined up with Jamaica, we had a team meeting, and all the lads were asked to introduce themselves, and go through their own pathway," he said.
"So many of them had come through the Academy system, like a lot of players in this country would do.
"When it was my turn to stand up, I told them I didn't start playing until I was 20,21...and that there was nothing else to tell them really .
"Some of them had been with clubs since the age of 12, or something.
"I told them I just started work after school, and they all started laughing, they thought it was a great story!
"Honestly, I always played football as just something to do with my mates.
"Never for one moment did I think it would ever be possible for me to become a professional footballer.
"I was working in a quarry, on the diggers, working out how to drive different machines, and thinking that was my pathway in life really.
"But it is something that does make you appreciate a career in football probably more than most.
"It is intense and hard work of course, but it's not like you're working long hours, or anything like you would in a 'normal' job.
"Even now, my old mates laugh at me, telling me I'm not a real grafter any more, I've changed. I tell them I've done my bit, and now it's over to them to keep it going!"
Get 20% off our sports subscription package and stay up to date with all the latest Wigan Athletic news with a year's subscription to WiganToday for less than 9p a day. Use promo code TRANSFER20