Adrian Lam left "confused and disappointed" by the RFL disciplinary
Adrian Lam admits he was "confused and disappointed" the RFL's match review panel didn't take action over a tackle which ended Jack Wells' season.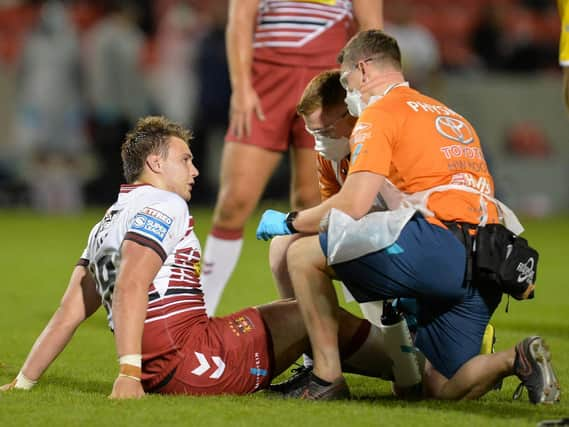 Monday's disciplinary chiefs didn't cite Alex Walmsley for his role in the tackle in last week's 42-0 defeat.
The MRP, which issues charges to players, ruled the England prop made "initial contact on thigh" and "demonstrates wrapping motion towards both legs whilst maintaining control of own bodyweight."
Lam, having recently lost Ollie Partington and Ben Flower to suspensions for tackles around the knees, has asked for an explanation.
"I was surprised, and disappointed," said Lam. "All the players here, and no doubt in Super League, will be confused about what is the meaning of certain aspects... whether it's a high shot, a cannonball, a drop in the tackle... we're just confused.
"I've got a player here, Jack Wells, who is going to be out for three months - not three weeks, not four to six weeks - three months. From a tackle we have been penalised for as a club in the past.
"I can't fathom how ours is so much different.
"I'm sure it's not intentional - I don't think players intentionally do an act like that, whether it's a cannonball or a high shot. But we're confused here, because Jack is going to miss the rest of the season... at what point do we look at it and say, 'What's the difference?'"
Wells suffered a dislocated kneecap and ligament damage, ruling him out for the rest of this season, and Lam says he plans to formally ask the RFL for an explanation.
"I'm going to ask, because we've had five players-plus suspended this year when we've thought it may be one or two weeks, it's been four or five weeks," he said. "And then you get an incident here... at the start of the year we were told if there's an action dangerous to a player, they will take into consideration the injury from that act.
"Well, this player is out for three months and I don't get it. I'd like some answers."
The RFL had earlier said the MRP doesn't consider injuries when grading incidents, but the operational rules tribunal - which rules on punishments of more serious offences - can take them into consideration.
From the same game, James Graham had Grade A Dangerous Contact charge relating to a 'crusher' in the same tackle (forcing Wells' head forward) and Jonny Lomax a Grade A dangerous throw for a tackle on Harry Rushton, for which he was sinbinned, but neither player was banned.
Read unlimited Wigan Warriors stories for less than 70p a week by subscribing to our sports package here