Could York v Wigan Warriors in Super League become a reality?
York coach James Ford hopes it's only a matter of time before they are welcoming Wigan fans to their home - for Super League clashes.
Published 9th Apr 2021, 09:06 BST

- 2 min read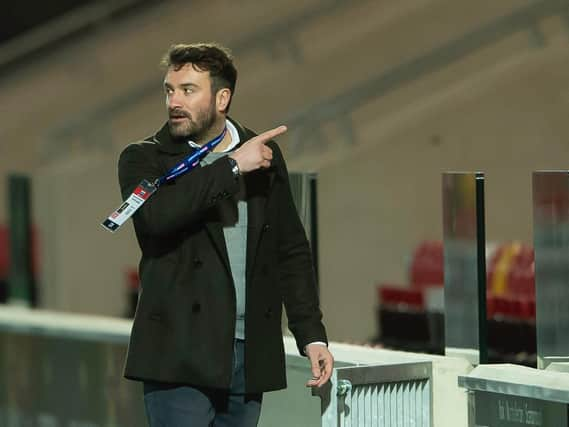 While Warriors fans have become accustomed to behind-closed-doors matches, the draw against York has hit home what they are missing out on.
And though the pandemic has denied them a trip to the historic city tonight, Ford hopes the club can continue their growth and soon be competing with Warriors in the top-flight.
"We applied for Super League because we want to play against clubs like Wigan," said the highly-rated coach.
"That's the plan, that's what we're all gearing towards.
"We've come a long way but... we're dead keen to continue that progress.
"Yes that brings challenges but I'd much rather be facing Wigan than be back in League One beating teams by 130 again.
"It's a great honour, Wigan are a famous club and I grew up watching Adrian (Lam) playing for Wigan and we're looking forward to the challenge."
Warriors forward Liam Farrell admits he would love to see York in Super League.
"I think it'd be great," said the 30-year-old, who has never faced the City Knights. "York's a great city, it'd be great to have Super League there and I hope they can have a great year and push for promotion."
York suffered a 21-6 defeat against Toulouse in their opening Championship match, and Ford makes no secret his priority is getting into the promotion mix last this year.
"Would I swap beating Wigan for six league points? I'm not sure," he said.
But he is excited about this showdown against a side he has not only watched and admired from afar, but contains players he has worked with during his time as England academy coach such as Harry Smith, Morgan Smithies and Joe Shorrocks.
"I try and take credit for their success," he joked. "They're nice kids and I couldn't speak highly enough of all of the Wigan players, their attention to detail, their work ethic, how committed they were to the team.
"I actually sent a message to (assistant coach) Matty Peet congratulating him and the club on the general attitude of all of his players.
"Wigan are a good side, they've a lot of tenacious young players who are really going to rip into us. They'll be a real challenge. Zak Hardaker looked fitter and faster (last week), and it's pleasing as an English fan and a Super League fan seeing players at that level."
Farrell says they have stressed to their younger players the importance of "bringing the intent", warning the York side include many Super League veterans including Ben Jones Bishop – who was a tryscorer in the Leeds side beaten by Wigan at Wembley 10 years ago.
"We lost but it was a great game, my first occasion at Wembley," said Jones-Bishop. "I've watched Wigan in their first two games, they've kicked on very well and it's been great to see Zak (Hardaker, former Rhinos team-mate) back at the back, looking really good. I know Brad Singleton as well. They're a great team across the board."
This evening's game kicks-off at 7.45pm and is being streamed on The Sportsman's Facebook and Youtube channels.