'Danger to clubs is prized assets may leave' if they object to Super League pay cuts
Clubs are "vulnerable" to losing their best players – even if they are under contract – if they force through wage cuts, a legal expert has warned.
Tuesday, 21st April 2020, 2:32 pm
Updated
Tuesday, 21st April 2020, 2:34 pm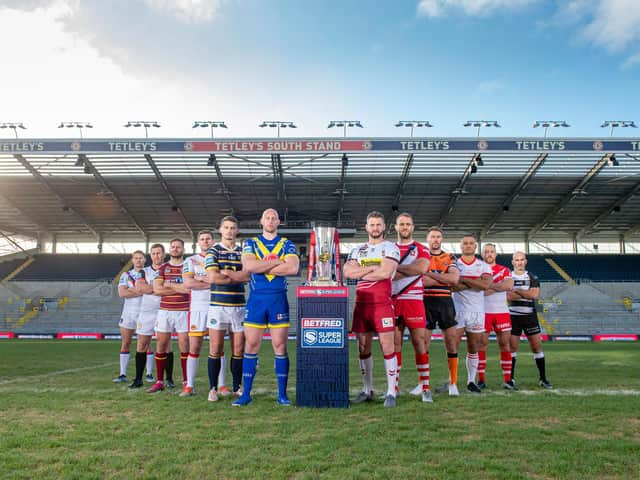 Super League captains at the season launch - many clubs have asked their players to accept pay cuts
Stars could walk away for free and move to rugby union or the NRL if they don't agree with the clubs' requests.
Super League players received letters late last week outlining the pay deductions their club wants to impose in wake of the coronavirus crisis.
Sports lawyer Richard Cramer revealed he has already been contacted by one agent seeking advice for his clients.
And he says players – even with years to run on the deal – will be able to walk away from their deals if they object to wage deductions that are still imposed.
"The danger to clubs is their prized assets may leave, but some clubs may think it's a price worth paying if it keeps their finances in check," said Cramer, a managing partner of Leeds-based Front Row Legal which specialises in sports law.
"The NRL is having similar problems with pay cuts, though they plan to get playing by May 28 and so they may feel they can get a top player from over here – that's where clubs are vulnerable to that scenario."
He says players can agree to wage cuts for defined periods, given the growing uncertainty about when the season may resume – and in what shape.
Cramer explained: "The starting point in English law is that it's impermissible for an employer to unilaterally alter a contract in a fundamental way.
"Unless the players consent to the pay cut it technically puts the employer in repudiatory breach.
"And that has been something that has been 100 per cent bomb proof when challenged in tribunals in the past.
"Unless the player consents it's unlawful for employers to impose wage deductions, so that's the starting point.
"It's possible for consensual variation, so a player can get a cut or deferral for a month or two subject to, for example, the RFL receiving a government grant.
"A deferral, which we've seen in football, is the easiest for a player to accept because they know the shortfall will be added on a later date.
"We've also seen in football a combination of cuts and deferrals. But what we've seen in rugby league, based on the reports, looks like a wage cut to possibly the end of the year, but reviewed on a month by month basis.
"If a player agrees to these terms and signs a letter of consent that becomes an agreed variation to his contact.
"But if a player doesn't give his consent then he has effectively reserved his right to take whatever action he may wish."
Those actions could range from staying at the club and making a claim for the deducted sum, to walking out on his contract.
But Cramer says players would not be able to wait and see if any good offers surface later in the year – or even next season – and then play the 'breach of contract' card then.
He explained: "There's usually a short window to do it. Usually a week or two from the breach itself."
It is understood Super League clubs have agreed among themselves not to sign any of each others' players while the season is suspended – something Cramer believes "may be regarded as unlawful and highly discriminatory."
Garreth Carvell, who heads up the players' association of the GMB union, has been involved in discussions with clubs on the players' behalf.
Cramer added: "It would appear the union is heavily involved but no player is bound by what the union says, whether a member or not."
A message from the Editorial Director, Gillian Parkinson:
Thank you for reading this story on our website.
But I also have an urgent plea to make of you.
In order for us to continue to provide high quality local news on this free-to-read site and in print, please purchase a copy of our newspaper as well.
With the coronavirus lockdown having a major impact on our town centres and many of our valued advertisers - and consequently the advertising that we receive - we are more reliant than ever on you buying a copy when you pop out for your essential shop or subscribing for delivery.
Our journalists are highly trained by the National Council for the Training of Journalists (NCTJ) and our content is independently regulated by IPSO to some of the most rigorous standards anywhere in the world. Our content is universally trusted - as all independent research proves.
As Baroness Barran said in a House of Lords debate this week on the importance of journalists: "Not only are they a trusted source of facts, but they will have a role to play in rallying communities and getting the message across about how we can keep ourselves and our families safe, and protect our NHS. Undoubtedly, they have a critical role."
But being your eyes and ears comes at a price. So we need your support more than ever to buy our newspapers during this crisis. In return we will continue to forensically cover the local news - not only the impact of the virus but all the positive and uplifting news happening in these dark days.
We thank all our readers and advertisers for their understanding and support - and we wish YOU all the best in the coming weeks. Keep safe, and follow the Government advice. Thank you.
HOW TO SUBSCRIBE: You can subscribe for delivery by contacting us at [email protected] or calling us on 0330 4033004 for details of a participating newsagent near you.