Dom Manfredi on England aim, repaying Wigan Warriors... and when he may call it quits
Dom Manfredi has not ruled out quitting rugby league this year if he suffers more bad luck with injuries.
Published 30th Jan 2021, 09:18 BST

- 2 min read
Updated 30th Jan 2021, 11:46 BST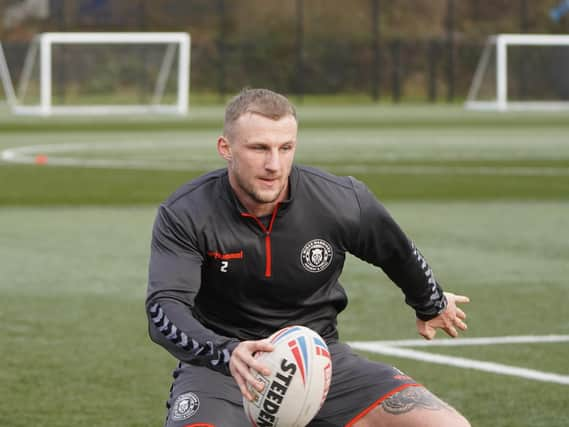 The winger, 27, is in full training with his sights on a successful campaign with Wigan and a long-awaited debut for England.
But having suffered three serious knee injuries in the last five years – and also missing last year's Grand Final with a minor complaint – he has considered the prospect of hanging up his boots if he endures more misfortune.
Manfredi, who is out of contract at the end of this season, said: "I seem to say it every year but I just want to stay fit.
"Last year I felt I was going good and then at the back end, I had a loose body in my knee which needed taking out.
"It forced me to miss the Grand Final, which I was gutted about.
"It's my last year of my contract and I want a big year to repay Wigan for all their support, if not it could potentially be my last playing rugby.
"I've struggled with my fitness and if I can't stay fit it could potentially be the end.
"I've had so much bad luck and it can't carry on.
"But I'm fit now, I'm feeling confident and I'm throwing everything at it."
It seems remarkable, given his calibre, that Manfredi has played more for South Wales Scorpions than he has for England.
But injuries have prevented the 2018 Grand Final hero from making his mark on the international stage – something he hopes will change in 2021.
Coach Shaun Wane, who handed him his Warriors debut, has already included him in a provisional squad ahead of the World Cup.
"That's still my dream, and I just need a good year and stay fit and hopefully that will happen and the World Cup goes ahead," he said.
"I'm still in the provisional squad, it's something I'd love to do."
Manfredi returned to pre-season training last week and he says that – with the country in lockdown – there is a real appreciation among the players that they are able to continue.
"It's good to be back, more so than ever because there's not much to do other than walk the dog," he smiled.
"My mum works in a school and I know how hard it's been, and my missus is a teacher who is working from home, doing lessons on computer... I see how stressful it is. So there's definitely an appreciation that we get to carry on and go into train.
"I know people are desperate for gyms to reopen, not just for their physical health but their mental health too, so I'm grateful we get to do that."
Although he hopes retirement is a few years away, Manfredi has already been putting plans in place for his next career. He started training as a plumber before lockdown and also intends to enrol on a personal training course.
But for now, his sights are on the big kick-off in March.
He added: "We've got a long pre-season which is good for me. I'm fully fit and I just want to make the most of it."