Edwards: Some people think I'm taking a risk returning to Wigan
Shaun Edwards admits returning to rugby league is a risk but says it is one he is prepared to take.
Published 9th Aug 2018, 14:57 BST

- 3 min read
Updated 13th Aug 2018, 11:33 BST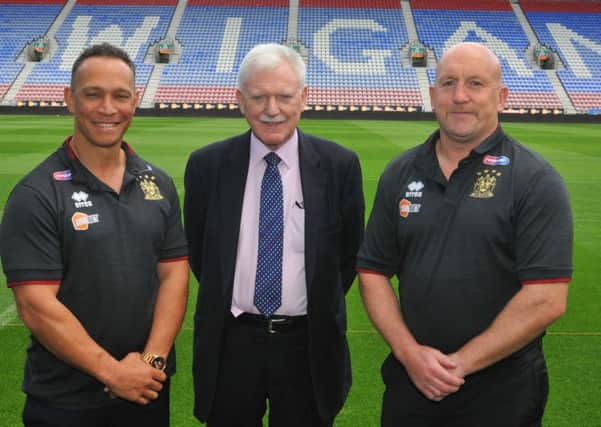 Edwards, now 51, will become head coach of his home-town club Wigan in 2020 once he has completed his commitments with the Welsh Rugby Union.
In the meantime, another former player, Adrian Lam, will succeed Shaun Wane as interim head coach for 2019 before returning to Australia.
Both men were unveiled at a press conference at the DW Stadium on Thursday morning, when Edwards spoke of his love for the club where he won a total of 37 trophies in a glittering 15-year career.
Edwards left Wigan in 1997 and, after brief spells with London Broncos and Bradford, he moved into coaching in rugby union, initially with Wasps and for the last 10 years with Wales.
"I only left Wigan because of my son," he said. "I wanted to be part of his life. He's 21 now and he's my best mate and I've come home.
"Wigan was a huge part of my life for 31 years because I was a supporter before I became a player. It's absolutely through my bones.
"I'll be straight with you, some people think I'm taking a risk. I've got a pretty established career in rugby union and I would probably be full-time employed in rugby union for the next 10 to 15 years but it's a risk I'm prepared to take because this is a special place.
"Let's be honest, rugby league doesn't have a great reputation for sticking with coaches over a period of time.
"There are a lot more jobs in rugby union, where every team has five or six coaches."
Wigan chairman Ian Lenagan revealed he tried to appoint Edwards as coach of London Broncos in 2006 before handing the job to Brian McDermott and made an approach to him before appointing Michael Maguire at Wigan in 2009.
Lenagan wanted Edwards to step into the vacancy for 2019 but was forced to make an interim appointment when he insisted on seeing out the remainder of his contract, which runs out after the 2019 World Cup.
"Shaun Edwards was always our first choice," Lenagan said. "His integrity in wanting to complete his work with Wales is very commendable from our viewpoint.
"Add the fact that Adrian recognises that even one year at Wigan as head coach will get him the jobs that he wants in the NRL and we couldn't have a better pair of people working with us."
Despite his Wigan roots, Edwards says it will be a wrench leaving Wales.
"To be honest, the way I've been accepted by the Welsh people has been brilliant," said Edwards, who has signed a three-year contract.
"They treat me like one of their own, I probably never had support it in my whole career.
"I think it would have been disloyal of me to break off just a year before the World Cup."
Lam, who won the Challenge Cup with Wigan during a four-year stint from 2001-04, was touted as head coach in 2006 when Brian Noble was appointed but went instead to Cronulla.
"I knew I was always going to come back some day, I've always had a place in my heart for Wigan," said Lam, who is on the backroom staff at Sydney Roosters but is happy with his interim role in Super League.
"I understood that from the start," he added. "It's something I'm happy about and I think I can make a difference in 12 months.
"It's something I'm honoured about, making sure that when Shaun takes over in 12 months' time that everything's in line."