Ex-Wigan Warriors prop Lee Mossop reflects on career ahead of testimonial
He's a long way from hanging up his boots but Lee Mossop has had the perfect excuse to reflect on his stellar career – after being awarded a testimonial for 2021.
Published 31st Dec 2020, 07:46 BST

- 3 min read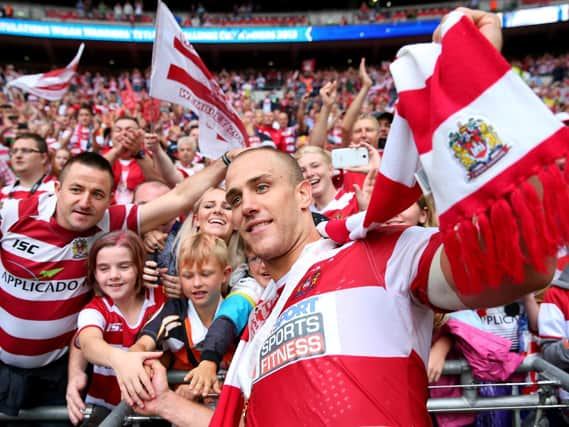 And while the prop has become a favourite at Salford, captaining them to two finals in less than a year, he spent the bulk of his playing days at Wigan.
He won a Challenge Cup with the club in 2011 – playing on despite dislocating his shoulder – and started in both finals of their double-winning campaign two years later.
But it isn't the silverware or the Test caps which he is most proud of, but his persistence and perseverance in battling back from multiple operations which threatened to cut short his career.
"A few years ago, if someone had some you'll be celebrating a testimonial I'd have laughed," said the 31-year-old, who was given the nickname 'Moose' by his former academy coach – a certain Adrian Lam – in 2005.
"It's really hard to come back from major surgeries.
"Jonny Lomax at St Helens, who for me is the best half in the league, has done great to get back from two knee reconstructions. Dom Manfredi has had three, he's done great.
"I've had 10 of these to my shoulder over the years.
"And I'm not looking for praise for it or anything, I'm just trying to explain why just playing so long is my proudest achievement – it sounds cheesy, but it's true."
Mossop, 31, moved down from Cumbria to Wigan as a teenager – he lived with Shaun Wane's inlaws – and after impressing in the academy, poked into the first-team in 2008.
He had loan spells with Barrow and Huddersfield before cementing his place in the side.
He soon broke into the England team, but problems with his shoulders plagued his career, and surgeries bookended a season in the NRL with Parramatta in '14 which limited him to just three matches.
Mossop returned to Wigan the following year, but by '16 the injuries took their toll and began eating away at his confidence.
He fell out of favour and was asked to look for a new club.
"I look back and there were times I cried in the toilets before a game for Wigan, because I was that nervous about going on to the field and it dislocating again," he admits.
"I was at a low point in my last year at Wigan. I wasn't playing well enough to pull on a Wigan shirt, and... there definitely was a bitterness and I hung up to that for a long time, to be honest.
"But now I look back and have a lot of friends, a lot of fond memories. I feel very fortunate.
"The best season I had was 2013, we won the double and I was playing with some of my best mates – Faz, Sam, Tuse, Micky. I got picked for England in the World Cup, I had interest from the NRL... that was the pinnacle."
Mossop was advised he may have to hang up the boots, most recently after his last shoulder operation when he "took half the joint off tackling Ryan Bailey".
He said: "They had to chisel a chunk of bone off my hip, sand it down and place it in my back, it ended up being a four-hour operation.
"Before it, I was told I should get my head around the fact I may have to retire.
"But I had a review at six months and they were amazed.Ultimately, I was lucky enough to find (then-Salford coach) Ian Watson, because when I left Wigan I had two options – Leigh and Salford.
"And then Leigh pulled out. But I met Ian and he found something in me, signed me for Salford, and I've got back to playing I believe my best rugby – so I see the testimonial as a bit of a reward for that."
The Covid-19 pandemic has made planning the testimonial – awarded by the RFL for services to the game after more than 300 career appearances – difficult, but he hopes it includes a pre-season friendly, a golf-day and formal dinners, both in the north west and in hometown Whitehaven.
And as he celebrates his past achievements, he plans to continue planning for the future in 2021, with another coffee shop in Pemberton to add to the Old Bank in Orrell, near to the home he shares with wife Chloe and their two daughters and son.
Read unlimited Wigan Athletic and Wigan Warriors stories for less than 70p a week by subscribing to our sports package here