Joe Burgess has no hard feelings over Wigan Warriors exit
Joe Burgess says he will leave Wigan with "mates for life" after his move to Salford was finally confirmed.
Wednesday, 9th December 2020, 10:40 am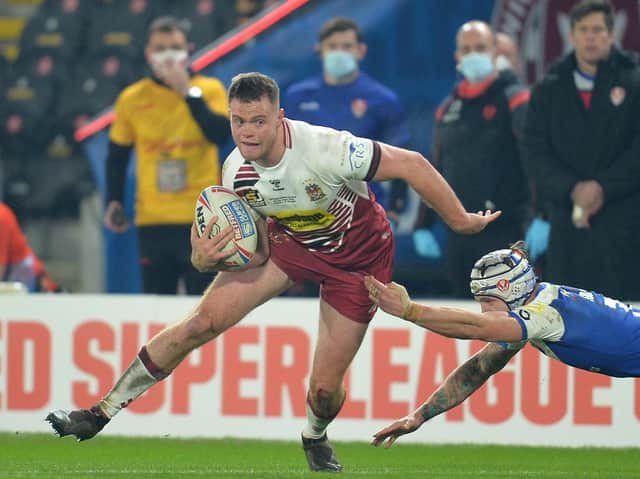 Joe Burgess in Grand Final action
He finished the season in good form and with the Warriors looking light on wingers for the start of 2021 – as Liam Marshall recovers from knee surgery – some fans have questioned the logic of letting him go.
Burgess, though, agreed the switch earlier in the year after being told by the Warriors he would not be offered a new deal.
Although disappointed at his hometown club's decision, the academy-product – a hat-trick hero in the 2017 World Club Challenge win – leaves with nothing but good memories.
"Wigan said early in the year to look for another club, basically," he said, speaking publicly for the first time since the move.
"I wasn't playing that well and it wasn't really a surprise.
"It's never nice to have to be told to look for another club but it's a business, it's not personal – some people can't grasp that, but I can.
"I wasn't doing my job right and they made a decision, and that's the business we're in.
"There are definitely no hard feelings, I've left with mates for life and experiences and memories which have shaped the person I am."
This is the second time the 26-year-old has left Wigan – he spent 2016 in the NRL with Sydney Roosters and Souths.
Burgess was initially sold on Salford by coach Ian Watson, who has since departed to join Huddersfield.
"But I've spoken to (new coach) Richard Marshall a few times and he seems a really good bloke who wants a team of hard workers," said Burgess, who scored 107 tries in 129 appearances for his hometown club.
"I'm looking forward to it. I already know a couple of the lads there but that wouldn't have bothered me if I didn't. I went to Australia when I was 20 or 21 not knowing anyone, it's good to venture out your comfort zone."
Since the season restarted Burgess has been showing glimpses of his prime, linking well with centre Oliver Gildart – a team-mate since their days together at St Edmund Arrowsmith High School.
"I was probably playing better because I didn't have any extra pressure of a contract, I was playing with freedom," he says.
"I'm quite a chilled bloke but you still stress when you're out of contract. Because I didn't have that in the back of my mind, I think it helped me play better.
"I won the League Leaders and the World Club Challenge with Wigan – it would have been nice to win a final with the club, but it wasn't to be."
Nobody could question his bravery in his last attempt to win a Super League title, returning to the pitch with a broken cheekbone.
"I knew I wasn't concussed but I had to come off for all the checks," he added.
"I had my head down and when I lifted it up, the doc said, 'Budgie, you have a dint in your face'.
"I couldn't speak properly with it, I was speaking funny but I had to go back on – I knew it was my last game for Wigan."