John Bateman will start at loose forward for Wigan Warriors
John Bateman will get first crack at the loose forward role this season.
Friday, 12th March 2021, 9:21 am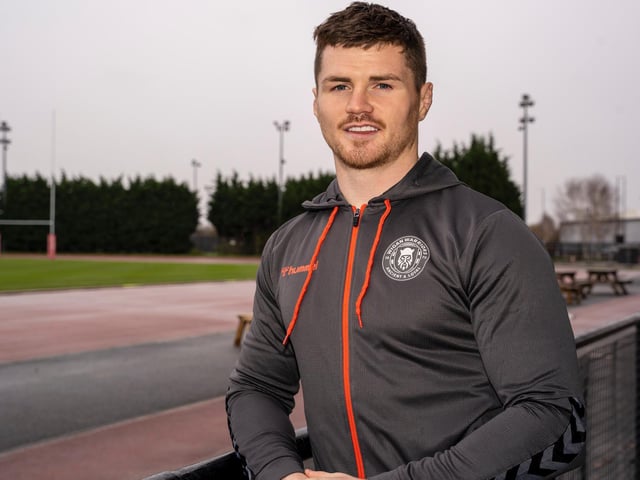 John Bateman
There was some uncertainty over who would succeed Sean O'Loughlin in the pivotal position, even though Bateman was handed the No.13 shirt.
He spent most of his previous spell at the club – as well as at Canberra – in the second-row.
And on returning to Wigan he had indicated a preference to play on the edge, while saying he was happy to play anywhere.
Adrian Lam has weighed up his options and with incumbent back-rowers Willie Isa and Liam Farrell two of the club's strongest performers last season, he has opted for Bateman in the middle... at least for now.
"I would like John Bateman to try there at the start," said Lam.
"If it works out we'll do that. And if not, we've got a couple of young ones – such as Ethan Havard and Morgan Smithies – who could do an amazing job.
"Whoever is there, they'll get the job done."
Bateman is keen to tackle the challenge of playing in the middle rather than on the right edge.
"It'll bring my game on more," he said.
"It's a position I am familiar with, Waney tried me there a few times and I have played there for Canberra, so I'm looking forward to it."
The 27-year-old has returned to Wigan after two years in the NRL but Sunday's friendly with Salford will be Lam's first match in charge as his coach.
And the 50-year-old has been impressed with what he has seen so far.
"John's been training for over three months now, so he's in a good place physically," said Lam.
"Going to the NRL has improved him as a player, and what's impressed me is his strong voice and the way he leads the way in the standards.
"That's really good for us because he's surrounded by young players who have looked up to him."
Sunday's friendly – streamed on OurLeague and WiganTV , from 4pm – will be the Warriors' first game in anger since their 8-4 Grand Final loss to St Helens last November.
"It's gone as a vision but not as a memory," added Lam.
"I still have flashbacks at times and I think that'll happen for the rest of my life.
"But we moved on pretty quickly, and you have to do that in sport."
Centre Oliver Gildart and new recruit Jai Field are missing with minor injuries which is threatening to rule them out of their Super League opener against Leigh, at Leeds, on March 26.
Lam will field a strong squad with an extended bench featuring many fringe players as well as "two or three" youngsters who have yet to get a taste of first-team action.