Lam expects mind games ahead of Hull clashes
Adrian Lam expects mind games to be at play as Wigan prepare for back-to-back games with Hull FC.
Wednesday, 28th April 2021, 11:46 am
Updated
Wednesday, 28th April 2021, 11:48 am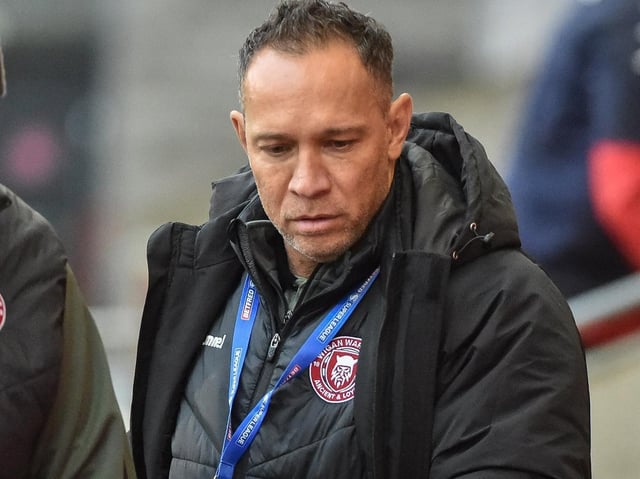 Adrian Lam. Photo: Bernard Platt
They host Brett Hodgson's unbeaten side in Super League tomorrow night ahead of a crunch Challenge Cup quarter-final tie in Leeds nine days later.
Lam said: "There'll be a bit of strategy involved with the coaching over the next fortnight.
"I think we'll get a feel for each other this week, and that will certainly dictate the week after.
"It's always difficult to play the same team two weeks in a row, it's a bit of a strategic fortnight for us."
He says he wouldn't be surprised if the sides make changes between the matches, perhaps to their line-ups, and added: "There always is strategy involved."
Wigan have had a perfect start to 2021 despite a raft of injuries in the backs, which has seen forwards Willie Isa and Liam Farrell switch to the centre roles.
"We know we can get better, we've got players out of position but we're just getting on with it," said Lam.
"As a group, everyone understands who we are and our DNA, they know it's not ideal with the injuries but the way they've accepted it, we've got a 'no surrender' mentality.
"It's hard to score points when you've players out of position, so I'm really happy we're averaging four tries - and one and a half against - per game.
"This is the second week in a row we've played an undefeated team, and it's probably going to be both clubs' biggest game so far."
Lam is expected to stick with the same line-up which beat Castleford 22-12 last Thursday. He has made just one change to his provisional 21-man panel, with young centre Sam Halsall replacing injured halfback Thomas Leuluai - who didn't face the Tigers.
Hull FC will have two changes to their line-up, after an arm injury to prop Josh Bowden and a suspension for winger Bureta Faraimo.
Lam hasn't crossed paths with FC's new coach Hodgson, other than as an opponent during the latter's early playing career in the NRL, and said: "It seems he's doing a good job down there.
"They look connected, I think at the start of the season if you're defence is in order you give yourselves a chance to win. It'll be a tough battle for us, regardless of the outcome I'm sure we'll turn up."