Racism allegation: What happens next?
An 'allegation of a racist remark' was placed on report by the referee in Wigan's 16-14 win against Hull FC last night - so what happens next?
Published 30th Apr 2021, 09:38 GMT

- 3 min read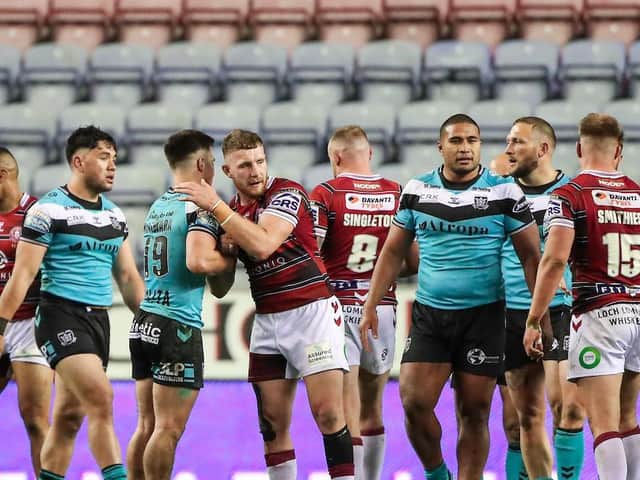 Towards the end of the first-half, referee James Child called the captains together to inform them he was putting on report an "allegation of a racist remark".
FC forward Andre Savelio is caught on TV footage naming Wigan prop Tony Clubb - who was not on the pitch at the time and didn't return - for the comment.
As it was placed on report, it will automatically be reviewed by the RFL's match review panel on Monday. They will scrutinise footage and audio, from Sky Sports. They then have three options - to issue a charge, to not issue a charge, or to refer the incident for further investigation.
If it is the third of these, at that point players and any witnesses may be interviewed.
If a player is charged by the MRP, they are issued with a charge ranked A to F, with lesser offences carrying a fixed-term suspension. More serious offences are referred to the separate disciplinary panel - or to use its correct name, the operational rules tribunal - usually held on Tuesdays.
A charge of 'verbal abuse based on race, colour...' would be graded E or F, and automatically be referred to the tribunal. A grade E charge carries a ban of four to eight weeks, while a grade F charge is from eight weeks onwards.
Savelio issued a statement on Twitter shortly after last night's game, not naming Clubb specifically but identifying him as a player who left the action and didn't return - which would refer to Clubb. He also said he intended to seek his own retribution before Clubb was substituted - interestingly, the two sides meet next Saturday in a Challenge Cup tie.
He wrote: "Listen there's no reason at all for me too (sic) lie, I didn't report it initially as I was going to deal with it myself the next time we came into contact, he got taken off the play after - and never came back on.
"For him too (sic) call me a STUPID POLYNESIAN **** in a game where 30% are of that heritage hell I won't sit quietly, I've seen these things happen enough to know most of the time there's never enough proof on these - but I swear it on my Mums'… I'm just hopeful a camera or microphone clocked it and it's dealt with."
Lam said he hadn't spoken to Clubb before speaking to the media via Zoom, and said the allegation was not the reason why the prop didn't appear in the second-half.
He said: "It's a hard one to comment on until I know what's actually been said or what the allegation is... we will make sure when it's brought up that we take it head on."
Lam's counterpart Brett Hodgson said Savelio was "pretty upset" after the game.
"I don't know too much about it, I heard the same thing you have but we'll have to wait and see what comes of it," said the FC coach.
"He's not good, he's pretty upset. I don't want to speculate on what was said, we need to work out exactly what happened and see what progresses."