Revealed: What Tony Clubb claims he really said to Andre Savelio
The RFL have released the full written details of the disciplinary hearing which resulted in Wigan Warriors prop Tony Clubb given an eight-match ban for using 'unacceptable language based on national or ethnic origin'.
Published 6th May 2021, 17:08 GMT

- 3 min read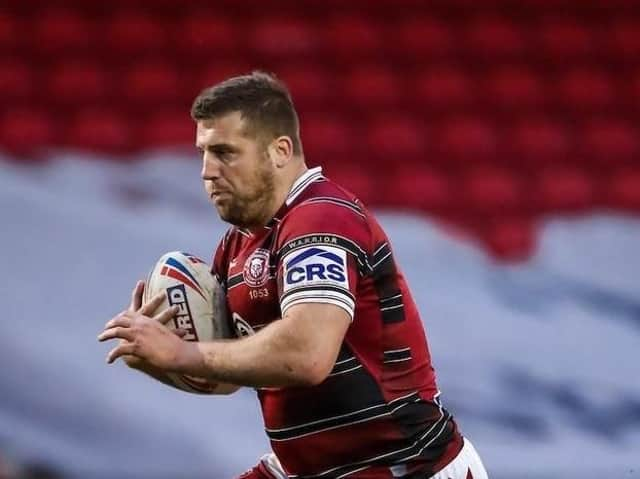 Hull second-rower Andre Savelio claimed Clubb called him a "stupid Polynesian c***" during the Super League meeting between the sides last Thursday.
Clubb, 33, was suspended by his club a day later as they launched a joint investigation with Hull.
And after being charged by the RFL's match review panel with a Grade F offence, on Tuesday he appeared in front of an independent operational rules tribunal which found him guilty.
But the full written details reveal the reason behind Clubb's 'not guilty' plea - and why the court found they 'do not find that he is a racist, simply that on this occasion he used unacceptable language in the heat of the moment'.
Clubb claims he said: "You silly c***, you're from Warrington. You're not Polynesian you c***."
"Player in attendance alongside Kris Radlinski (Executive Director) and Tom Fitzpatrick (Education & Welfare Manager). KR informed the tribunal that the player could completely deny that he had said anything, however, he has admitted that something was said.
"The player did not use the words that he is accused of and is adamant he did not say it. He has not deviated from his story since the incident happened.
"Mr Savelio has used social media to comment on the incident and they feel that this has led to some pre-judging of the player.
"He has remained silent on the allegations made in the on-line post. TC talked the tribunal through the incident and explained the words that were then exchanged between the pair. This went as follows: TC: "this is too easy" AS: "bro I will bang you, you fat c***" TC: "who the f*** are you, you silly c***" AS: "bro just run it straight in" TC: "you silly c***, you're from Warrington. You're not Polynesian you c***""
In returning a guilty decision, the panel gave the following as their reasons:
"You are charged that in about the 15th minute of the Super League match between Wigan and Hull FC on 29th April, you used unacceptable language towards Andre Savelio based on his ethnic origin by calling him a "Stupid Polynesian C***. You have denied the use of this language.
"We have heard evidence from Andre Savelio, we have also read the on-field report from the referee to whom the complaint was made by Mr Savelio after this incident, and we have heard the report to the Match Commissioner made after the match.
"The complaint is that Mr Clubb called Mr Savelio a "stupid Polynesian c***". There is no doubt that to do so would indeed be an unacceptable use of language based on his ethnic origin.
"On the other hand we have heard the account provided to us by Mr Clubb together with character references provided by Kris Radlinski, Sean O'Loughlin, Adrian Lam, Thomas Leuluai and Darrell Goulding.
"It is clear to us that no one else heard this comment. However, it is equally clear that this exchange was a very heated one during which there was a verbal exchange between Mr Clubb and Mr Savelio and a coming together on the field. That much can be seen from the on-field footage.
"The question for us to determine was whether the words alleged to have been said, were spoken. We have listened to both players accounts and borne in mind their reactions to this event both at the time, during the game and later when the complaint was made and responded to.
"It is of note that in his statement and in his evidence before us Mr Clubb accepts that there was an angry verbal altercation and that he did use the word "Polynesian" but says that it was in a different context, namely that he called Andre Savelio a silly c*** saying that he was from Warrington and was not Polynesian.
"We are concerned that Mr Clubb would raise the fact that Mr Savelio is of Polynesian descent in any context whatsoever unless it was intended to be in some way ethnically offensive.
"In short we do not find that Mr Clubb's explanation makes sense to us.
"We have considered the evidence of both players and the circumstances surrounding the allegation and find that we are reasonably satisfied, taking into account the seriousness of the charge, that the words were said, albeit in the heat of the moment, but nevertheless were said.
"They do constitute unacceptable language based on his racial and ethnic origin and therefore we find that this was serious misconduct which has brought the game into disrepute."
Clubb has until next Tuesday to lodge an appeal with the RFL if he chooses.