Rugby league could learn from Tottenham Hotspur manager Ange Postecoglou
Rugby league could learn a lot from Tottenham Hotspur manager Ange Postecoglou following his response to his side's 4-1 crushing defeat to Chelsea.
Watch more of our videos on Shots! 
and live on Freeview channel 276
Visit Shots! now
It was a chaotic "90" minutes in North London on Monday night, with hosts Spurs finding themselves 1-0 up and en-route back to the top of the Premier League table before the mayhem ensued which saw them on the wrong end of a 4-1 scoreline.
The game was heavily dominated by many VAR decisions, with five disallowed goals, including for Son Heung-min and Eric Dier, two red cards and 111 minutes on the clock.
Nine-man Spurs fell to their first defeat of the season that left them second on the table – but what was the response from Postecoglou? Nothing but respect for the decisions.
Speaking following the defeat to their rivals, the 58-year-old ex-Celtic manager called for an end to the questioning of officials' decisions in order to prevent their authority being undermined.
Of course, he's not a perfect man. There is a clip doing the rounds of him questioning a no-penalty decision during his time in the Scottish Premier League. But he's clearly progressed as a manager. On Monday night he said: "At some point, we've got to accept the referee's decision. That's how I grew up. I was taught that you grow up and respect the officials."
It's refreshing to hear a manager avoid the temptation to question a referee – which rugby league came all too often of hearing in 2023.
Being a referee is a thankless job. There aren't many in rugby league, and of course there are calls to train and support more.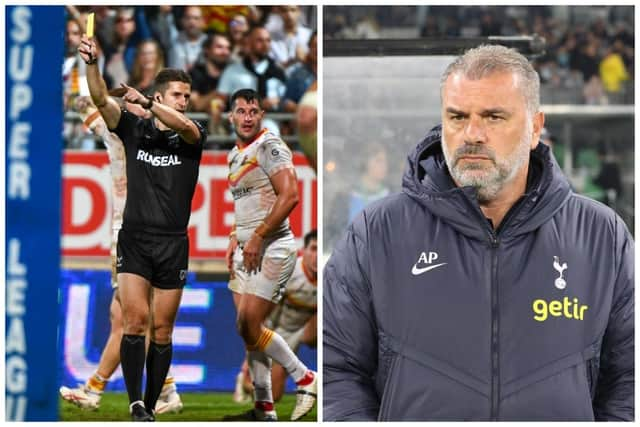 "I" chief sports correspondent, Kevin Garside, has backed a crack down on dissent in football. He wrote: "Start with the infantile attitude of participants. The game should not tolerate from managers and players behaviours they would not accept from their children.
"The default dissent and hostility towards officials, constantly challenging decisions is, as Ange Postecoglou observed, an erosion of authority that leads to hell. There would be no issue with VAR if decisions were accepted unconditionally. And a more respectful atmosphere might lead to better, quicker outcomes."
Perhaps rugby league could follow suit in some ways and accept decisions. It's rare we see a player scrutinised in public by their coach for their defensive error or a wrong play – but of course the referee might if he misses something in a game played at a million miles per hour. Of course, there might be the occasional mistake just too big not to mention. But elsewhere, we could learn to accept the sport, accept the officiating and accept that it's a part of the drama that we love.