Salford Red Devils 18 Wigan Warriors 14: Five things we learned
Wigan suffered their second defeat of the season last night. Here are five talking points...
Published 14th Mar 2020, 11:02 BST

- 2 min read
Updated 14th Mar 2020, 11:04 BST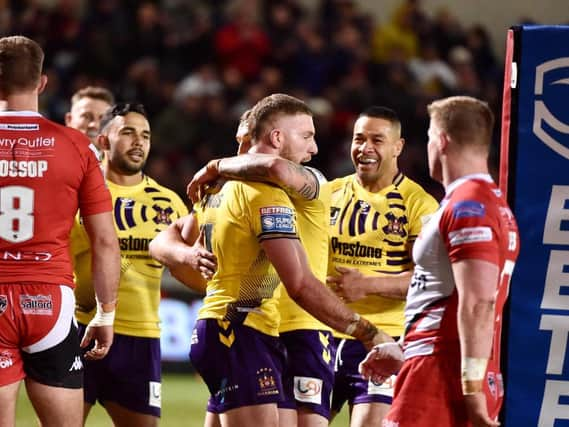 1. Coronavirus may have wiped out football, Formula One, golf and rugby union, but Super League battled on regardless last night.
They say they are following the government's advice but it remains to be seen if that continues or they fall in line with other sports, particularly if and when the virus impacts on clubs.
From next week, the NRL will be played behind closed doors. But it's hard to imagine cash-strapped Super League clubs favouring that option.
With the season, padded with additional 'loop' games to make up 29 rounds, already congested - and Catalans already THREE games behind some others - any immediate postponement may lead to some midweek mayhem later in the season.
2. To the game, and what a game.
Wigan looked on course to cruise to a comfortable win when they led 14-2 at half-time.
They lacked a ruthlessness to twist the knife from the restart, they stopped playing, allowing revived Salford to up the intensity and claw their way back back into it - and set up a dramatic finish...
3. Kevin Brown scored the match-winner but it was another ex-Warrior, Dan Sarginson, who shone brightest.
His left-foot step caused trouble down the left edge and with minutes to go, he rushed out of the defensive line to force an error from Bevan French - at a time when Wigan could have snatched the result.
4. And yet it had all started so well for Wigan.
Salford coach Ian Watson admitted they focussed on shutting down the threat posed by French and Jackson Hastings, but the latter got the first try against his old club. They were quick out of the blocks and there was much to admire about their start to the first-half.
When they faded, they were still solid and in control. No wonder Lam says he was "confused" by the reversal after the break.
5. So where does this leave Wigan?
Still on top of the league, still two points clear.
When they are beaten they are very rarely battered, and a loss at Salford will not spark a 'crisis', even among those quick to press the panic button.
But it was certainly a shake-up and a wake-up that they still have a lot of work to do before their next match, at home to Catalans next Sunday for the Pride Festival - if, of course, it gets the go-ahead.