Shaun Wane has been 'a breath of fresh air' with England, says Paul Sculthorpe
Paul Sculthorpe says it has been a "breath of fresh air" working with Shaun Wane - and predicts England will be notably different with him in charge.
Published 15th Jun 2020, 11:36 BST

- 3 min read
Updated 15th Jun 2020, 11:38 BST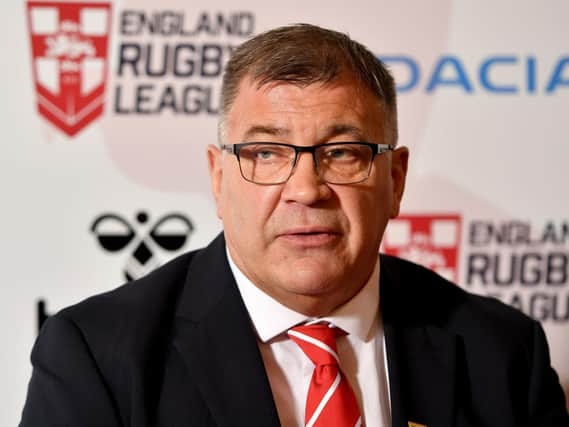 The former Great Britain captain has been a member of the national set-up for several years.
He has been chatting to ex-Wigan coach Wane regularly as they put plans in place for next year's World Cup, and believes there will be a big difference from when Wayne Bennett ws at the helm.
"I'm fortunate now to be involved in the England set-up and it's a breath of fresh air to be working with Shaun Wane," said Sculthorpe, who lives in Orrell.
"We meet on Zoom every Thursday and it's a big thing he wants, players doing the things which will help England win a World Cup. You'll see a different international side next year.
"I think you'll see a vast difference in the way the team plays, in what's expected of them wearing an England jersey, in regards to efforts - I'm not saying they weren't committed previously - and the way they play. And potentially in selections as well."
Sculthorpe was talking on the rugby league Backchat show, in which he lamented the demise of the dominant halfback and the increase in sides playing to defined shapes and structures.
And as the England pathways coach who has taken charge of national youth teams - and helps with the Knights programme - he has seen at close range the difference in the players emerging through the ranks.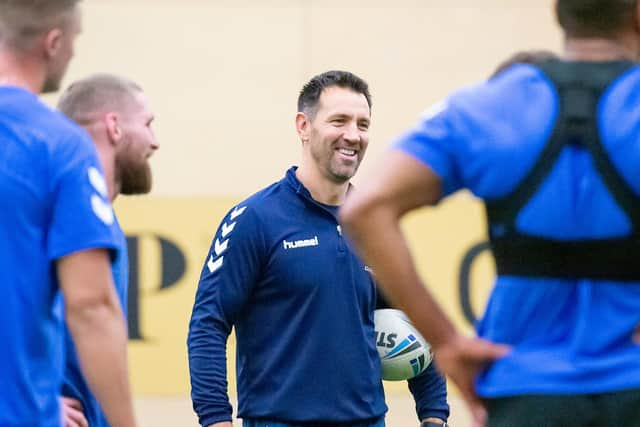 The 42-year-old, who had a glittering playing career with St Helens, believes it is a mistake for England to try and emulate a regimented style favoured by the Australians.
"When we've been at our best in international level it's when we've played with skill. Don't try and beat them at what they excel at," he said.
"The game has changed a lot.
"What frustrates me, is play the British way - if we're going to compete at international lets be the best at what we do.
"For me a halfback is a guy who runs the show, now at the moment in Super League, the halfback isn't near enough the action. And for the kids coming through they've never known anything different from the roles they have.
"So in terms of running the game, directing players, steering the ship - players who dominate games - young players have fallen into this new way of playing. And for me, it's not improved our game.
"Games don't pan out as training sessions do so when you've coached them and structured them to death, and in the game it's not worked out like in training, what do they do?"
Wane - a three-time Grand Final winning coach with Wigan - was appointed to the England role earlier this year after 18 months away from rugby league, working with the Scotland RU set-up.
He was expected to lead them into the Ashes but the coronavirus crisis forced the autumn series to be scrapped, meaning next year's World Cup will be his first competition - though he is hopeful a mid-season match may be arranged in 2021.
Rumours of a move to the NRL, in the meantime, have bubbled for several weeks, with his name linked with both Canterbury Bulldogs and St George Illawarra.
Wane, who has an Australian agent, insists he has had no approaches but didn't rule out a move if the right offer came in; Kiwi coach Michael Maguire (Wests) and Tonga boss Kristian Woolf (St Helens) both have full-time club roles as well.
"To be honest, I've got the upmost respect for our CEO Ralph Rimmer, and it's never been mentioned between me and him, about me coaching in the NRL," Wane told the Sydney Morning Herald.
"I'm very happy coaching England, but it's a long time before I'm going to be coaching a team with the Ashes called off leading into the next World Cup.
"I'm not sure what's going to happen or how it would work, but I would never embarrass him by saying I would come to the NRL. I would need to speak to Ralph first.
"My name gets mentioned because people know my desire to coach over there, but I've never had a call or a solid offer. It's up to the people in power over there to take a punt on an Englishman. I'm confident that I can make a difference to a team over there."